Party pics: Hawaii Cocktail Week launch party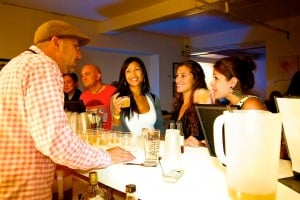 We were there for the launch party of the first ever Hawaii Cocktail Week! One of the many parties-within-a-party at last night's massive Honolulu Night + Market, Hawaii Cocktail Week started with an event hosted by Hawaii Bitters at Coxist Studio.
Master mixologist Joey Gottesman, kept the party going with cocktails highlighting the much anticipated Hawaii Bitters, which had three flavors available to sample – Lilikoi, Kona Coffee & Macadamia Nut and Manoa Chocolate & Ginger.
There was also plenty of dancing, a hookah lounge outside and even body painting. Here are our party pics to kick off Nonstop Honolulu's coverage of Hawaii Cocktail Week.
You can find a complete list of Hawaii Cocktail Week events, at hawaiicocktailweek.com.