Parties, eats, movies, music: 10 picks for Halloween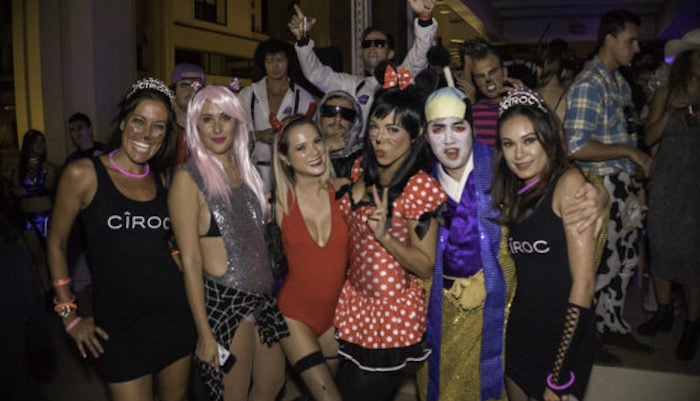 What are you doing this Halloween season? Whether it's ghoulish eats, scary flicks or all kinds of Halloween parties, there's plenty of happenings to keep your blood curdling. Here are 10 picks to get your ghoul on.
HALLOWBALOO
Saturday, Oct. 29
4:30 p.m.-2 a.m.
HiSAM (Hawaii State Art Museum) and surrounding streets, plus Chinatown and Aloha Tower Marketplace venues
$15 before 7 p.m., $30 after for the Hallowbaloo block party, $100 presale for the Hallowbaloo Ball inside HISAM (21+), $30 presale for Club Hallowbaloo (21+)
More information & schedule at: hallowbaloo.com
Hallowbaloo Street Festival, 4:30-10 p.m.: Get crazy with thousands of costumed revelers in the streets around the Hawaii State Art Museum. Grab dinner at food trucks like Istanbul, Hawaiian Fresh Farms, Olay's Thai Express, Nosh and India Cafe. Catch the live entertainment at the HISAM stage, featuring DJ Lo Down Loretta Brown, aka Erykah Badu, Charlie Hunter & Scott Amendola, Samadhi Hawaii aerialists and more.
Hallowbaloo Ball, 4:30-10 p.m.: If you want an elite view of the festivities, come hang out on the balcony of HISAM and enjoy complimentary drinks and pupu by top Chinatown eateries Grondin, Scratch Kitchen & Bake Shop, Bethel Union and Artizen. Includes express entry to the street festival and Club Hallowbaloo.
Club Hallowbaloo, 9 p.m. to 2 a.m.: The club section of Hallowbaloo expands this year to include both Chinatown and Aloha Tower Marketplace venues, with free trolley service connecting the two from 8-11 p.m. Entertainment lineup includes live music, DJs and drink specials at participating venues Square Barrels, Scarlet Honolulu, The ARTS at Marks Garage, Manifest, Downbeat Lounge, NextDoor, Bar 35, Hooters, Nashville Waikiki and Gordon Biersch.
MAD HATTER'S HALLOWEEN BLOCK PARTY
Saturday, Oct. 29
9 p.m.-4 a.m.
500 Ala Moana Blvd.
$20, 21+. Outdoor block party is free until midnight
Tickets and information here.

Fall down the rabbit hole with this Alice in Wonderland themed block party at The Row and M Nightclub, featuring a costume contest with a $1000 cash grand prize, drink specials and lots of wonderful madness. Dress code enforced: Costume or fashionable attire.
"THE ROCKY HORROR PICTURE SHOW"
Wednesday, Oct. 26 – Monday, Oct. 31
8 p.m. (doors open at 7 p.m.)
The ARTS at Marks Garage, 1159 Nuuanu Ave.
$20 advance, $25 at the door
Tickets and information here
The ARTS at Marks Garage presents four exclusive Honolulu screenings of the "Rocky Horror Picture Show" on a monster-size movie screen. The fully interactive, 100-minute show will be accompanied by a partial shadow cast to lead you through the madness of shouting at the screen and dancing in your seats. Costumes are encouraged!
Interactive prop boxes will be available for purchase for $5 on the night of. A post-show soiree follows until 10:30 p.m.
SIXTH ANNUAL MISS VAMP HAWAII BEAUTY PAGEANT
Sunday, Oct. 23
6 p.m.
Hawaii Theatre, 1130 Bethel St.
$25-$45
Tickets and information here
Miss Vamp Hawaii is like a normal beauty pageant – if you consider vampires, moonlight, foggy graveyards and the occasional werewolf normal. This pageant with a darker edge celebrates contestants' creative, unique sides. It features the traditional Q&A, a gown/costume competition and crowning of winners, along with a unique "Moon Bathing Lingerie Competition" and other surprises you have to be there to see.
RIFFTRAX LIVE: "CARNIVAL OF SOULS"
Thursday, Oct. 27 at 8 p.m.
Monday, Oct. 31 at 7:30 p.m.
Regal Dole Cannery Stadium 18, 735 Iwilei Rd.
$13
Tickets and information here
Now with hilarious commentary: Director Herk Harvey's 1962 cult classic will be broadcast with live Rifftrax (tape-delayed in Hawaii) to select movie theaters nationwide for Halloween. The plot follows a young woman whose life is disturbed after a car accident when she finds herself drawn to an abandoned carnival. Set to an organ score by Gene Moore, "Carnival of Souls" has a large cult following, and has been cited as an important influence on the films of David Lynch and George A. Romero.
ARTafterDARK: BOO!
Friday, Oct. 28
6-9 p.m.
Honolulu Museum of Art, 900 S. Beretania St.
Non-members $10, $20 includes all food
Tickets and information here
Bring your creepy crew to ARTafterDARK for a graveyard smash, featuring a ghoulishly glamorous drag performance, Instagram contest, DJs, visuals, a photo booth, food, drink and more. Costumes are encouraged but be aware that the event doesn't allow masks, clown costumes, accessories larger than 15 inches (wings, etc) or fake weapons.
Online art database and blog Sartle is taking over the museum's Instagram and Twitter accounts. The first 20 guests who find the Sartle contributors responsible for the takeover and say the secret password will score Sartle swag. The password will be revealed on the museum's Instagram feed before 6 p.m. that evening.
THE PSYCHEDELIC FURS
Friday, Oct. 28
8 p.m. (doors open at 7 p.m.)
The Republik, 1349 Kapiolani Blvd.
$35 presale, $40 day of the show, all ages
Tickets and information here
See the seminal postpunk/goth/rock legends live just before Halloween, with veteran Hawaii '80s band Hat Makes the Man re-forming to open for them.
Led by vocalist and songwriter Richard Butler and his bass-wielding brother Tim, the Furs are best known for alternative hits like "Love My Way," "Pretty In Pink," "Heaven," "The Ghost In You" and "Heartbreak Beat." Born out of the post-punk UK rock scene, the Furs quickly developed as one of the premiere bands on US college and modern rock radio, scoring a multitude of #1 singles. With the advent of MTV in the early '80s the band took off, and when John Hughes approached them about a film built around their "Pretty In Pink," their legacy was cemented.
EAT THE STREET: DIA DE LOS MUERTOS
Friday, Oct. 28
5-10 p.m.
Makers & Tasters, 1011 Ala Moana Blvd.
Free, all ages
More information here
A taco party, salsa dancing, margaritas and happy hour for adults and a Day of the Dead costume and makeup contest highlight of the monthly street food festival across from Ward Warehouse at the Makers & Tasters lot.
HAUNTED WONDERLAND: MAU5TRAP
Saturday, Oct. 29
6 p.m.
Hawaii Country Club, 94-1211 Kunia Rd, Wahiawa
$65–$75
Tickets and information here, or at all Local Motion and ButiGroove locations
Legendary house music producer Deadmau5 headlines this huge electronic music show on the North Shore, with supporting artists Attlas, No Mana and Black Gummy. For those who don't want to drive, there will be shuttles to and from UH Manoa.
HALLOWEEN AT THE HYATT
Monday, Oct. 31
8 p.m.
Hyatt Regency Waikiki Beach Resort and Spa, 2424 Kalakaua Ave.
$10–$20
Tickets are available at: www.racesauce.com/events; Ginza Nightclub, UH Campus Center, The Lounge, The District and Local Motion. VIP reservations may be made at info@hpelive.com
Heads up, mischief makers! Waikiki will be where the party is at on Monday, Halloween proper, and one of the best parties will be the Hyatt's annual Halloween party. Themed Bad vs. Evil, this is the biggest costume contest in Waikiki. Up to $2,000 in cash and prizes includes a $1,000 grand prize and a second-place trip for two to Las Vegas. An official Halloween-at-the-Hyatt afterparty follows at The District Nightclub.
---