Honolulu Parent to Parent: The Family that Posts Together …
A parent's welcome to the world of social media.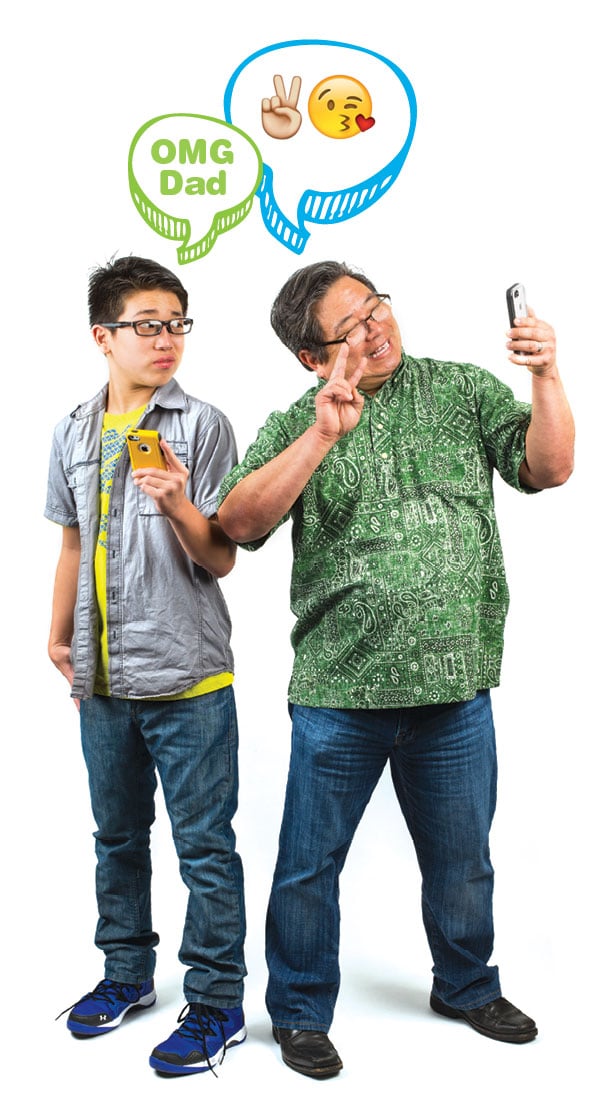 I recently started an Instagram account and, much to my surprise, I quickly picked up a handful of followers before I posted a single picture. I'm not much of a photographer and I have little interest in chronicling every moment of my life. However, Kennedy, our 13-year-old son, got a smart phone for Christmas and, like many parents, I've reluctantly entered the world of social media–not to share but to watch.
When my wife, Cyd, and I laid the ground rules of his new phone, one of the requirements was that he would accept us as "friends" and "followers." Kennedy grumbled a little and mumbled "stalkers." However, now he doesn't seem to mind our tacit participation with parts of his online world. He's too busy texting.
Technology scares the crap out of me. The unedited, unmoderated online world has already precipitated numerous "make good choices" and "the world is an ugly and dangerous place" types of talks. These were discussions I had thought I'd have with Kennedy when he was much older, like when I sent him off to college. Sure, it is a portal into unlimited and often useful information. But, whenever I see Kennedy gazing at his phone while real life swirls around him, I feel sad and disconnected. Is that how I look when I check my email during dinner? How can kids balance online connections with personal connections when we can't do it ourselves?
Finding that balance may require a team effort. Researchers at Brigham Young University studied 500 families and found that teenagers who connect with their parents on social media feel closer to their parents in real life. In addition, those teens were also found to have higher rates of "pro-social" behavior—meaning they are more generous, kind and helpful to others. Half of the teens said they used social media to communicate with the folks–almost 20 percent did so daily.
Researchers surmised that social networks give parents an intimate look at their kids' lives. It's a little window into their worlds. We can see what our kids are going through and what their friends think is cool or fun. It gives us an opportunity to give positive feedback or show affection, even though it may be only a quick "like" or a short comment. Maybe more important, connecting online gives parents and kids a few more things to talk about in the offline world.
In most instances, parents are mainly observers. I wonder if I would bond more closely with Kennedy if I shared tidbits of my life away from home. For my first Instagram post, I could take a photo of my messy desk at work, my view of the graveyard across the street from my office or the microwaved leftovers I'm having for lunch. OK, maybe not. Hopefully, I'll see a nice sunset on the way home.