Parent to Parent: Acting Up
The benefits of confronting your fears at a young age.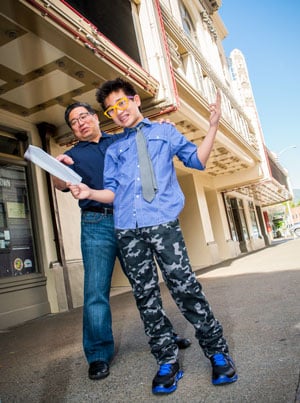 Lately, our summers have been filled with drama—literally and figuratively. For the past two years, our son, Kennedy, has attended Ohana Arts (ohanaarts.org), a seven-week musical-theater workshop in which students 8 to 18 receive extensive and intensive training in acting, dancing and singing. The workshop, taught by working theater professionals (several of whom fly in from New York for the summer), culminates in two stage productions: a musical variety show and a Broadway-style play.
Two years ago, Kennedy was cast as one of the malnourished, overworked orphans in Oliver, and Cyd and I got a big kick out of seeing our well-fed, doted-upon son singing the praises of "Food, Glorious Food." Last year, he was Chuck Cranston, the abusive boyfriend in Footloose. We spent six of the seven weeks trying to convince the happy-go-lucky Kennedy that it was okay to be an obnoxious jerk—onstage.
"Villians are the best roles," I'd remind him. "I know you're not like that. That's why it's called acting!"
Of course, it's easy for me to give all this sage advice, positioned as I was far from the glare of the stage lights. But it isn't just a matter of physical location. It's easy to forget what I was like at his age. Growing up, I always thought that theater and the performing arts were for the more outgoing, artsy kids, the ones who looked and acted more grown up than the rest of us. On stage? Me? I used to get anxiety attacks if my math teacher called me to the chalkboard. Several months ago, I had to give a 15-minute PowerPoint presentation at a Mainland conference and I tossed and turned the night before. Perhaps my anxieties would have been suppressed if I had been a young performer, I thought.
After working backstage on several productions, I've developed a deeper understanding and appreciation of the performing arts. Of course, there is the beauty and magic of seeing a piece of art gradually and then, all at once, come together. However, it is also about hard work: reciting your lines until you can say them in your sleep, hitting your marks without a second thought, and singing and dancing with abandon. You give your best effort not just because you owe it to yourself, you do it because you owe it to your fellow cast members.
That's what I like best about Ohana Arts: watching kids work simultaneously independently and collaboratively toward a shared goal, seeing the cast, which once resembled a herd of cats, perform like a well-oiled machine. It's no different than watching championship-caliber football teams move methodically down the field toward a touchdown.
However, as exciting as Oliver was, I will never forget what happened after the final performance, during the after party, when the kids got to relax and celebrate a job well done. Without direction or input from any adult, they started to break into song, first performing numbers from Oliver, followed by a collection of contemporary and vintage pop songs. Even the Roosevelt High School alma mater somehow made it onto the song list. It could have been a collective sugar rush from all the desserts and sodas the kids had consumed or delirium from doing four performances in three days. Regardless of what fueled it, that spontaneous songfest was the purest expression of joy I had ever seen.
On the drive home, an exhausted and still delirious Kennedy told us what we already knew—we were doing Ohana Arts again next summer.