Pacific Ink and Art Expo 2016 – Day 1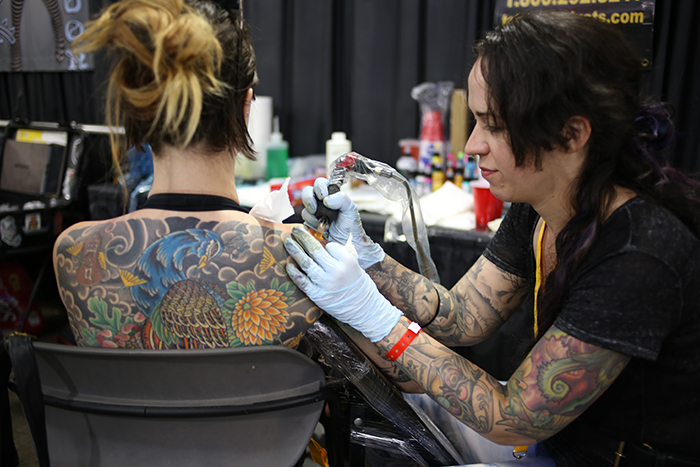 What's black and white and red all over? The skin of most people at the first day of the Pacific Ink and Art Expo. I strolled through corridors of skin canvases and bloody inking, watching magicians at work. It must take a large amount of mental fortitude with a big dose of guts to sit through hours of pain, blood, and ink. I witnessed tough guys putting on a brave face and gritting their teeth as their skin was worked on. Across the way, young girls smiled and laughed while happily exposing their legs, arms, and necks to the tattoo gun's buzz.
Artists from all over the world set up shop in our neck of Honolulu, from local talent to international celebrities within the tattoo community. Alongside the artists, a main stage offered live entertainment, surrounded by a multitude of vendor booths from clothing to hair cuts. Custom cars and bikes were showcased, along with a skate ramp in the back for the daredevils.
The Pacific Ink and Art Expo at the Neal S. Blaisdell Center ends on Sunday, August 7th,
Pacific Ink and Art Expo
www.hawaiitattooexpo.com
Neal S. Blaisdell Center
777 Ward Ave, Honolulu, HI
August 5th, 6th, & 7th