Our top picks at the new Waikiki Yokocho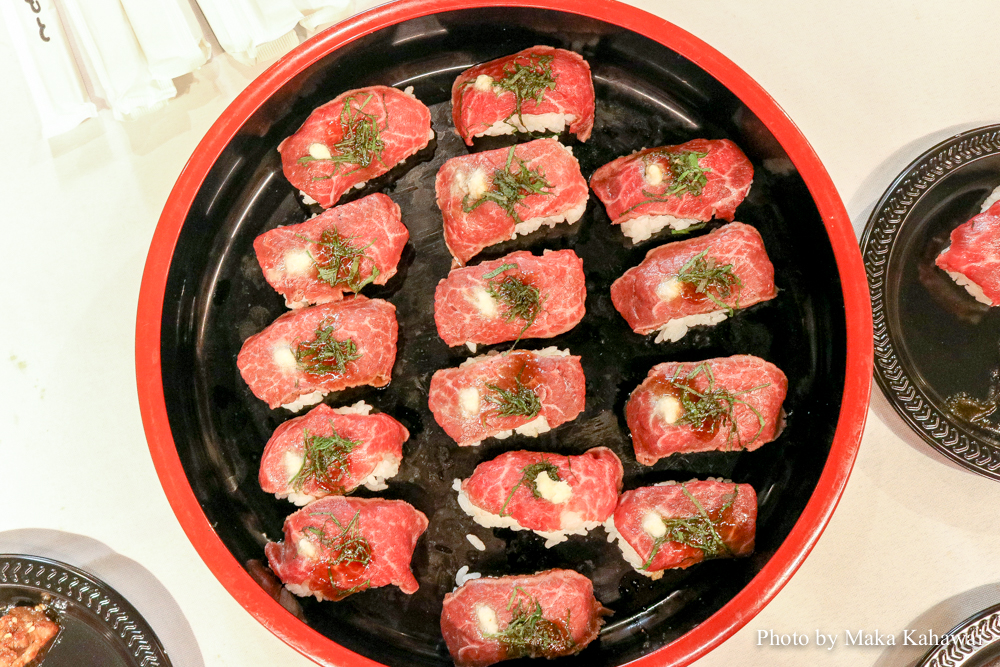 Do you remember the guide to upcoming Waikiki Yokocho eats that we gave you at the beginning of November? Ten of the planned 16 eateries at Honolulu's newest Japanese food cornucopia are opening their doors to the public this Thursday, Dec. 1st.
We checked out the media preview Tuesday night. It's in the Waikiki Shopping Plaza, the same building as Buho Cocina y Cantina, so parking in the building garage is $2.50 per 30 minutes or a flat rate after 6 p.m. Based on our quick sampling, here are the top spots that will have us heading back to Waikiki.
Nana's Green Tea
More matcha and hojicha lattes, soft serve and sweets, please! I was really excited when Matcha Cafe Maiko opened in July, but Nana's Green Tea outdoes them in my book. Matcha (green tea) latte is the main flavor for many of the lattes, floats and frappes, but you'll also find a subtler-tasting hojicha (roasted green tea) latte, a surprising azuki latte and plain coffee as well.
Drink aside, Nana's uses the same matcha and hojicha latte base to make great soft serve and regular ice cream. It of course goes hand in hand with their parfaits, sundaes and anmitsu (agar jelly cubes served with ice cream, mochi and various other toppings).
I wouldn't normally include a menu photo, but Nana's is doing something special. Although the company is an international chain, only here at their first U.S. location are they going to serve alcohol! They'll be mixing their creamy matcha latte base with different liquors, from sake to Malibu banana rum, to create six fun green cocktails that I'll definitely be back to try.
Kushi Katsu Tanaka
Kushikatsu roughly translates as "skewered katsu." I have a soft spot for Kansai foods, so I went in with pretty high hopes for this Osaka-based chain and am so glad they didn't disappoint! They've got 26 kinds of kushikatsu from classic proteins and veggies to less predictable items like pickles, pineapple and cookies and cream.
While kushikatsu is the specialty, they'll also offer a handful of appetizers ($3.90-$7), small plates ($6.50-$9.50). Try the Niku Sui (a.k.a. beef soup), udon varieties ($7.50-$9), dashi chazuke ($7.50) and alcoholic beverages (starting at $5.50).
Fun fact: They have a special drink challenge! Every time you order an alcoholic drink, you get a chance to roll a pair of dice, and if you manage to land a double of any number, you get a free kushikatsu of your choice.
Sizzle
Two words: wagyu sushi. Sizzle has seafood, fried foods, salads and soups, but their wagyu beef nigiri sushi is such a winner. If you're still on a wagyu kick, they also offer it tataki (sliced, briefly seared) and carpaccio (raw, thinly pounded) style at $18 each.
As for the rest of the menu, there's seafood, deep-fried dishes, salads and soups, but they are proud of their shabu shabu (Japanese style hot pot) and yakiniku. And yes, you can definitely find more beef there!
Waikiki Yokocho
2250 Kalakaua Ave, Lower Level 100
926-8093
waikiki-yokocho.com
Sunday-Thursday 11 a.m.-12 a.m. (some stores may open at 7 a.m.)
Friday-Saturday 11 a.m.-2 a.m.