Our Top 5: Loco moco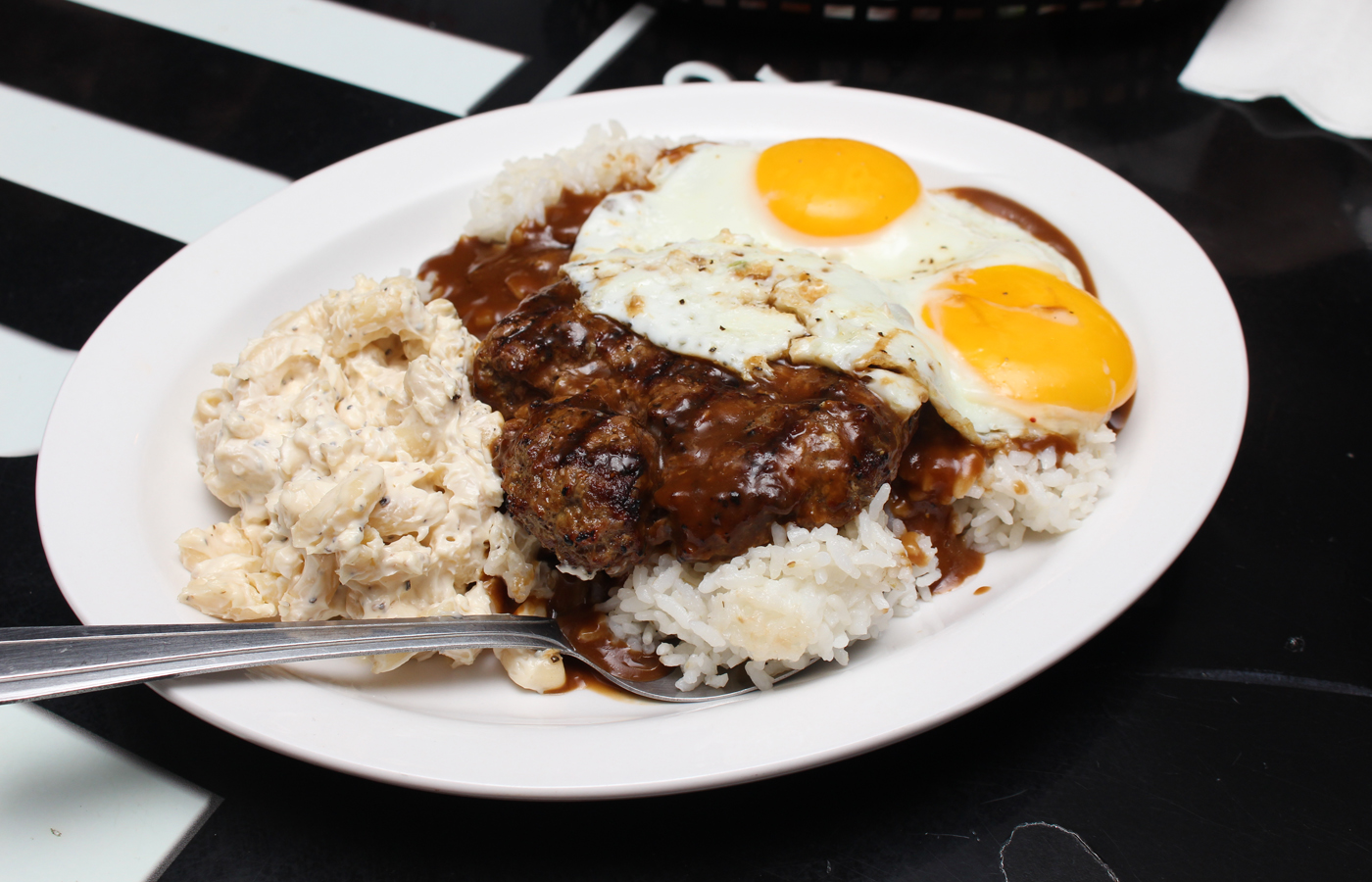 One of my all-time favorite foods is a classic loco moco. A juicy beef patty, fried egg and rich gravy over steaming white rice is a winning combination when I want a big, tasty meal.
Over the years, I've tried many loco mocos at eateries across the island. I prefer my eggs sunny-side so I can mix the runny egg into the gravy and rice. Mac salad is also a plus since the mayo and pepper add a nice creamy texture and hint of flavor. For my Top 5 picks, I only considered traditional loco mocos, leaving out gems like Zippy's chili moco. These five are my favorites because they season their juicy beef patties and pack tons of flavor in the gravy, better than all the rest.
No. 5: Karen's Kitchen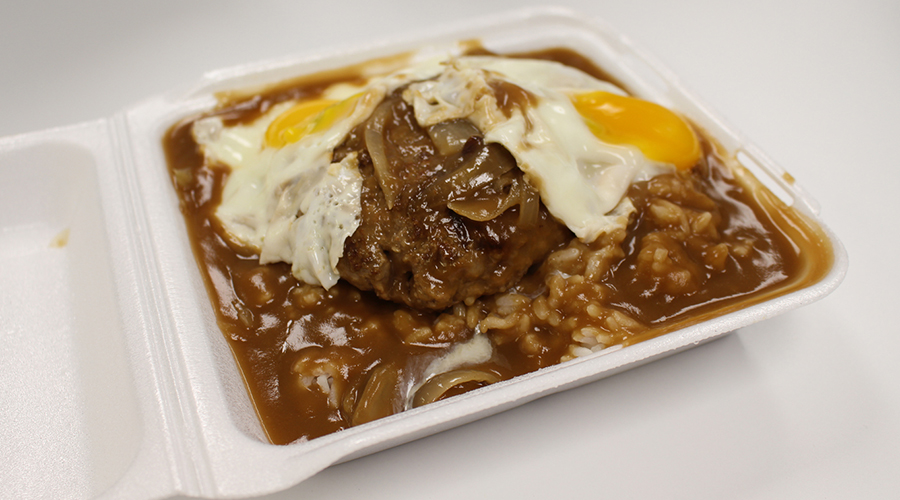 Karen's Kitchen's loco moco ($8.95) is the largest on my list, overflowing from its takeout container. When ordering, they ask your preferences, whether you want onions and how you like your eggs cooked. My answer is always "yes" to onions and sunny-side for the eggs. This loco moco is layered with a generous helping of rice, a thick and juicy beef patty and a tangy gravy before the eggs are plopped on top. Be sure to get a ton of napkins and expect a kanak attack soon after.
Karen's Kitchen
614 Cooke St.
808-597-8195
No. 4: Il Lupino Trattoria & Wine Bar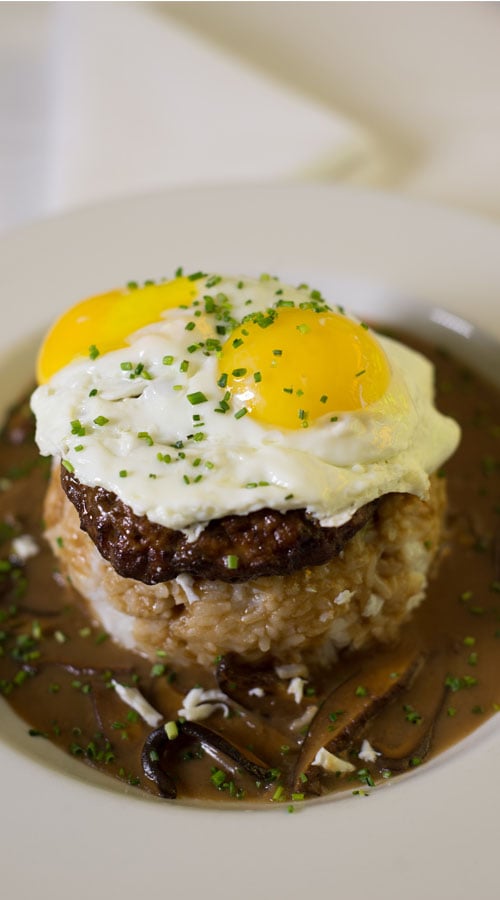 The fanciest loco moco ($16) among my Top 5 is this upscale version from Il Lupino in Waikiki. Only served on the breakfast/lunch menu (7 a.m.-12 p.m.), this loco moco is prepared with a veal, pork and beef patty, a rich Marsala and mushroom gravy and two local eggs. The gravy is bursting with flavor from the reduced Marsala wine and sauteed mushrooms, making this luxurious dish worth the price. Photo by Kelli Bullock
Il Lupino Trattoria & Wine Bar
Royal Hawaiian Center
2233 Kalakaua Ave.
808-922-3400
No. 3: Wally Ho's Garage & Grill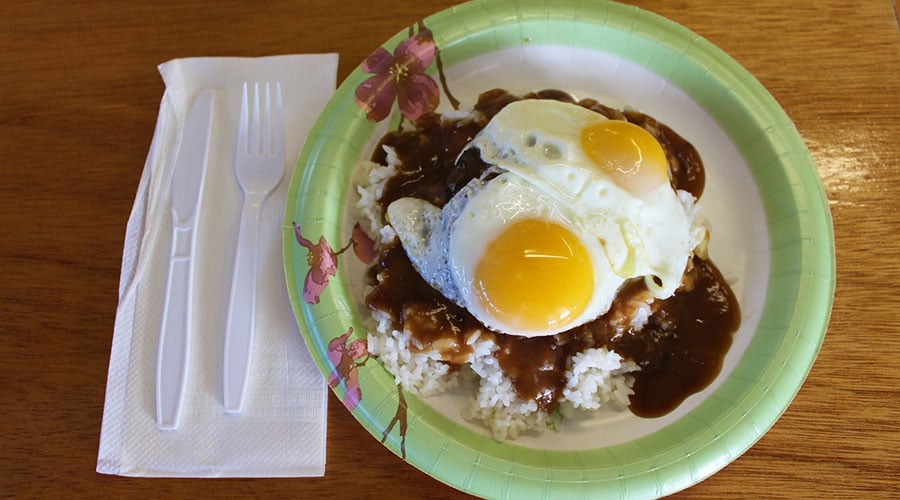 The least expensive loco moco ($7.75) among my picks is from Wally Ho's in Aiea. This quirky, old-time garage and grill has lots of charm and specializes in no-frills plate lunches. Served on a paper plate, the juicy patty is flame-grilled before getting drenched in a flavorful brown gravy. Great for a quick lunch on the go, this loco moco has been a longtime favorite of mine for its consistency, flavor and price.
Wally Ho's Garage & Grill
98-380 Kamehameha Highway
808-488-2220
No. 2: Home Bar & Grill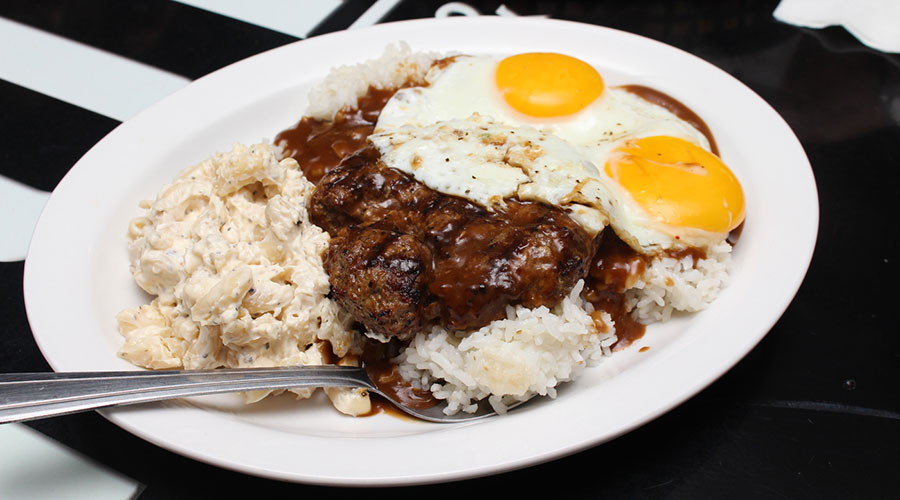 The next two loco mocos rank far above the rest on my list. I've always loved Home Bar & Grill's burgers, which preserve the rich and hearty flavor of the local beef they use. And this loco moco ($9) is perfectly char-grilled and as juicy as you can keep a thick patty. A nice helping of gravy is poured over, adding a comforting touch. But the star here is the mac salad, with flecks of cracked black pepper adding a kick. Its superior creamy texture also is delicious when mixed with the gravy, rice and eggs.
Home Bar & Grill
1683 Kalakaua Ave.
808-942-2237
No. 1: The Alley Restaurant and Bar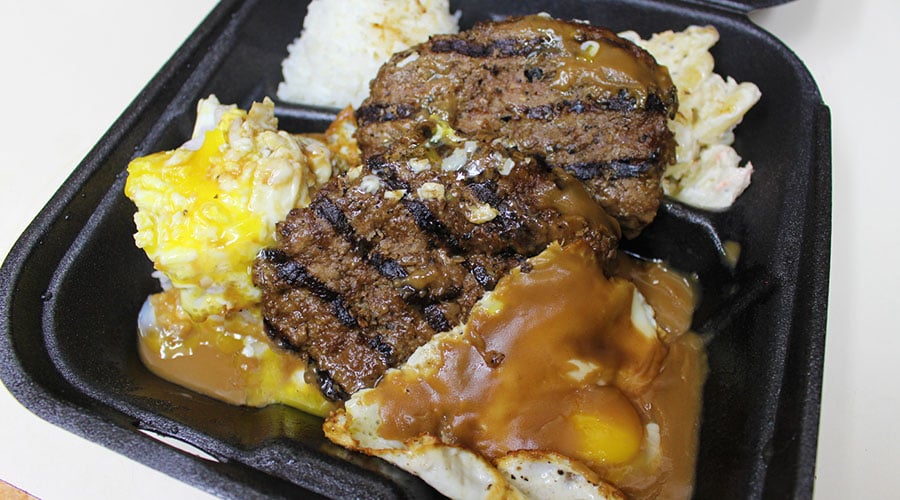 My favorite loco moco ($12.95) is served up at Aiea Bowl's Alley Restaurant. Two massive beef patties are seasoned before hitting an open flame, adding a smoky char for balance. Of all the loco mocos I've eaten to date, this one has the best overall flavor. Even when taken to go, the patties remain moist, and the gravy stays thick. The mac salad is also key to the overall winning flavor. I find myself scraping the corners of this plate lunch until I scoop up every last drop of gravy and every last grain of rice.
The Alley Restaurant Bar & Grill
99-115 Aiea Heights Drive
808-955-6030
Want more of Our Top 5? Here's our full roundup of Our Top 5 picks