Our Top 5: Fried chicken 2.0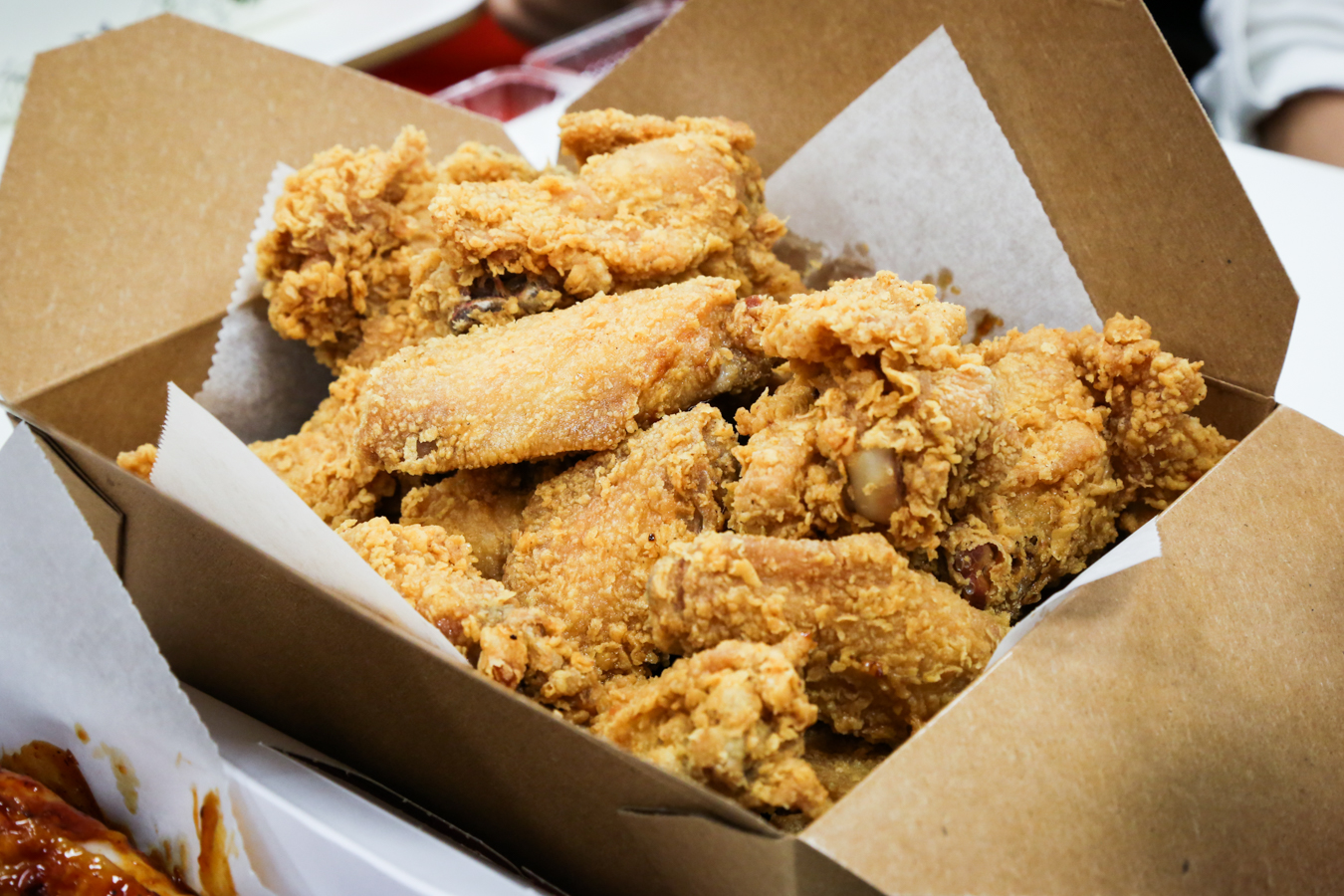 Nearly three years have passed since Diane Seo wrote about her insatiable lust for fried chicken. She laid out her standards for the perfect piece: "It must be juicy and tender, but not overly greasy. It has to be flavorful, yet not gamey or salty. And for me, it's all about the skin," she wrote. I concur.
In honor of National Fried Chicken Day on July 6, I initiated a fried chicken cleanse (haven't you heard? It's the latest trend) to find the crispiest, juiciest, most flavorful fried poultry on Oahu. Let it be known that not all fried chicken is created equal. You'll see it in many forms — from crumbly deep-fried drumettes and wings to boneless nuggets and luscious thighs. One thing is certain: We can't keep our hands off fried chicken!
Honorable mention: New Hanagasa Inn
There's just something about the incredibly crisp, almost transparent skin on the tasty morsels of fried chicken ($13) piled high on a plate at New Hanagasa Inn. Served pupu-style, these chopped-up thighs still have bone remnants, but it doesn't take much work to get the goods.
New Hanagasa Inn • 1343 River St • 531-5988 • Nuuanu
No. 5: Mitsu-ken
Mitsu-ken has been turning out their signature garlic fried chicken for over 20 years, and the line out the door is a testament to it. The juicy, slightly sweet boneless pieces are worth the wait, especially those crispy bits of skin. Once the scent wafts out of the box, expect aku birds to da max. Word of advice — eat fast or be prepared to share.
Mitsu-ken Okazuya & Catering • 2300 N. King St. • 843-5573 • Kalihi
No. 4: Von's Chicken
My love for Korean chain chicken was my dirty little secret when I lived in L.A. Secret trips to Kyochon after work were frequent but never documented. Now that Korean chicken has infiltrated our shores, I'm forced to come clean about this affair (after I lick the sauce off my fingers).
Von's fried wings come in a variety of coatings and seasonings, but it's the plain crispy that I flock to most. Once you've worked your way through a half-order in under 10 minutes, you know you've stumbled onto something good. You'll also do well by stocking up on kimbap sushi rolls and a bottle of Hite beer for a night of serious mukbanging.
Von's Chicken
1070 N King St • 845-9510 • Palama Market Kalihi
1670 Makaloa St • 447-7700 • Palama Market Ala Moana
1102 Pensacola St • 800-3359 • Makiki
No. 3: Sam's Delicatessen
Reminiscent of Von's crispy fried wings, Sam's takes their chicken a step further by marinating it in a shoyu-garlic-ginger mix before dredging in egg and seasoned flour and deep-frying to golden brown perfection. The result is a flavorful, succulent interior and a crisp exterior that nearly crumbles when you touch it. I love that you can order eight pieces on the side ($8.95) or a six-piece entree ($9.95) with four banchans and rice.
Sam's Delicatessen • 1627 Nuuanu Ave #2 • 524-7777 • Nuuanu
No. 2: Pancakes and Waffles
Making the list once again, Pancakes and Waffles is home to my second favorite fried chicken. Here we swap out rice and veggies for a thick Belgian waffle piled with fist-sized golden nuggets covered in sweet honey butter. Grab extra napkins because once you dig in, you won't come up for air until they're gone. Lick your fingers, I won't judge.
Pancakes and Waffles
City Square Shopping Center • 847-7770 • Kalihi
Waimalu Plaza Shopping Center • 200-7556 • Aiea
No. 1: Fete Hawaii
At Fete Hawaii, Robynne Maii's take on this southern classic goes well beyond a typical fried chicken entree. Half a Mary's chicken (minus the wings) is twice fried, resulting in moist meat encased in a thick, crunchy shell of battered skin. The pleasure of biting in is heightened by the cheesy Charleston grits and tangy tomato jam it's served with. Winner winner chicken dinner.
Fete Hawaii • 2 N. Hotel St. • 369-1390 • Chinatown