Our Top 5: Best places to catch the Super Bowl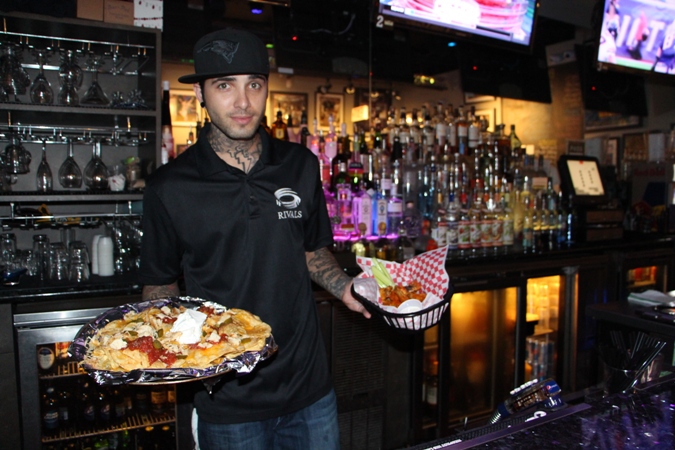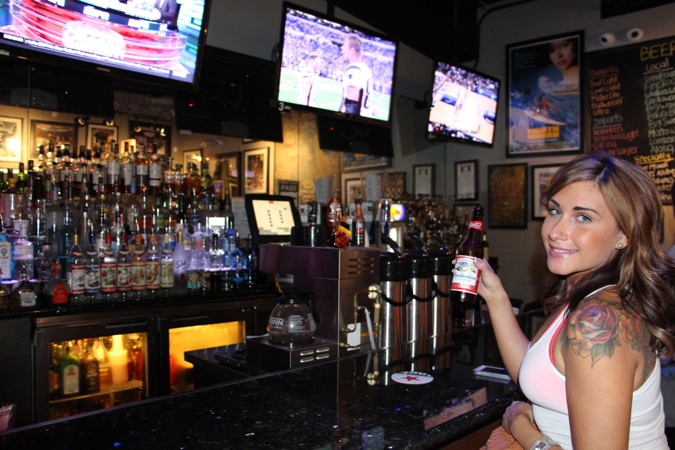 A tiny bit of harmless trash talkin', high fives with strangers who are suddenly your good buddy, and the electricity that comes from a crowd all in the same zone; that's Super Bowl Sunday!
My good friend and fellow sports enthusiast Sheldon Nagata from ESPN1420 and I came up with this list of favorite places to catch the big game. Our top picks are based on well-placed flat screen TV's, great food, drink specials, friendly servers, and for extra points – game day prizes. Some places even offer reserved seating packages at a steal.
No. 5: Big City Diner
3565 Waialae Ave.
808-738-8855
bigcitydinerhawaii.com
Other locations – Aiea: 808-487-8188, Kailua: 808-263-8880, Waipio: 808-678-8868, and Ward: 808-591-8891
What we like: Sheldon and I agree that the Waialae location has the coolest local sports archives.
Super Bowl specials: $4 Miller Lite pints on tap, plus a special on pupu platters of noodles, ribs and chicken wings for $21.99.
Prizes: THE best Super Bowl Sunday prizes. All five locations are giving away a grand prize package for two to Las Vegas plus a Char-Broil charcoal BBQ grill.
What time: Specials begin at 11 a.m.
Reservations? It's first come, first served. If you have a big party, call ahead when you're on your way to let them know.
TV Situation: All locations have TVs scattered around the restaurant, but Waipio, Ward and Pearlridge have the most. Kailua, Pearlridge and Waipio have additional TVs on the patio. Either way, get there early for a seat.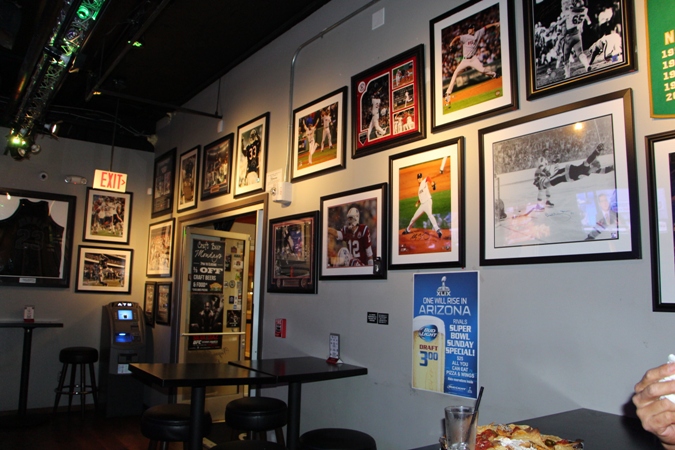 No. 4: Rivals Sports Bar
2211 Kuhio Ave.
808-923-0600
rivalslounge.com
What we like: Sheldon claims Rivals has the most sports memorabilia in the state. I just can't get over the mega nachos.
Super Bowl specials: Reserved seats are $25 and include all-you-can-eat wings and pizza. Drink specials include $3 Bud Light draft, $3 Budweiser bottles and Jameson shots for $4.
Prizes: Word's out that they'll be doing drawings to give away sports memorabilia.
What time: The action begins at noon.
TV Situation: There's about 16 flat-screen TVs with a good view for all.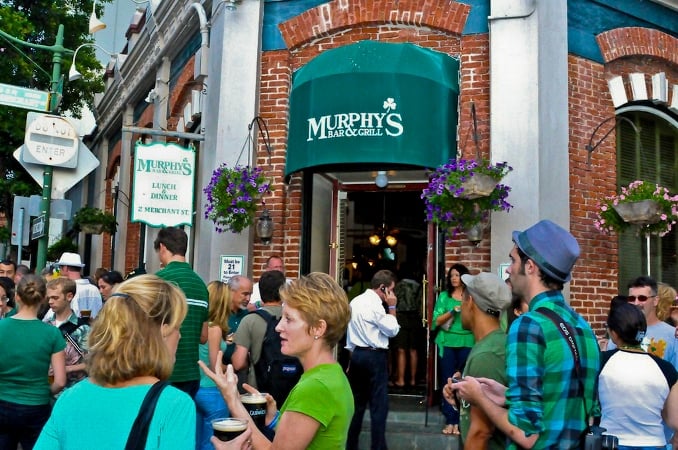 No. 3: Murphy's Bar & Grill
2 Merchant St.
808-531-0422
murphyshawaii.com
What we like: The home-style cooking is what draws me. Sheldon is intrigued with the Irish sports pub's manly atmosphere.
Reservations? Recommended but not required.
Super Bowl specials: There will be $2 oysters, and drinks start at $4. Mr. Murphy will also be cooking up a few surprises.
What time: Restaurant opens at noon.
TV Situation: There are six screens in the dining room and eight in the bar area. Everyone should have a good view.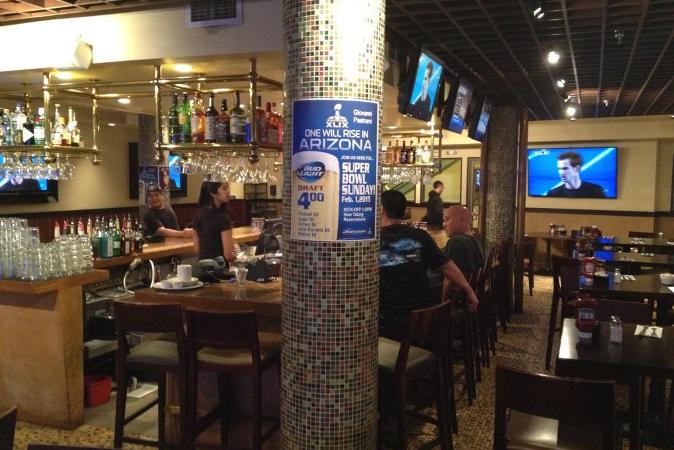 No. 2: Giovanni Pastrami
227 Lewers St.
808-923-2100
giovannipastrami.com
What we like: The restaurant area has a high-energy, glitzy feeling. Sheldon can't stop talking about the personal sound systems at the tables, perfect for hearing big plays.
Super Bowl specials: Drink specials include $5 Fireball, $5 Jagermeister, $6 Crown Royal, $8 Patron and $4 Bud Light.
Reservations? Required for a table, but you can walk in to try to get a seat at the bar. Note that there's a minimum purchase of $25 per person.
What time: If you have a reservation, you need to be there by 1 p.m. If not, then plan to be there around 10 a.m. to claim a bar stool.
TV Situation: The restaurant has wall-to-wall TVs. Everyone should have a great view of the game.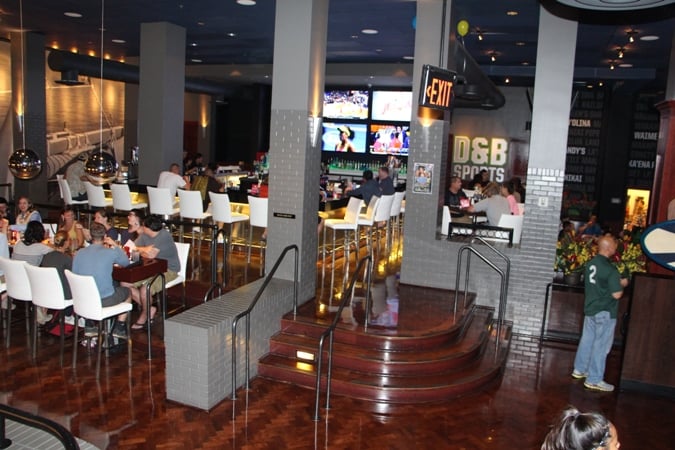 No. 1: Dave and Busters
1030 Auahi Street (Ward Centers)
808-589-2215
daveandbusters.com
What we like: I love that the entire Viewpoint Bar and Sports Lounge had a mega makeover, perfect to watch the big game. Sheldon adores the Las Vegas sports book feeling, with a massive walls of screens.
Super Bowl specials: Paina Hale on the second floor offers VIP treatment for $45. This includes a reserved seat, $10 Power Card, pupu buffet, Mexican food buffet, dessert and two drinks. If you want to downsize, you can still get a pre-reserved seat in the Sports Lounge and Viewpoint Bar for $10 and get a $5 Power Card and a chance to win a surfboard.
What time: All the action begins at noon.
TV Situation: It's epic! There are entire walls of giant TV screens – a killer view for everyone.