Our hood: Mililani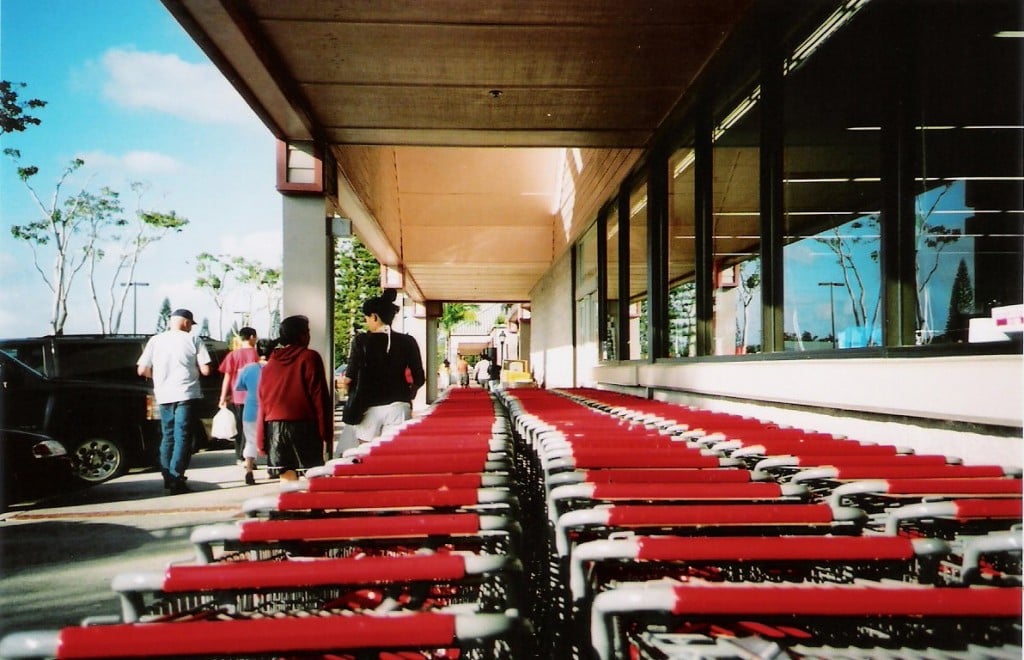 Our hood is a series spotlighting the neighborhoods the Frolic team calls home. Here are favorite places and eats in Thomas Obungen's Mililani.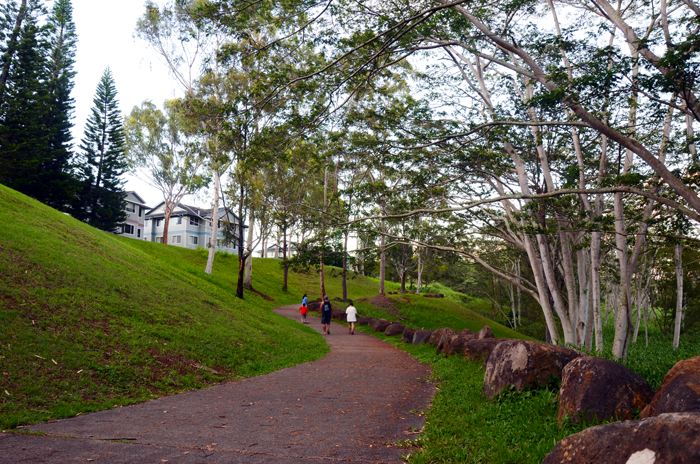 From the manicured lawns of Mauka to the rolling hills and cookie-cutter homes in Mililani Town, I've always felt proud to call MillVille home.
As one of Oahu's first master-planned communities, Mililani is tailored to a T — a far cry from its former pineapple and sugarcane days. Spanning 10.5 square miles of Oahu's central plateau, it was incorporated as part of the new towns movement, a post-WWII building boom that advocated for purpose-driven community planning that catered to the needs of its residents.
The Town Center of Mililani was the center of my high school universe. Yes, it's a desolate pinkish-gray sea of medical and financial offices with a sprinkling of chain eateries. But, going movies? Town Center. Going eat? Town Center. Going hang out? Town Center.
Once you escape the humdrum of chain restaurants, endless lines at Walmart and invites to your neighbors' kids' birthday at Rec 5, there's a lot more to this bedroom community than your dentist's office and another version of tableside caesar salad.
I escaped — all the way to the Golden State for a couple years. That's when my appreciation for my hometown soared. Despite its dizzying mainland facade, Mililani's hyper-local sense of community is unparalleled.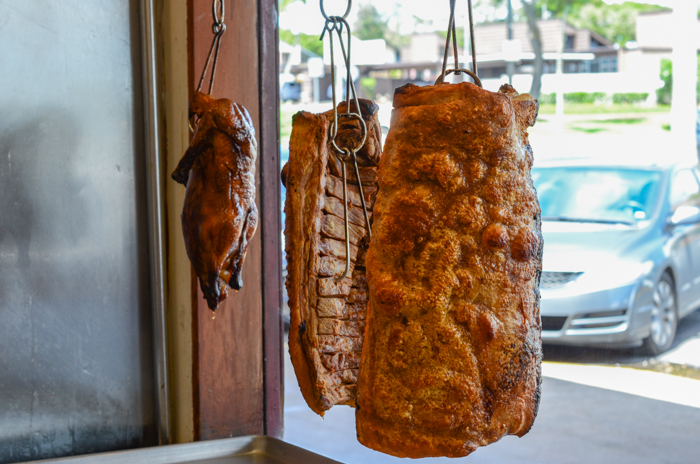 Growing up, after getting our matching buzzcuts at Supercuts in Mililani Marketplace my dad would always treat me to a Pepsi Icee and some roast pork from Po Sing Kitchen. A mainstay in the shopping center anchored by Safeway, Po Sing is one of the few mom-and-pop establishments that have stood the test of time. I mean, who can resist a window of crispy meat slabs begging to be hacked into bite-size pieces?
The skin crackles with an audible crunch to reveal tender layers of meat and fat that just melt on your tongue. I dare you to find a crispier siu yuk outside of Chinatown. And although the prices have crept up over time, the roast pork still beckons me back to Central Oahu from time to time.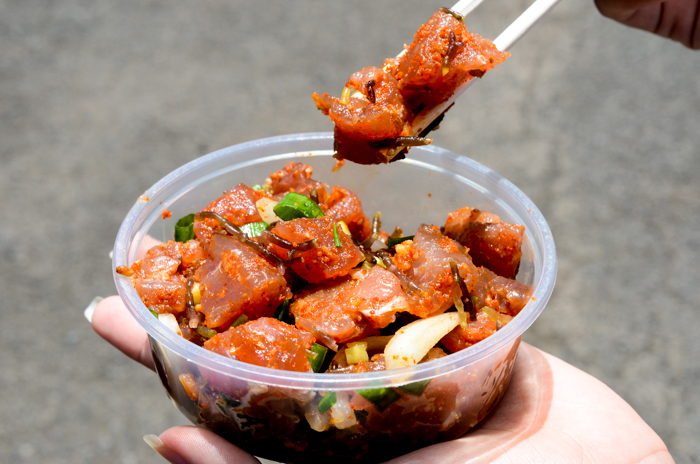 It's a mini mart! It's a vape shop! It's a poke stand! Actually it's all of those, and then some. A rather new blip on my radar, Golden Mart is one of those hidden nuggets I can't believe I never discovered until recently. It's the best place to stop before a soccer game at 16 Acres to stock up on fresh poke, fried chicken, spam musubi, boiled peanuts and some ice to cool down your 10-pack of Capri Sun.
I really enjoy Uncle Eddie's spicy ahi poke, which is a drier style than its mayo-laden cousin and uses Korean chili pepper flakes rather than Sriracha to kick the heat up. It's dotted with bits and pieces of limu and white onion for a crunchy contrast to the soft cubes of ahi.
The last new home in Mililani Mauka was sold in November 2008. Since then, a slew of new businesses have popped up at the bottom of the hill near McDonald's, much to the appreciation of residents. Newcomer Taps and Apps answers Mauka's dire need for a community brew pub — a place to catch the game and enjoy a flight of craft beers before walking back home.
With 36 beers on tap constantly on rotation, including a couple more they brew in-house, there's only a negligible chance you'll get bored with the choices. The extensive menu by Daniel Kawamoto, former executive chef of Brasserie du Vin, has knockouts like Irish Nachos, Lamb Scotch Egg, signature burgers and other beer-friendly fare.
When I found out that the owners were the parents of my elementary school classmate, it dawned on me just how small Mililani really is.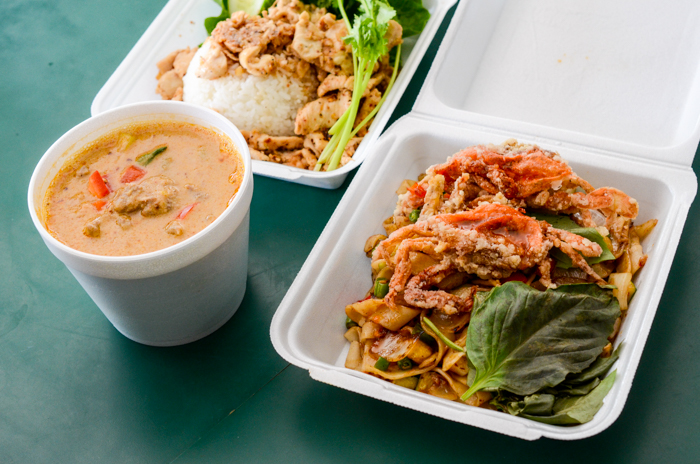 Some days my mom didn't feel like cooking. For many working parents, it's easier to get takeout the whole family will enjoy, which is easier said than done.
Take a detour down Kuahelani Avenue to the quieter corner of Mililani Shopping Center where Roy Sakuma's ukulele school is located. There, you'll catch an intoxicating scent wafting in the late afternoon breeze that lures you in from the parking lot.
Follow that scent to Rajanee Thai, where Rajanee and her son Kenny prepare a sprightly menu with noodle and curry staples; however, it's the specials like softshell crab drunken noodles you'll end up shelling out for. Delicate crabs are dunked in a light batter and fried up to a crisp before landing on a bed of saucy chow fun noodles. Even when I'm way too full I ignore my stomach's pleas to stop and have another bite or two.
Living the past two years in LA has forever shaped my tastebuds. Tacos are no longer drenched with sour cream and wrapped in wax paper, but rather act as apparatuses to funnel stewed or grilled meats into my mouth. When I moved back to Hawaii, I knew I was leaving one of my favorite cuisines behind. With Surfin' Salsa, that is no longer an issue.
Like clockwork, you'll find me hypnotized by their rotating sizzling spit of pork al pastor every Saturday evening. I'll usually get a couple of tacos with pineapple and avocado salsa to stave off my hunger pangs until I can indulge in a plate of perfectly fried chimichangas (also filled with al pastor). The Mexican rice and refried beans seal the deal and take me back to nights at King Taco in Long Beach. Mmph. So satisfying.
This All-America City (1986) may have won the hearts of the National Civic League for just one year, but Mililani has a home in my heart forever.
Po Sing Kitchen • Mililani Marketplace • 94-780 Meheula Pkwy Suite E • 623-9878
Golden Mart • 95-119 Kamehameha Hwy • 625-2442
Taps and Apps Brewpub • 95-1830 Meheula Pkwy Suite C6 • 626-8277
Rajanee Thai Cuisine • 95-390 Kuahelani Ave • 853-4724
Surfin' Salsa • 95-130 Kamehameha Hwy • 692-2471