Our Guide: Sea Life Park
Our 12 tips for what to feed, how to see the sea lions at their best, why you'll definitely want to visit the birds, plus our guide to the most entertaining exhibits for every age group.
Photo: Lavonne Leong
Where: Sea Life Park, 41-202 Kalaniana'ole Highway, Waimānalo
Who: Three parents and three kids–two 6-year-olds and an 18-month-old.
When: 9:30 a.m. to 4 p.m. on a sunny high-season Sunday.
I grew up going to Sea Life Park, perched on the breathtaking Makapu'u coastline. The park was founded in the 1960s as the educational arm of the neighboring Oceanic Institute, then split off to go its own way. But like marine parks everywhere, Sea Life Park has again been evolving with changing times. We stopped in to see how those changes stack up for families.
For a start, Sea Life Park now feels less like a circus-with-dolphins, and focuses more on conservation and education. Every show and talk we attended went in-depth about the species it featured, and concluded with a plea to conserve habitat and care for the planet. Their main Dolphin Lagoon Show borrowed inspiration from television for an Atlantic vs. Pacific bottlenose dolphin contest.
With the reduced focus on the narrative and theatrical aspect comes a more minimalist approach to the animal settings. If you loved the lavish, teeming "Hawaiian coral reef" tank that greeted visitors up to a few years ago when you entered the park, you will miss it. The enormous tank is still there, but it's now filled with reef sharks, a few fish, and a giant ladder for humans. It still packs a visual punch—just a different one. If you grew up breathlessly awaiting the Discovery Channel's Shark Week, it might thrill you. We saw plenty of little-kid "oohs" and "ahhhs".
Sea Life Park was designed in an era of more frequent trade winds. These days, the open-air aspect can get really hot on summer days. When we visited, they were renovating the grand shopping complex that we were hoping to take refuge in for the air conditioning. Other excellent spots for A/C: the "adventure" check-in lobby and the 3-D animated interactive show next to the playground that runs twice a day. But the park has thankfully created shade over many exhibits and shows, and a total revamp of facilities is in the works (see below).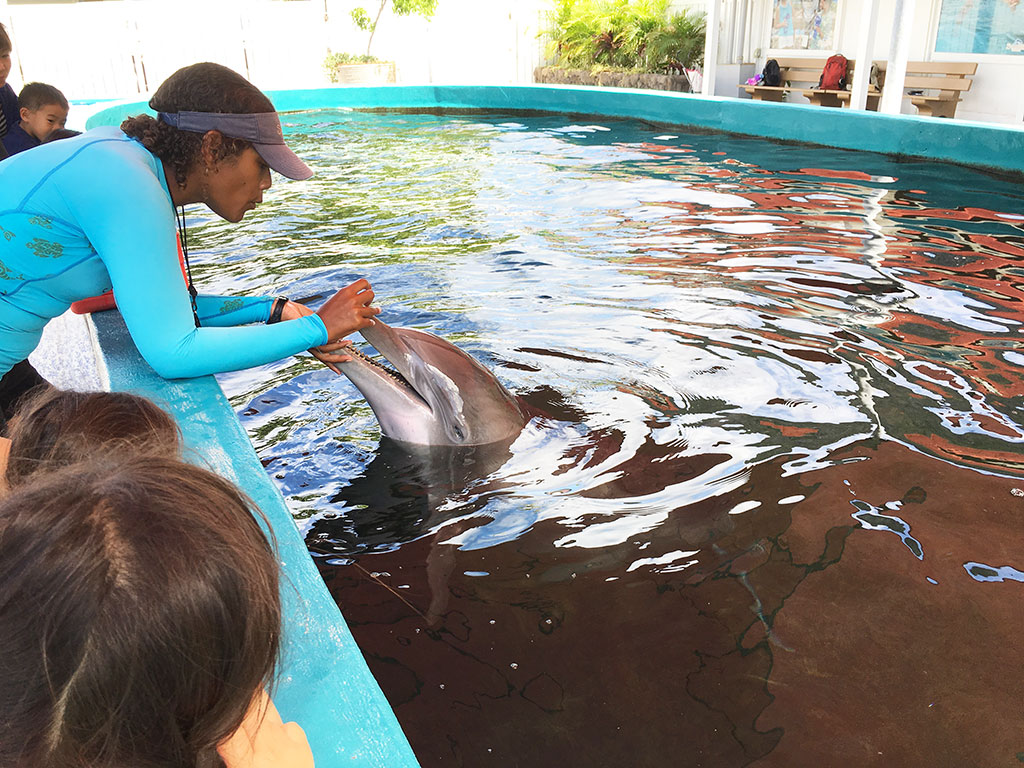 Photo: Lavonne Leong
There's also an extensive menu of add-on "adventures." For an extra fee you can swim with dolphins, sea lions, sharks, or manta rays and reef fish. The marquee experiences can get pricey, but there are more affordable options like the Hawaiian Reef Encounter (see below) and Dolphin Aloha, an entry-level dolphin encounter for those who don't need to get wet. For a kama'āina rate of $49.99, Dolphin Aloha participants will go "backstage" and see a dolphin from two feet rather than 20 yards away. The 20-minute experience includes a host of fun and interesting dolphin facts, a photo op, and a brief touch-and-feed experience. If you've always wanted to meet a dolphin, it's a good way to go.
Just as fun, in our family's opinion, were the other interactive feedings we did, which cost less and have no time limit. Honu (green sea turtle) food in a souvenir cup costs $4 and provided 20 minutes of fun as we watched the turtles gulp down their lunch in slow motion. Feeding the gentle giants made the baby turtle talk at the Discovery Touch Tank (where there is a different young turtle on show every day) much more interesting for the kids.
Photo: Lavonne Leong
We also loved what has become in some ways the park's piece de resistance—the aviary, which is free with admission and contains hundreds of curious, cheeky lovebirds and cockatiels. The three friends-with-families we bumped into while we were there had all come for a nice long stint at the aviary. Yes, they're pet birds (and aren't Hawaiian in the least), but if you can get past the weirdness of visiting sea life park for bird life, it's fun to take a little stick of birdseed from the box supplied by the park and hold it up until a bird (or three) lands on your hand (or your shoulder, or your head) and starts nibbling. The loudest shrieks of kiddie delight that day came during bird-feeding time.
The changes are far from finished at Sea Life Park. Park spokesperson Christina Leos says that the park we see today is set for a dramatic transformation over the next few years, helmed by local-born General Manager Valerie King. The park's shows have already refocused on education, new conservation areas are opening, and the park is consulting with local groups as to how best to "bring back what a lot of local people felt like the park forgot," says Leos. "Basically, it's bringing Hawai'i back to Sea Life Park."
What that might look like is still to be determined, but they're starting with the construction of a new, two-story entrance complex over the next 12 months that will incorporate a reef aquarium inspired by the one that used to greet visitors decades ago. Also on the slate: an expansion of the current honu habitat, into a conservation center that showcases the only captive breeding population of Hawaiian green sea turtles in the world.
That's better in line with the park's founding purpose, says Leos, which is "to allow someone who might not have been able to experience marine life in this way, to develop a bond, whether it's with a sea urchin or a dolphin. With a sea urchin, if you can see it moving, see it feeding, you're more likely to want to protect and care for it. You can see it's not going to harm you. You're less likely to throw your rubbish on the beach, because you're aware of your place as a human in their environment. That's why we do what we do—to make a difference."
Our 12 Tips
You will not want to get there at 9:30, but try anyway. There's an almost endless roster of shows, talks, and exhibits. Most exhibits close from noon to 1:30 p.m. so the animals can rest, so there's less time than you think.
Prepare for the sun. You will spend a ton of time in the shade. But at the end of the day, if you did not wear a hat and liberally apply sun cream (like we didn't), you may wonder, as we did, how you got so burned.
Toddlers tiring out? The park rents strollers for $5 a day.
If you have to pick just one animal to feed, feed the honu, not the sea lions. It costs less, takes more time, is way more fun, and your hands (and your kids' hands) won't get all fishy because adult honu eat vegetables.
Do not feel like you have to attend every show and talk. Unless you have a budding marine biologist, the talks are worthy but optional. Ditto the 3-D Interactive Marine Life Experience, which is diverting (and blessedly cold) but not essential.
Watch the sea lions off-hours. In our opinion, when they're doing their own thing in their habitat, they're naturally theatrical.
Remember, there's no outside food allowed. The café's prices are pretty reasonable for pretty good food. But, the park also doesn't do bag checks.
Don't worry too much about crowds. We went on a weekend in high season, and the park never felt unpleasantly crowded. That in itself may be enough reason to visit.
Bring a water bottle. You can fill up on ice-cold water for free with lunch.
If you're going to the aviary, you may want to bring a change of shirt and a washable hat for everyone. Trust me on this.
Watch for discount days. Sea Life Park offers a few days where you can bring in a keiki free with a paying adult. On Nov. 18, 2017, you can even bring in three kids with each paying adult for the Savvy with Shearwater event.
Bathrooms: there are two good ones, one by the entrance and one by the exit and café. Grab the chance while you can; although the park is compact, it's not that compact.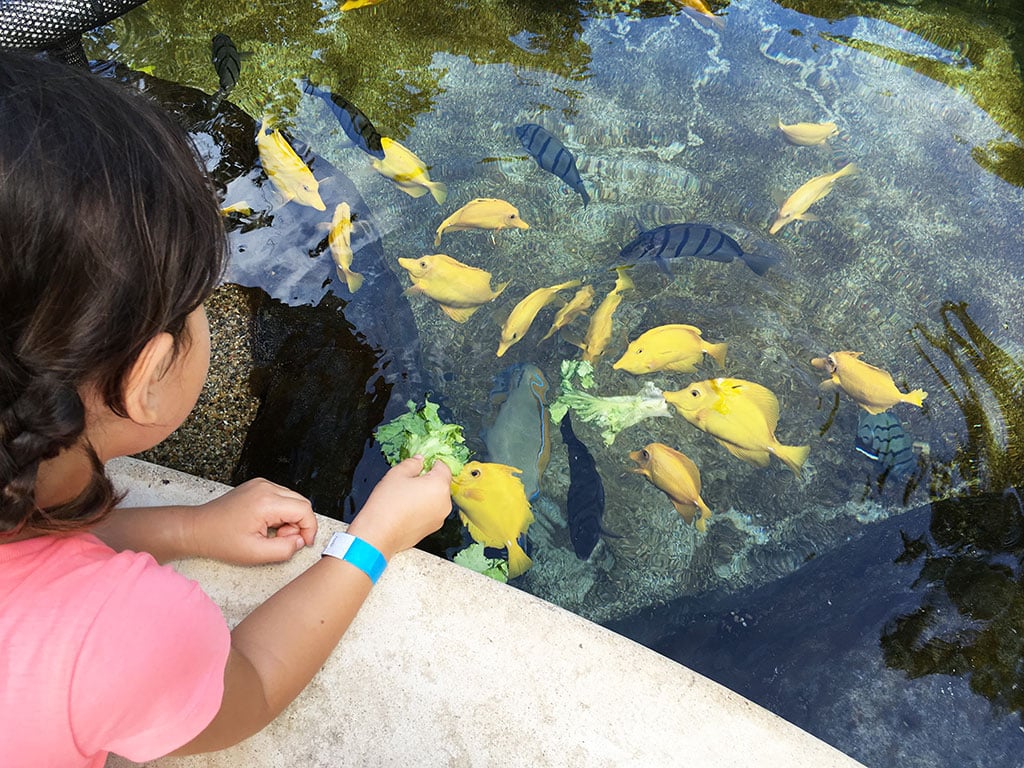 Photo: Lavonne Leong
Highlights by Age Groups
For 0- to 4-year-olds: The Discovery Reef Touch Pool lets you feed fish, pet pillow starfish, and look at (or learn about) baby sea turtles. There's also a glass tunnel under one of the pools, so little kids can crawl inside for an immersive (but dry) reef experience. The Dolphin Lagoon show at midday provides plenty of "wow" while parents take in the show's magnificent coastal backdrop. Arrive at that one early to score seats in the shade.
For 5- to 7-year-olds: Kids this age will have a scream feeding birds in the aviary, and throwing celery and greens to the hungry but slow-moving honu. Their can't-miss show is the Hawai'i Ocean Theatre. It's great for smaller kids, who descend the bleachers and gather around the deep-glass-walled tank for great views and occasional splashes.
For 8- to 12-year-olds: The park is the perfect size for responsible older kids who are well-supervised to wander for short periods on their own. They're also ready for a more expensive "experience," because at this age they probably won't refuse to go at the last minute because they're tired or hangry. Our favorite is the Hawaiian Reef Encounter ($49.99 for kamaaina), which lets participants glide around with brightly colored reef fish and stroke the velvety skin of Hawaiian brown sting rays (don't try it in the wild; these rays, like all the park's interactive animals, have been specially raised to expect human interaction). There's often even (shhh) a shark in there.
Sea Life Park
41-202 Kalaniana'ole Highway #7, Waimānalo
(808) 259-2500
Hours: Open daily, 9:30 a.m. to 4 p.m. through Dec. 31. The park usually stays open longer during the summer.
Prices: General admission is $19.99 for kama'āina and military 13 years and older, $14.99 for kids 3 to 12 years. Annual passes are $49.99 for 13 years and older, $39.99 for kids 3 to 12 years.
Parking: Free and onsite.