Our Guide: Family Sunday at Honolulu Museum of Art
Six things to know about HoMA's FREE monthly art activities and kid-friendly films.
When the Honolulu Museum of Art first introduced "Family Sunday" in 2004, free admission to an art museum where kids can run amok (eeek!) was not our idea of a relaxing weekend. Forgive us. We were single, childless and preferred the museum's ARTafterDARK nightlife scene back then. Now that we're parents and raising children of our own, Family Sunday at the art museum is one of our top picks for free, wholesome fun!
Here's why: It's a perfect venue for Sunday playdates. Museum volunteers and staff are helpful and welcoming. Our children get to learn from art professionals, listen to live music on the lawn and watch family-friendly films in the theater. And, if outside temperatures soar, we can escape the heat and cool off in one of the museum's air-conditioned galleries (escape with, and not from, our kids, of course).
Family Sunday happens on the third Sunday of each month at the Honolulu Museum of Art in urban Honolulu.
Here are six things you'll want to know before you go.
Our 7 Tips:
1. Check The Themes. Every month, there is a theme related to the art projects and films, so visit the Family Sunday website first to see if it interests your children. Some unique concepts from past years have been Harajuku Japanese street fashion, Bollywood dancing, printmaking with the Honolulu Printmakers Association, (fake) sword-fighting inspired by the Middle Ages and ethnic celebrations. October's program typically involves Halloween costumes, and in December, you can count on taking home festive crafts that your kids make.
2. Look for the Blue Signs. The museum's layout is a labyrinth of hallways, courtyards and galleries—and can be very confusing for first-timers.
As you enter the front gate from Beretania Street, the Central Courtyard is directly in front of you with live music on Family Sundays. Behind the Central Courtyard on the left is the men's bathroom, and on the right is the women's. To find activity stations for keiki throughout the museum, search for large blue signs with arrows that read, "Make Art Here" (see the photo). Walk downstairs to the Doris Duke Theatre to watch keiki-friendly films that usually begin at 10:30 a.m and 1 p.m. If you have questions or get lost in the museum, staff members and volunteers wearing T-shirts can help you.
For a layout of the building, click on this map.
3. Don't Go Too Late. The museum is open until 4:30 p.m. but all kids activities end at 2 p.m.
4. Refuel Your Family. The Art Café—an open-air venue surrounded by gardens and a waterfall—serves gourmet salads, sandwiches and soups ranging from $6.50 to $26 each.
Although the cafe doesn't have a specific menu for children, you can request two (off-the-menu) items for kids on Sundays: Half a Belgian waffle with fresh berries, maple syrup and cream cheese whip for $9, or two scrambled eggs with cheese for $10. Tuesdays through Saturdays, the kitchen makes (an off-the-menu) kid-friendly pasta with butter and parmesan cheese for $9.50. The café is open Sundays from 11 a.m. to 1:45 p.m.
---
If you're looking for cold drinks or baked treats, visit the Art Coffee Bar in the Palm/Banyan Courtyard. There, you can order citrus spritzers, handcrafted sodas and pastries from $2 to $4.50 each. Tables and chairs are located around the courtyard.
To book reservations at the café, or to view the bar and café menus, click here.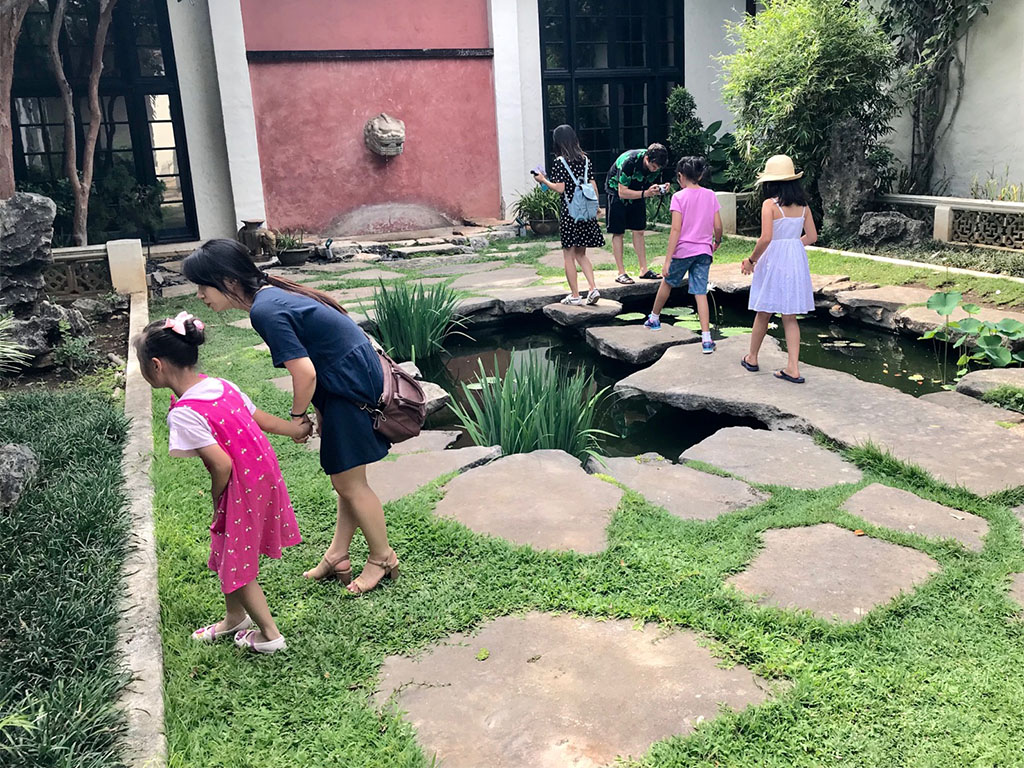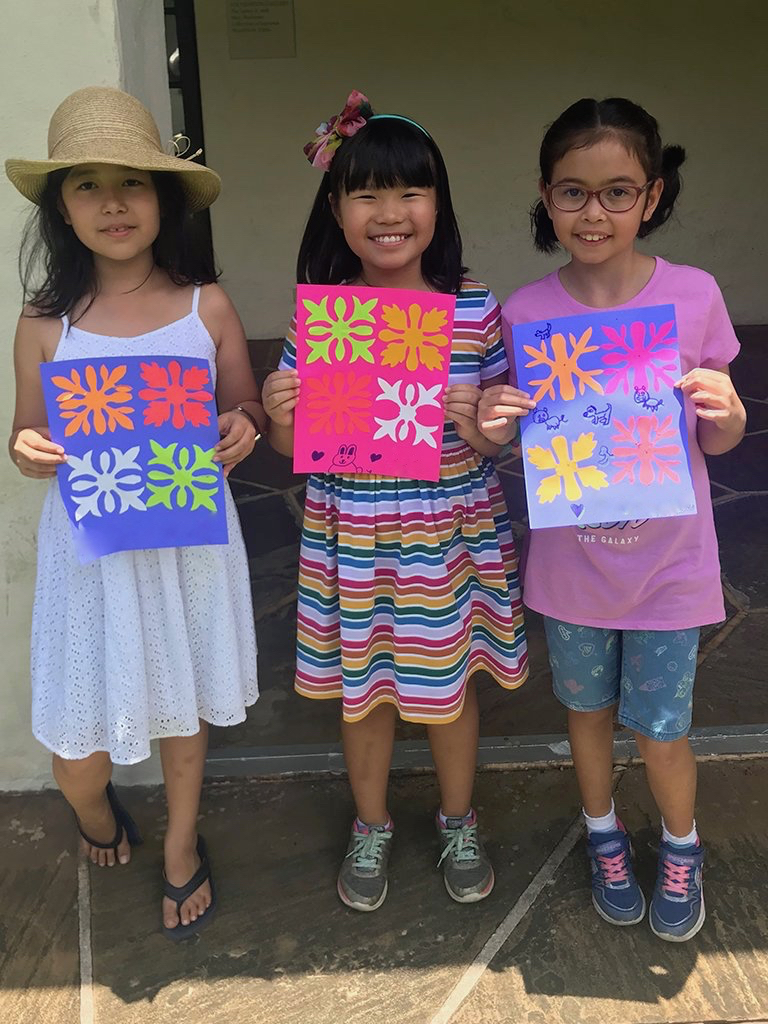 5. Know What's Behind Doors. Every gallery in the museum is a treasure trove of surprises! Children can walk on a pond and hunt for bugs in bushes in the Chinese Courtyard; search for animals and fruits in paintings in the European art galleries; or view dance masks and a giant Nandi Head in the Indonesian and Indian art rooms, respectively. Our suggestion is to know what's behind these doors before showing your kids. You know your children best—highly-sensitive children or young ones can be overwhelmed by the experience, while others may not be fazed at all.
6. Find Four Ways To Park on Sundays.
Sunday parking is free on Beretania, King, Kinau and Victoria streets bordering the museum. And, depending on Sunday events at the Neal Blaisdell Center, free stalls are available on Victoria Street next to Thomas Square and also on Beretania Street near McDonald's and Burger King.
There is a small parking lot (1035 Kinau St.) with free parking on Sundays for museum guests.
If you don't mind paying the same price as a Happy Meal, bring cash and pay the attendant who manages the parking lot next to the museum's art school (1111 Victoria St.). Enter the lot either from Beretania or Young streets, then use the crosswalks at Beretania and Victoria to reach the museum.
Friendly reminder: Wherever you park, please don't forget to lock your car's doors and hide valuables.
Family Sunday presented by Bank of Hawaiʻi Foundation is every third Sunday of the month from 10 a.m. to 4:30 p.m. at the Honolulu Museum of Art, 900 S. Beretania St., (808)-532-8700. Activities end at 2 p.m. honolulumuseum.org