Our Go-To: Bubbling Hot Pots in Honolulu
The Frolic team's favorite spots for comforting vats of deliciousness.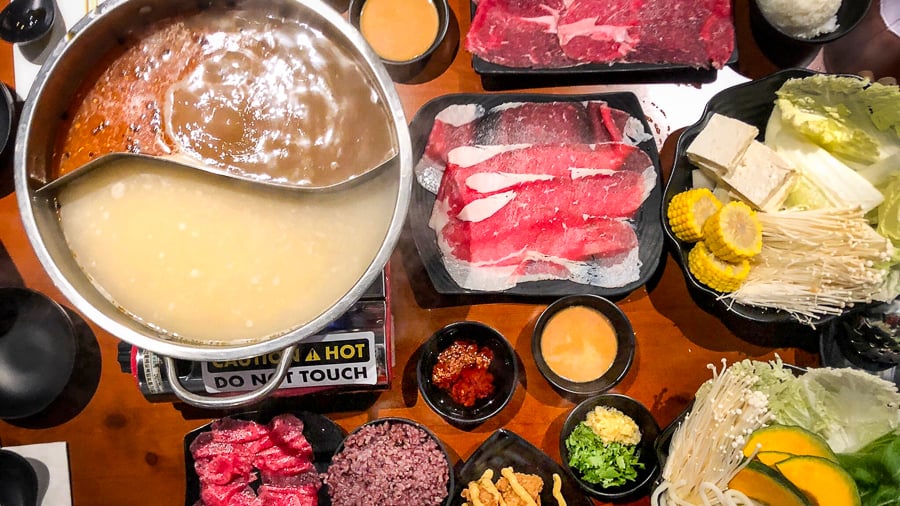 Chilly winter nights have Frolickers bundling up and heading out for steaming bowls of comfort. Hot pots filled with simmering broth and everything from chicken meatballs and local veggies to beef short rib, lamb, Korean ramen and Spam, of course. Some are worth a drive; others having you skipping lunch to get the most out of an all-you-can-eat smorgasbord.
Here are the Frolic team's go-to hot pots.
Ichiriki Japanese Nabe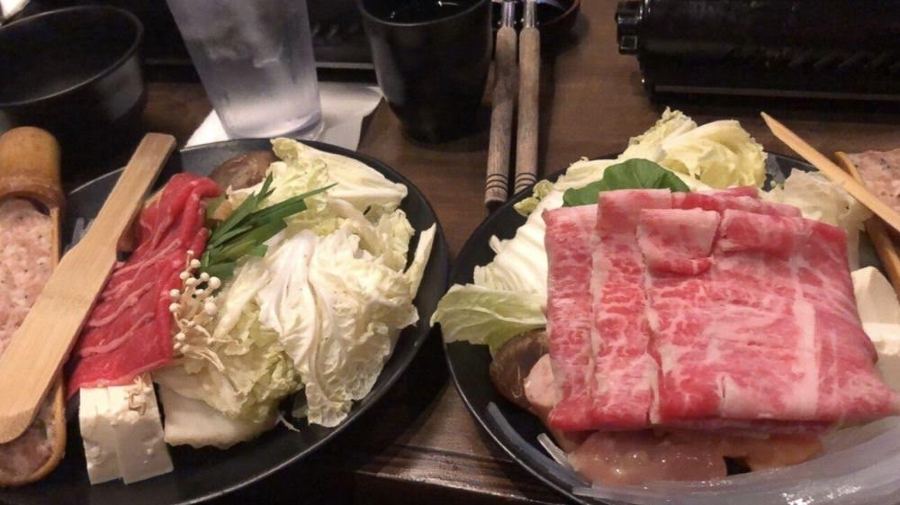 My go-to hot pot is the spicy pirikara nabe at Ichiriki, especially when their lunch and late-night specials give you the best price. The short rib chanko nabe set comes with rice and broth for $13.95 plus other meats to choose from. The late-night special set includes broth and rice for $15.75 with a choice of chicken, pork or beef. I always add on sesame sauce for 50 cents and udon noodles for $1.50. The Japanese-style sunken seating is fun and great for groups. Servers refill your broth when it gets low and hot green tea is complimentary. —Erika Huang
510 Pi'ikoi St., (808) 589-2299; 98-150 Kaonohi St., #C-216, Westridge, (808) 484-2222; 46-047 Kamehameha Highway. #14, Windward Mall, (808) 236-2299
---
Little Sheep Mongolian Hot Pot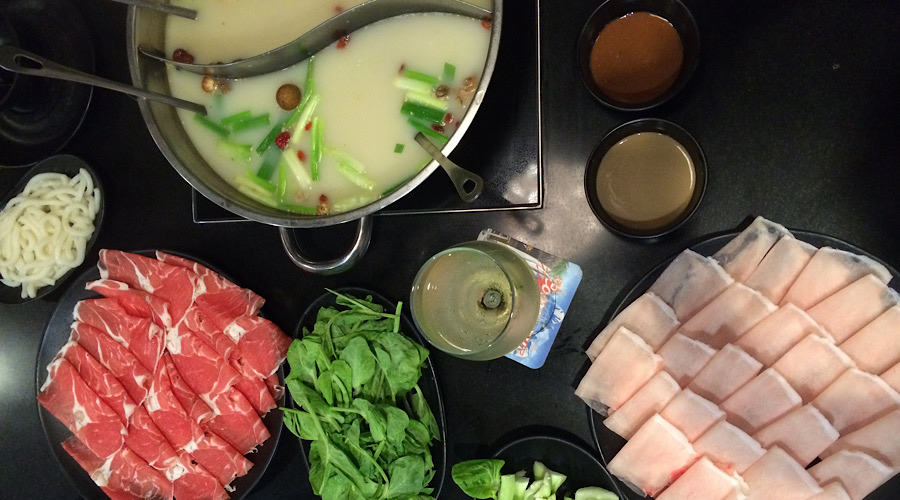 Both the milky chicken broth and the fiery red one with a raft of dried chilies covering its surface (it's not THAT spicy) are rich with exotic spices that remind you Little Sheep really is from Mongolia. Unlike other hot pot places, breads are a prominent option here, including fry bread, and if you like lamb, the cumin-laced morsels grilled on metal skewers are not to be missed. —Mari Taketa
1200 Ala Moana Blvd., (808) 593-0055
---
Minori Japanese Craft Tavern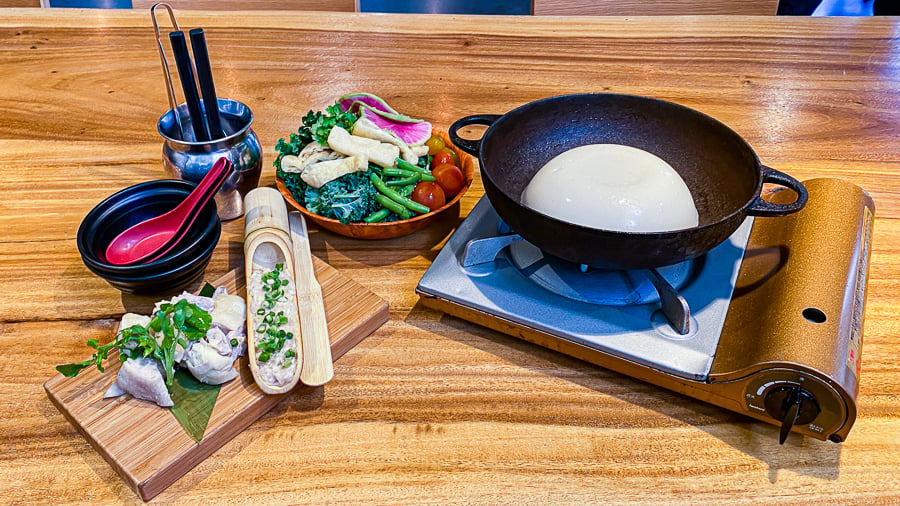 Minori is one of those places that's full of surprises. In particular, the beautifying bijin nabe with chicken paitan broth stands out at this locavore izakaya. In Japanese, bijin translates to beautiful woman—the thought is that eating bijin nabe with its generous collagen will restore elasticity in your skin, imparting a youthful glow. I personally don't feel any more beautiful, but bijin nabe fills me up every time.
I go for the chicken set ($19.80) that comes with pieces of par-cooked chicken thigh and raw tsukune minced chicken to create meatballs. You can also opt for motsu tripe, prime ribeye, kurobuta pork belly and soon, Japanese wagyu at various prices. Your hot pot set also grants you access to Minori's all-you-can-eat Ho Farm salad bar, which makes getting your daily veggies much easier. It's my go-to also because of the $19.80 price, whether you're in a group or you're dining solo in your quest to be beautified. —Thomas Obungen
1731 Kalakaua Ave., (808) 951-4444
---
Hot Pot Heaven
Always split the pot between Thai broth, exotic and fragrant with lemongrass and ginger, and mushroom broth, a chicken soup chock full of enoki, button and alii mushrooms. Hot Pot Heaven is Vietnamese-owned, so the chewy, translucent har gao shrimp dumplings and cabbage-wrapped minced pork rolls are a must, as is the sweet chili ginger dipping sauce. The owners are kind, and the complimentary mochi ice cream at the end is always a plus. —Mari Taketa
1960 Kapiolani Blvd., (808) 941-1115
---
Rokaru Shabu Shabu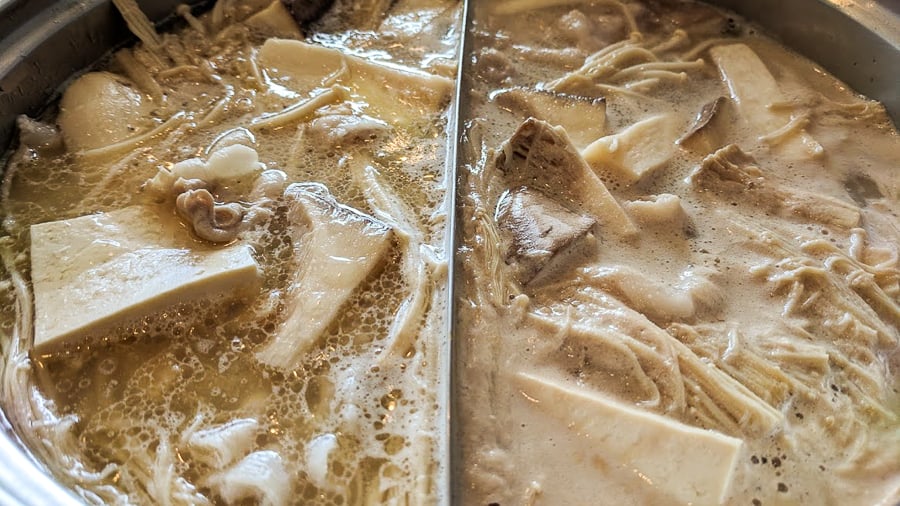 I feel comfortable saying my wife and I love hot pot. We love it so much that we often buy our own ingredients and hot pot at home. But when we want the convenience and fun of eating out, we choose one above all others. Here's the scientific method we used for choosing our go-to hot pot: Would we venture out of town for it? Brave traffic for it? Yes. Yes, we would. Rokaru Shabu Shabu tempts us enough to face the H-1 gridlock.
And what do we get there? All you can eat. If we're going to make the trek, we're going to make the most of it. AYCE comes with a drink and dessert. Truth be told, by the time we're done with the hot pot, I never have room for dessert.
Of all the broths I've had the pleasure of tasting, the Rokaru Tonkotsu is my favorite. A rich pork-based broth, it goes above and beyond. The richness borders on silken, with just enough porky robustness. It's a great base for all the proteins, vegetables and starches that come with it. Our must-haves are the Berkshire pork belly, enoki mushrooms and tofu, finished off with udon. I'm not a fan of vegetables, but luckily my wife is, and the tonkotsu broth is so delicious that I don't mind the presence of plants. I even eat a few.
The best part is when all the myriad flavors combine with the essence of the broth, to create a whole new flavor that makes me want to drink it in one gulp. I've actually tried to, but my wife usually stops me, bless her heart. —Eric Baranda
1140 Kuala St., #104, Pearl City, (808) 455-3000
---
Sweet Home Cafe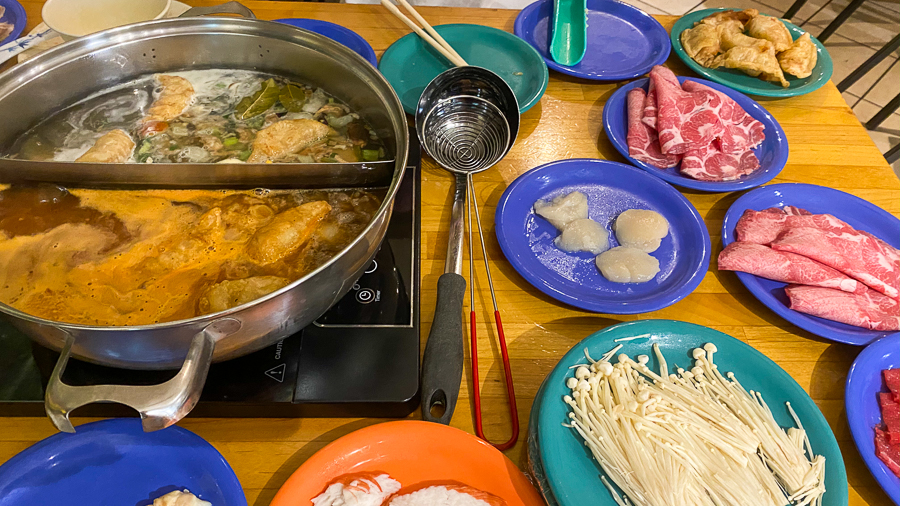 I always try a different broth whenever I go to Sweet Home. Their recently implemented all-you-can-eat option for $25.95 includes meat, broth and rice from 4 to 9 p.m. Another special from 4 to 6 p.m. gives you all you can grab for $17.95 (meat not included). In my opinion, their sauce bar is the best and my favorite is the Chef Special Chili Sauce. It's creamy but not overbearingly spicy at all! I customize it with cilantro and green onions.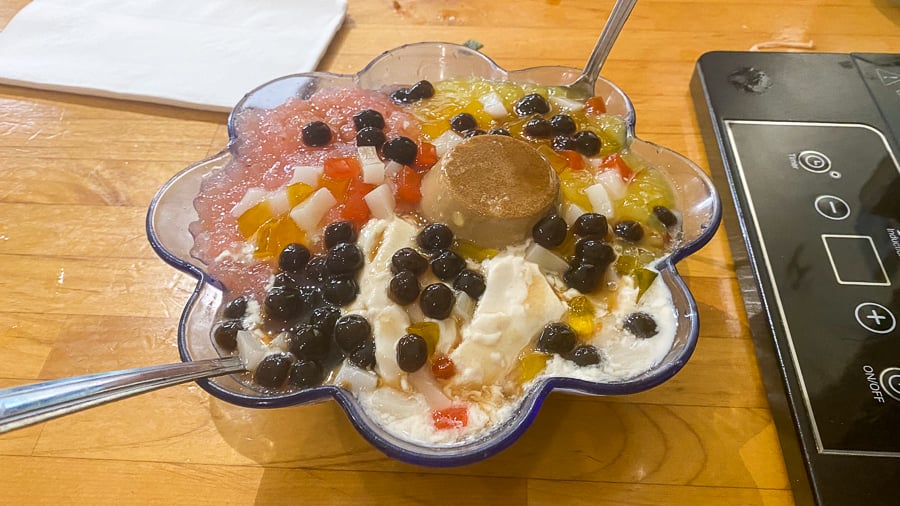 Sweet Home is known for its famous shaved ice dessert that comes after every meal, whether you order the AYCE or ala carte options. They also have yummy drinks like fruit tea, Vietnamese iced coffee, matcha soy lattes and milk tea. —Kelli Shiroma
2334 S. King St., (808) 947-3707
---
Cafe Asia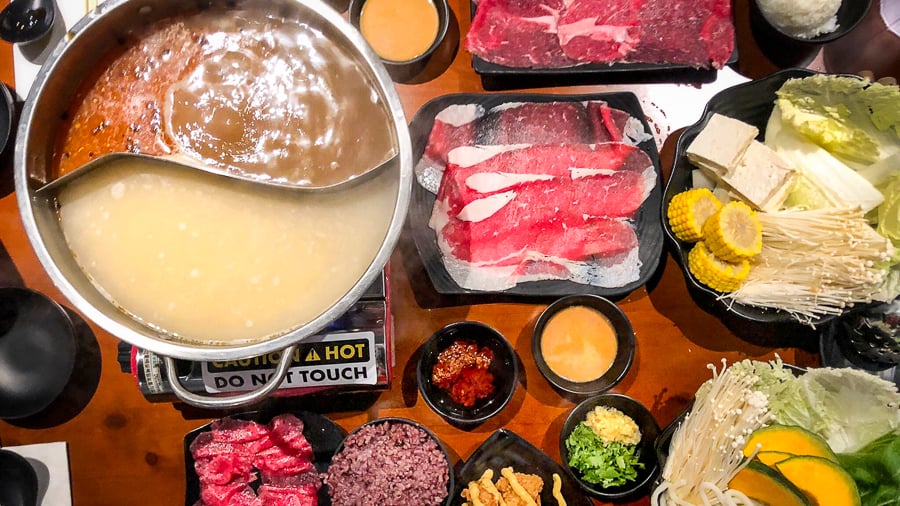 To fully experience Cafe Asia, go for the AYCE dinner option ($27.99 adult, $14.99 children 5-10, $24.99 seniors). And go with an appetite. Fast, starve yourself, don't eat the entire day so you can partake fully. There's so much to choose from and you MUST try it ALL. Beef tongue for shabu-shabu? This is one of the few places that has this option, so definitely get it. Five-spice garlic chicken for your pupu selection? Yes! Get that too. I personally gravitate towards the garlic paitan broth but feel free to choose your favorite.
They have an extensive sauce bar, which is key for me at hot pot restaurants. If you just need the basics and none of the extra stuff like appetizers, go for the lunch option, which is also a great value ($18.99 adult, $10.99 children 5-10, $16.99 seniors). It includes your selection of broth, select meats, seafood, veggies and noodles. —Stephanie Kuroda
5724 Kalanianaole Highway, (808) 762-7514
---
Yakitori Ando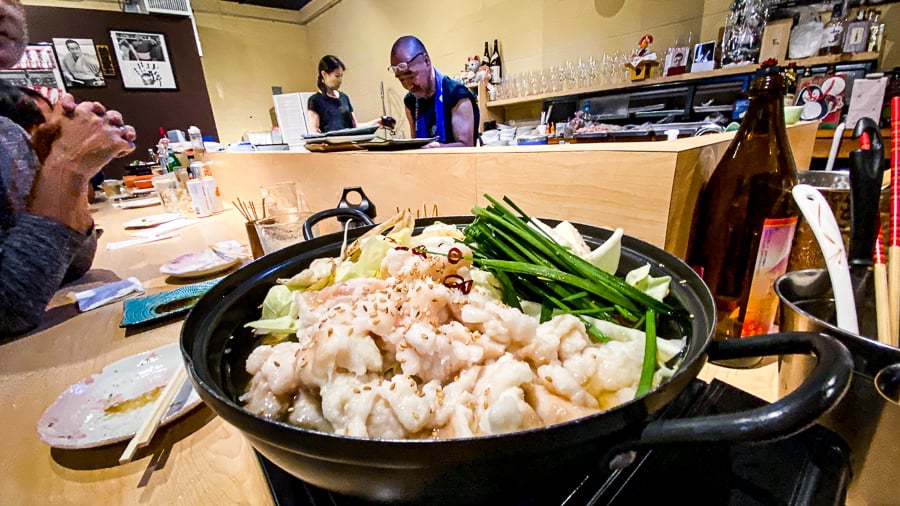 What can only be referred to as the holy grail of hot pots, the Hakata-style motsu (beef tripe) nabe by Takashi Ando arrives after his omakase course of yakitori and various appetizers ($44 per person). Artfully mounded with ribbons of motsu, cabbage, burdock root, aburaage, tofu and chives with rings of chili pepper dotting the top, this is for the serious hot pot head. As it simmers, the fatty bits of motsu melt into the broth, causing it to thicken with a beefy undertone. After 10 to 12 minutes, tuck in: You'll feel like a new person after just one bowl.
When you're just about to finish, ask for Okinawan soba to soak up every last drop of that wonderful, glistening broth. I lick my lips just thinking about it. —Thomas Obungen
1215 Center St., (808) 739-5702 
---
Chogajib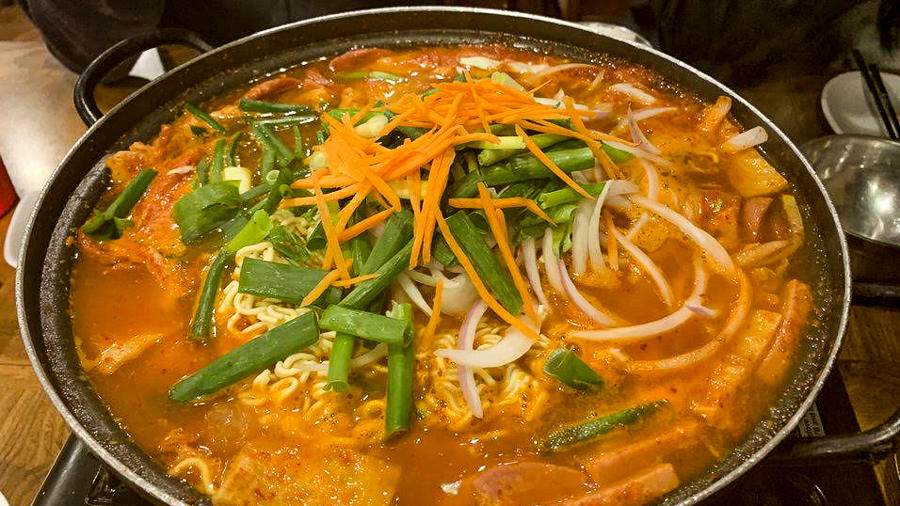 Chogajib's budae jigae, or army stew, hits a soft spot. There's something so comforting about a raft of instant ramen lurking in a huge pot of red, spicy broth filled with beef, Spam, sausages, tofu and veggies. It also comes with rice and banchan on the side. At $40, it can feed four people; I always get a side order of seafood pancake to contrast the bites of spicy stew with something crispy. —Erika Huang
825 Ke'eaumoku St., (808) 744-3440