Our favorite looks from HONOLULU Fashion Week 2016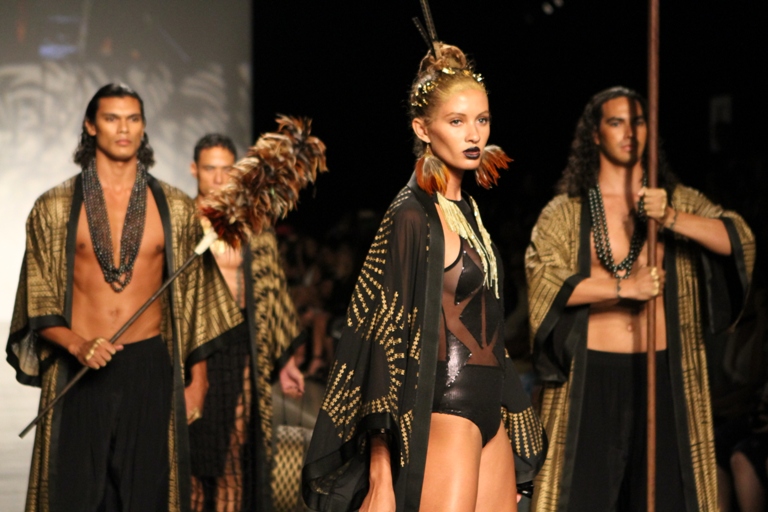 Sponsored
With days and weeks of preparation, a well choreographed fashion show is supposed to look easy, seamless and natural–and then it's over in 15 minutes. HONOLULU Fashion Week made it look easy, seamless and natural 12 times over three days at the Hawaii Convention Center, November 10-12.
For the third year in a row, Lynne O'Neil, one of the most prolific fashion show producers in the industry, brought her dream team from New York City, including fellow Hawaii-born colleagues Don Sumada, Roman Young, and Bobby Gutierrez, plus Damon Rutland and Bernhard Link Theatrical put on the largest HONOLULU Fashion Week yet with local and international designers setting the tone for the upcoming season.
In addition to the well attended runway shows, the event included a bustling marketplace and pitch panel where local designers had the opportunity to pitch their business ideas to investors and retailers. This kind of international buzz about fashion isn't normally associated with Hawaii, but it's the events like this that aim to change that notion.
Here's a look at some of my favorite "local" looks hot off the runway:
Local Luxe
International model Keke Lindgard (from Ka'aawa Hawaii) models a Malia Jones design.
Photos by Travis Okimoto
Local Luxe featured some of Hawaii's top contemporary designers; Malia Jones, Allison Izu, Ari South, Ten Tomorrow and Kojo Couture.
Live Aloha
Photos by Travis Okimoto
Live Aloha showcased traditional and updated aloha print looks with contemporary silhouettes and styling. Designers included Manuhealii, NoaNoa, Iolani and Manaola.
Manaola
Photos by Lyle Amine
A rising star in the industry, Manaola Yap, who hails from Hawaii island, brings to life his vision of melding Hawaiian culture and its natural elements with a modern and avant garde vibe.
Kini Zamora – Reach the Runway Benefit
Photos by Lyle Amine
For the third time in a row, Kini Zamora showcased a full collection during HONOLULU Fashion Week. This year, look for rich plum tones and graphic prints to complement his new high fashion silhouettes.
Ward Village
Photos by Lyle Amine
This fashion show featured looks ranging from kids streetwear to super posh fashions from local shops at Ward Village; Kealopiko, The Collective, Big Bad Wolf, Mori by Art + Flea, and POSHd.
Other fashion shows with international and local talent included Asaf Ganot, Neiman Marcus, Reyn Spooner, Hawaiian Airlines Uniform Reveal, Runway to Runway, LeaLea presents RINKAgram and Hawaii Pacific Health Beautiful Survivors.