Our fave Reykjavik eats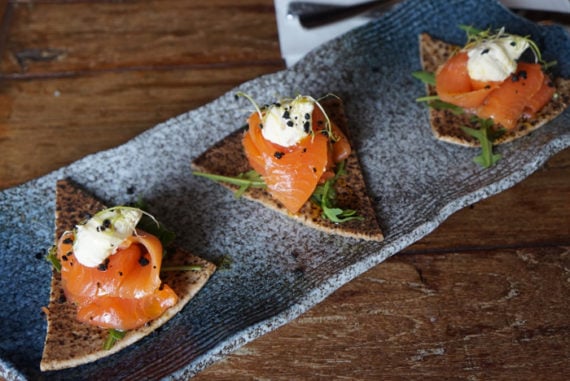 Most people will tell you that Iceland is not really a dining destination, and to some extent, that's true. It's hard for me to say for sure unless I try some truly local spots, but tourism seems to have shaped the culinary landscape in most parts of the country and it's hard for the new visitor to distinguish authentic local fare from crap.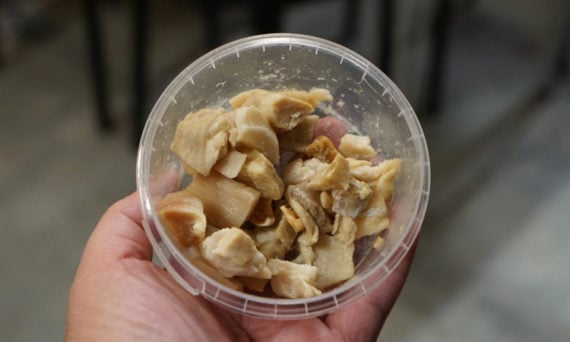 For example, you'll see fermented shark and smoked puffin on almost every menu, but we were told that most locals don't eat that — it's a novelty mostly for tourists. Most of the food you'll find will be expensive. And any restaurant in the guidebooks will be overrun with tourists. Iceland is beautiful, but don't expect to have any mind-blowing dining experiences unless you get a seat at Michelin-starred Dill (which we failed to get into).
I wouldn't use this blog post as a guide to eating, but you may want to reference it with other blogs to see if any common choices emerge.
We were lucky to have a Slow Food festival happening at Harpa, the city's concert and conference center.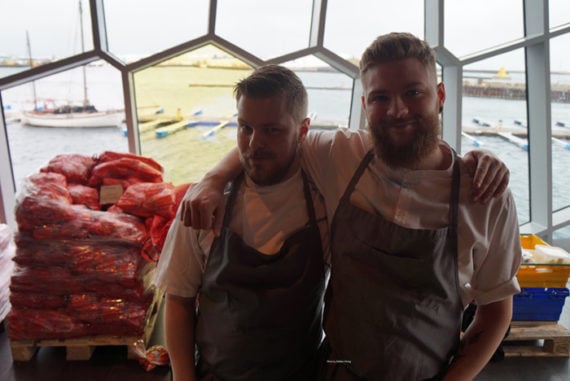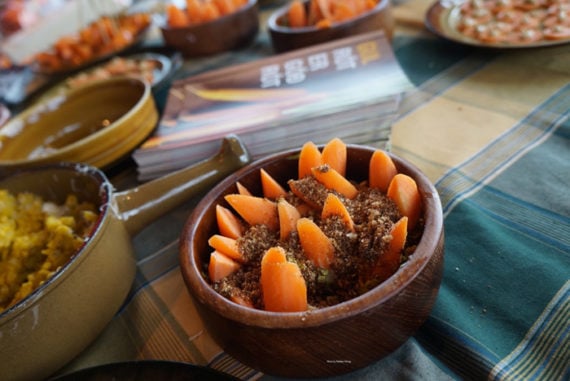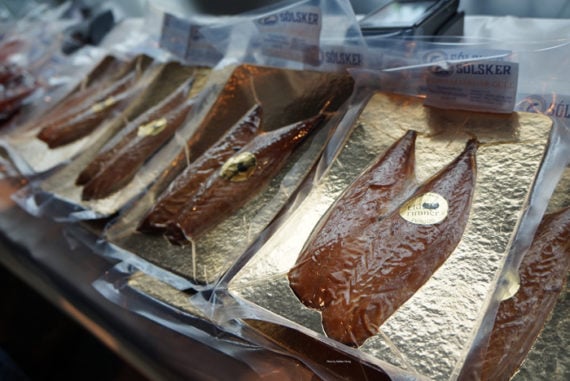 liked this better than the restaurants because most of it was stuff that locals were actually eating. For example, carrots were in season, so there were mountains of carrots at one booth as the chefs showcased tasty creations outside of the usual preparations. We had smoked mackerel, yogurts, licorice butter, charcuterie, and interesting breads, to name a few. We were really lucky to be able to experience some truly local items. I took a bazillion photos at the Slow Food festival, but you can see the rest of them, here.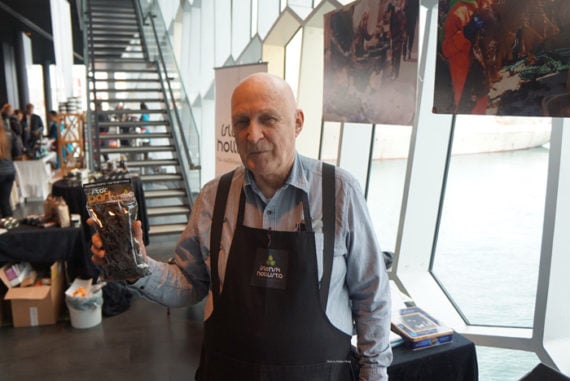 Kelp is becoming the new kale, and this seaweed farmer has been harvesting it off Iceland's coasts for years. I bought some sugar kelp from him, but he had a few other varieties out that may make it the next new snack craze.
You probably won't be as lucky as we were to catch a slow food festival, so here are some places we tried, in no particular order of preference.
My friend Scott Culbertson had just come back from Iceland and recommended a place called Pizza With No Name. It's on the second floor of a multi-story building, and at first we thought it was a beer hall that we were looking for. What do you expect, right? There's no name!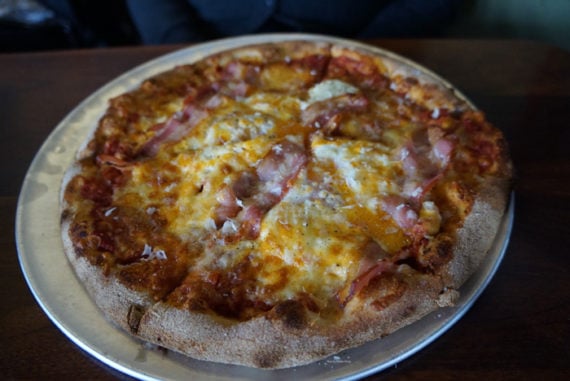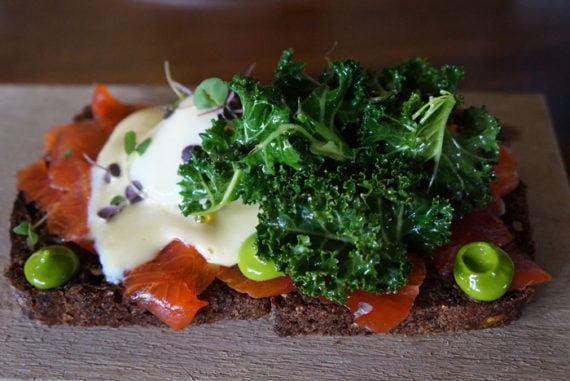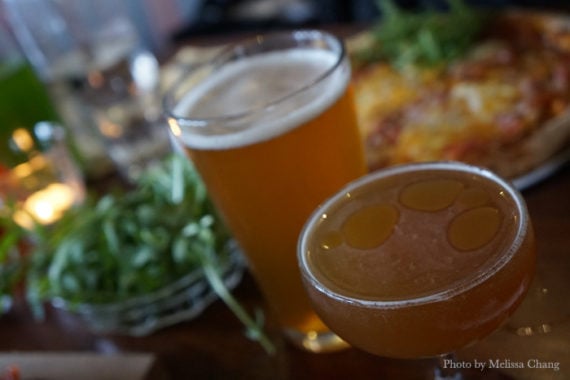 Now, this place is recommended by many guidebooks and travel sites for having a solid menu and being reasonably priced. All the items in these three photos above cost me a total of $90. That's an expensive breakfast! A lot of the cost does go to alcohol, because Iceland is trying to curb alcoholism by taxing the liquor so much that you can't have more than one drink. I think most cocktails are about $20 to $25.
Pizza With No Name
Hverfisgata 12, Reykjavik 101, Iceland
+354 437 0203
We also tried a place called The Foodcellar. I'll be honest, the food was just okay, although we agreed the baked scallop was quite outstanding. Props to the chef for trying to be creative using influences from other places — he had even made his version of poke, although he called it tartare — but more or less it was copycat stuff. Do check this place out for the delicious, handcrafted, award-winning cocktails, though, and have food to nosh on while you drink.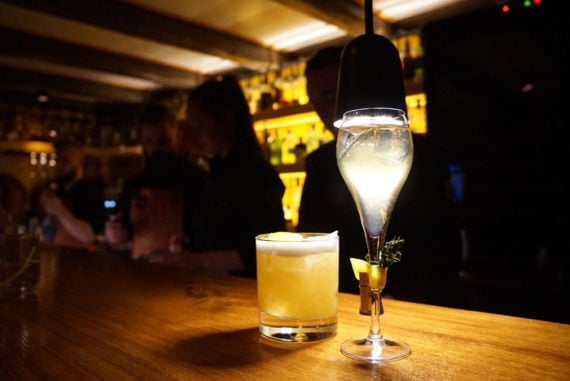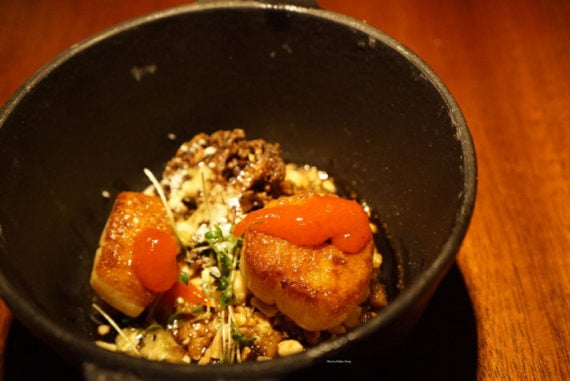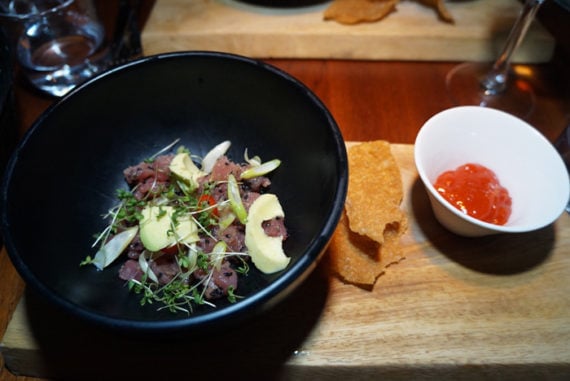 I'm not even going to go over the prices here because, quite frankly, it's all expensive. We had the fixed-price tasting menu, which was about $100 per person. There were several dishes in the set, but these change seasonally and most of it wasn't super notable. But like I said, you should go here for cocktails.
Matarkjallarinn – Foodcellar
Aðalstræti 2, 101 Reykjavík, Iceland
+354 558 0000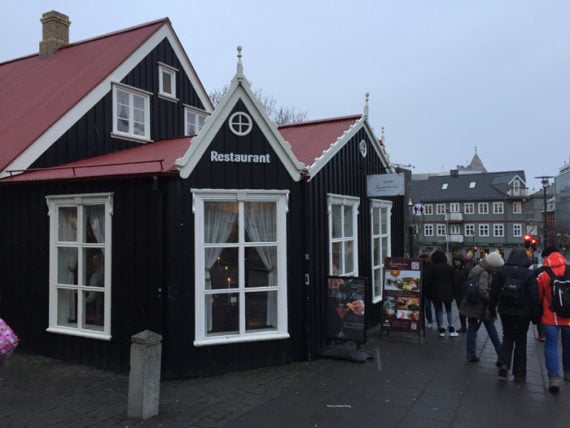 Although it's a bit touristy, Laekjarbrekka is a decent dining spot, especially since it's in one of the oldest houses in Reykjavik. They serve traditional fare, like fish stew and lamb, and it's close to the busy part of town, so you'll be passing it anyway.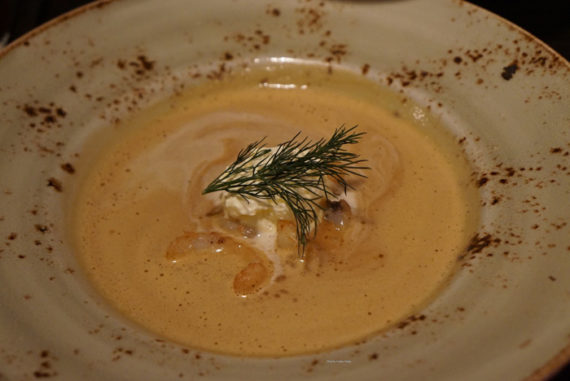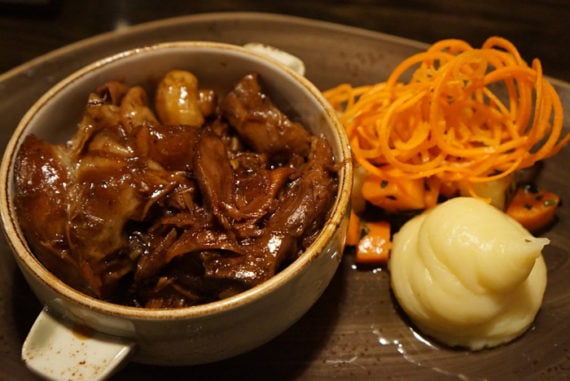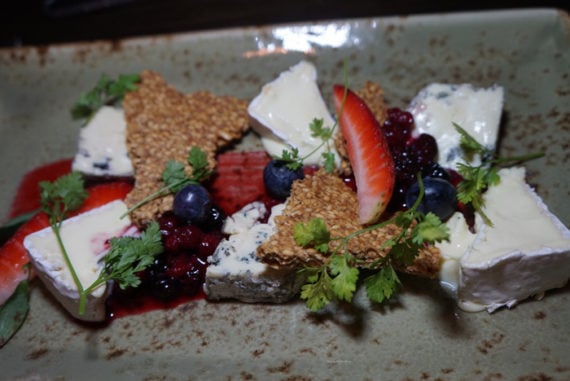 Laekjarbrekka
Bankastræti 2 101, Reykjavik
+354 551 4430
Oh, and FYI, before or after dining at Laekjarbrekka, you can check out the Iceland Punk Museum, just a few steps away and underground. (That's going to be in my next post.)
So now you've seen the crazy prices in Reykjavik for food. Not everything is outrageous, but most of it is. Here are some reasonable spots that we liked.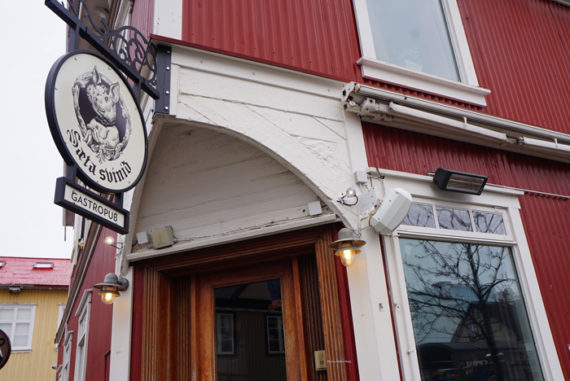 Honolulu has Pig & The Lady, Reykjavik has Saeta Svinid, a pig-themed gastropub in the middle of town. It wasn't inexpensive, but it was more reasonable than other places we had gone to, and the food was pretty solid. These are just two items on the menu under "small plates," but they do have snacks at lower prices and happy hour from 3 to 6 p.m. I'd go back for drag queen bingo, which they feature on Sunday nights.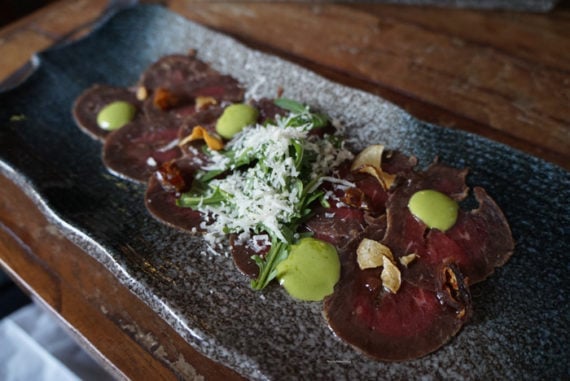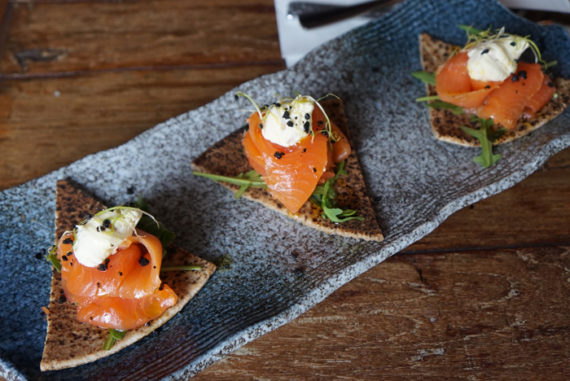 Saeta Svinid Gastropub
Hafnarstraeti, Reykjavik 101, Iceland
3545552900
We stumbled upon Brauð og Co. without realizing that it is one of the more special bakeries in the city. There's a constant line of locals and tourists, but it moves fast, so decide quickly. Ágúst Einþórsson set up his bakery so the bakers are just a few feet away from the customers, and you can watch them work as you move through the line.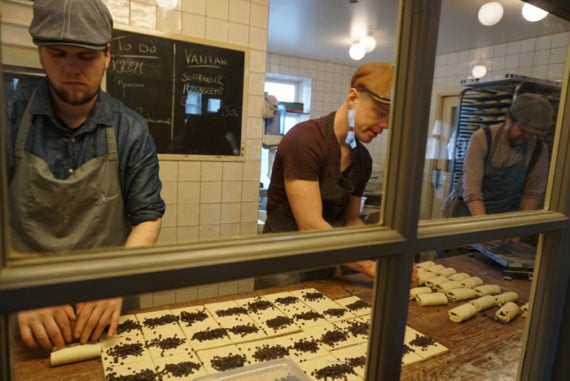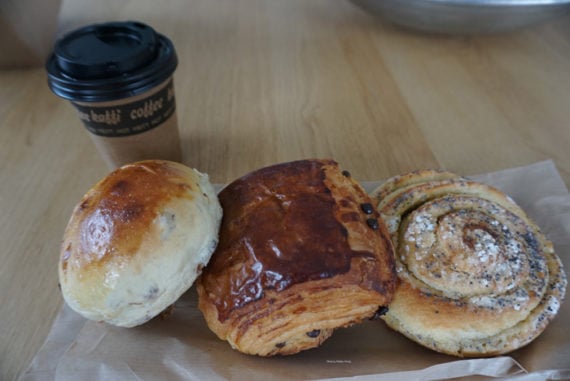 Their opening hours just say "early," and people can come in at any hour they want to pick up bread. We enjoyed the vanilla cream buns, which I liked best, but all the items are fresh and fluffy. These three items, plus two coffees, set Deb back about $25.
Brauð og Co.
Frakkastígur 16, 101 Reykjavík
By the way, although Dunkin' Donuts is an American chain, we found that the flavors and frosting designs in Iceland are on par with Japanese bakeries. So although people reamed me on social media for getting donuts and coffee there one day, you should at least peek in.
And finally: You won't believe what my favorite meal was in Reykjavik … it was actually a hot dog that cost about $4.50. It was so good, in fact, that we went back to eat a second time.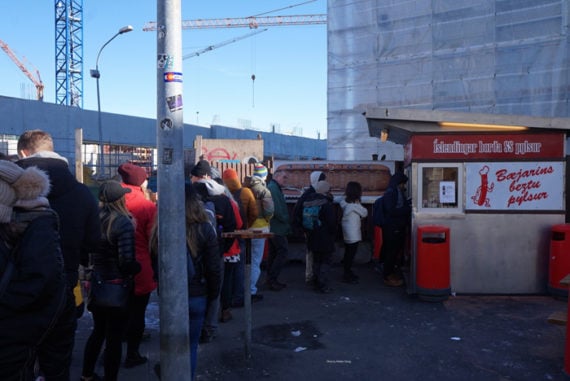 Hot dogs are everywhere in Iceland — so prevalent, in fact, that they are known as the country's unofficial national dish. One of the most famous spots is Bæjarins Beztu Pylsur (which means, literally, "the best hot dogs in town"), a tiny shack near the water. The shack is small, but you won't miss it because throughout most of the day, you'll find a line like the above photo. Don't worry, it moves fast.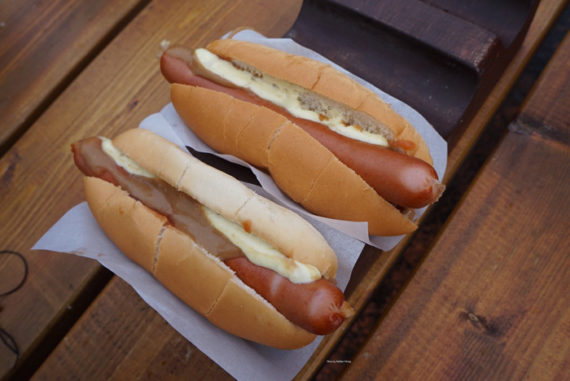 Icelandic hot dogs are made mostly from Icelandic lamb, which is plentiful, along with a bit of pork and beef, so they have great flavor and a unique snap. They look plain, but the toppings make magic in your mouth: Order yours "with everything," which includes raw white onions and crispy fried onions (this is key for extra crunch), ketchup, sweet brown mustard called pylsusinnep, and remoulade, a sauce made with mayo, capers, mustard, and herbs. There are variations — like President Bill Clinton's order with mustard only — but it's mostly Americans who step up to the counter with embarrassingly complicated, specific orders.
I'm not just telling you about this because it was cheap, I'm telling you because it was seriously delicious. After finishing one, we immediately wanted another, but had dinner plans. Our next best move was to simply have one more before heading home. As you can see from the food prices in Iceland, vacation expenses can quickly add up, but if I go back, I'll probably be eating hot dogs every day.
Bæjarins Beztu Pylsur is open from 10 a.m. to 2 a.m. on weekdays and until 4:30 a.m. on weekends to accommodate hungry clubbers. They accept credit cards, but it's just as fast to hand them cash.
Bæjarins Beztu Pylsur
Austurströnd 3 -170 Seltjarnarnes, Reykjavik
Up next: My travel tips for Iceland. And I think my tips will be solid compared to some of the unrealistic tips Deb and I got! To see more from our trip, click here or check out the #AlohaIceland hashtag on Instagram.