Our Family Guide: Twilight Tours at the Honolulu Zoo
Feel like a zoo VIP with exclusive access, active animals and cooler temperatures at this after-hours program.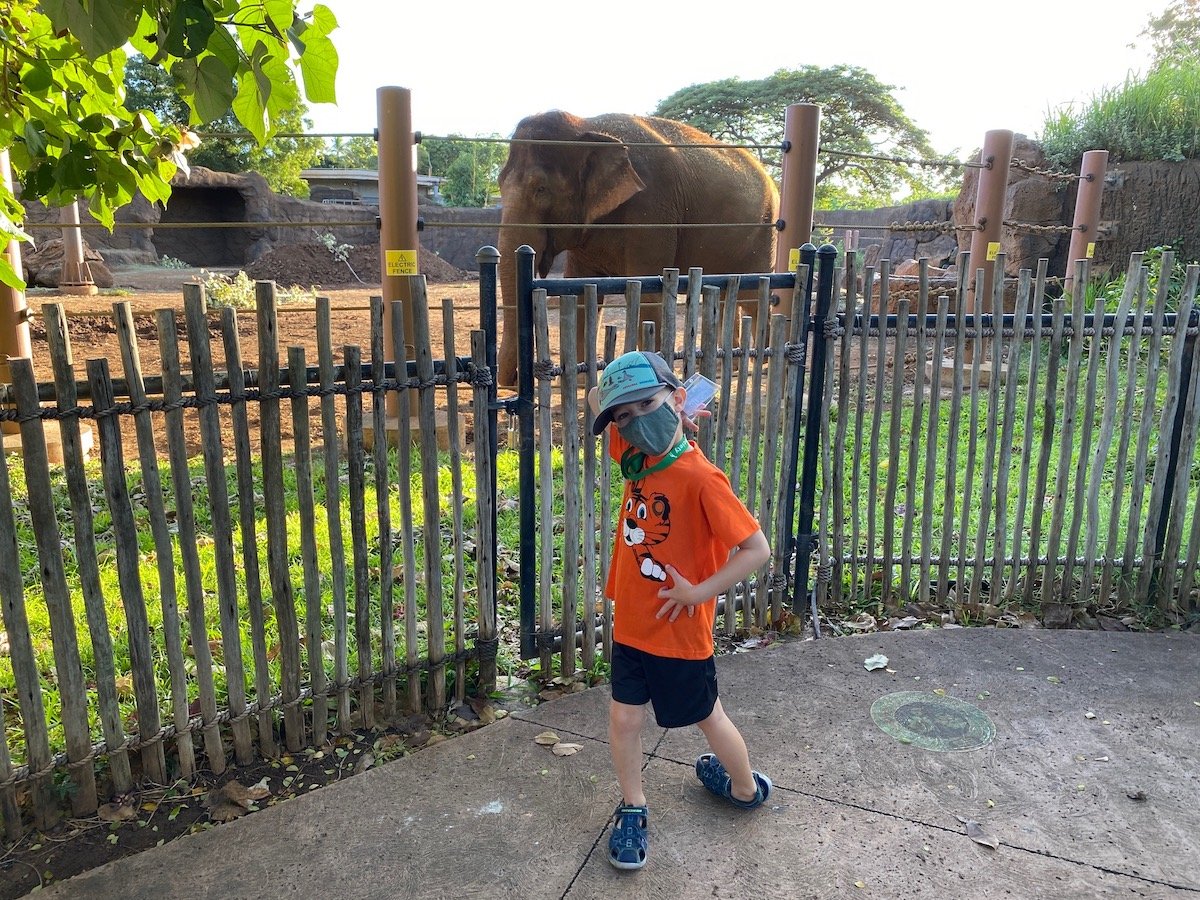 Where: Honolulu Zoo in Waikīkī
Who: The Dornbush Trio: Dad, Mom and 5-year-old son, Duke
When: 4:30 p.m. on Saturday
Since attending Winter Break Zoo Camp at the Honolulu Zoo, Duke has become an avid animal expert, spouting off facts to his dad and me. We decided to take advantage of his new-found passion and booked tickets for the evening tour at the zoo offered on Saturdays.
We arrived early as we were not sure how hard it would be to find parking. As luck would have it, all the surfers were heading home, so we nabbed a great stall in the zoo parking lot along Kapahulu Avenue. Adding to the exclusive feel of the tour, we entered at Gate 3, which is the "back door" to the zoo, and were handed special lanyards to wear around our necks. It felt like a backstage pass.
---
SEE ALSO: 🐘 Our Guide: Honolulu Zoo
---
Twilight Tours give people a chance to experience the zoo after it closes to the public. The two-hour guided tours run on Saturday evenings starting at 4;30 p.m. from October to March and 5:30 p.m. April to September.
After a bathroom stop, we found our guide, Connor, one of three tour leaders. Our group was made up of about 10 people with a mix of families and couples. Connor wasted no time, so after a brief intro and reminder to keep our face masks on at all times, we headed to our first stop: the Komodo dragon. Rose, a female, was in full view at the exhibit. Duke loved the facts that Connor shared about how this species can go a full year without eating but then can devour an entire wild boar in one sitting. Connor brought out a display skull skeleton to show us how the animal uses its sharp teeth and venom to attack its prey. Duke was mesmerized.
As the tour continued, Connor entertained us with kid-friendly and boy-charming descriptions, such as the stink wars of ring-tailed lemur gangs and Spiderman references in relation to how the gibbons never fall when swinging. We all enjoyed how Connor debunked myths about animals, including why giraffes have such long necks. Hint: It's not just to reach the leaves in the top of trees!
Surprisingly, Duke never complained about standing and walking during the 2-hour tour. In fact, he stayed engaged at every stop, asking questions and answering Connor's trivia quizzes. His favorite question to ask at each exhibit: "How much does it weigh?"
The animals seemed much more awake and active than when we've seen them midday during regular zoo hours. Mari, the Asian elephant, was eating and cleaning dirt off her back, the hippo was plodding along in the water, and the rhino was pacing back and forth. We even spotted animals who are usually hiding during the day, such as a family of porcupines.
Our final stop was to visit Chrissie, the Sumatran tiger. Without a herd of screaming kids on the playground to bother her, Chrissie was toward the front of her enclosure lounging by a pond. I couldn't help but snap a few photos of the regal animal with Duke and his matching bright orange tiger T-shirt. We left the zoo full of excitement and information, but with empty, grumbling tummies. It was time for dinner for us (and the animals)!
Our 7 Tips
Wear insect repellent. While there is no need for sunscreen, this time of day is notorious for mosquitos. Despite our liberal coating, Duke came home with a few bites as souvenirs.
Prepare for no playground. Avoid tantrums during the tour by letting your kids know in advance that the jungle gym is closed after hours. In fact, it's required that you stay with your guide and not wander on your own.
Bring a stroller. It's a 2-hour walking tour, so if you have young kids, you'll want a place for them to rest. Plus, it's a great place to stow your water bottles and backpacks.
Listen closely. With fewer visitors, the atmosphere is calm and quiet. We heard different sounds in the evening, such as Moxy's, the lion, roar and the call of the green parrots.
Take animal-friendly photos. You'll have some great photo ops during the tour, especially with Diamond Head illuminated at sunset. However, our guide said to make sure to turn your flash off because it bothers the animals.
Make a plan for dinner. In the past, the tour ended inside a classroom with animal cracker snacks. Due to the pandemic, there is no eating allowed on the tour—even Dippin' Dots is closed!—so you're bound to leave with hungry tummies. Pack a picnic to take to Kapi'olani Park, eat at the new Denny's across the street on Kapahulu Avenue, or venture into Waikīkī for a celebratory meal.
Twilight Tours at the Honolulu Zoo
151 Kapahulu Ave.
(808) 926-3191
Hours: 4:30 to 6:30 p.m. every Saturday from October through March. And 5:30 to 7:30 p.m. every Saturday from April through September.
Kama'āina rates: $20 adults (13 and up); $15 kids (3 to 12); free for kids 2 years and younger.