Opening Wednesday (at last): Senia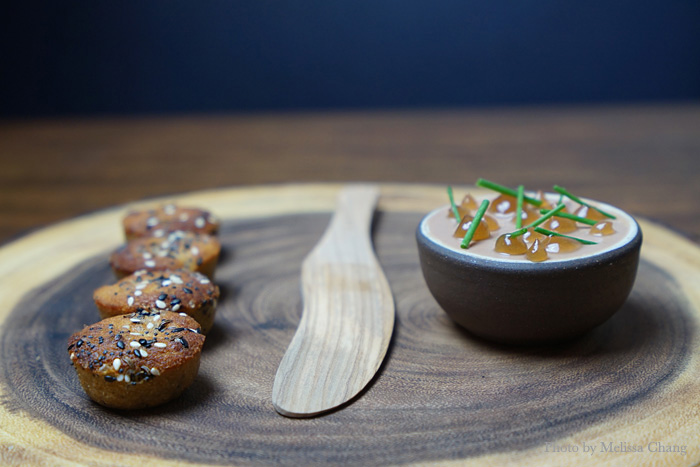 Without a doubt, Senia — a long-awaited restaurant by chefs Chris Kajioka and Anthony Rush — has been one of the most hyped restaurants in town for a spot that hasn't even opened yet. Well, the wait is over: Tomorrow, Senia opens to the public.
Unless you've been living under a rock, you've seen the numerous articles talking about the background of the restaurant and the dynamic duo behind it, so I don't need to elaborate on all of that. But if you have missed it, here's the Cliffs Notes on Senia:
Most people here know Kajioka as the chef who opened the exclusive Vintage Cave, but not many locals know Rush, who hails from the United Kingdom and was the chef at Fera at Claridge's in London. The pair met while working together at Per Se almost a decade ago, and you'll see in their dishes that although they've traveled different paths, their styles have remained fairly close. Their general manager is Katherine Nomura (also from Per Se, and now married to Rush).
The name Senia is a play on the Greek word xenia, the ancient concept of hospitality. And that logo? It's actually an MRI scan of a cross-section of a pineapple, graphically adapted into something more open to interpretation. The restaurant has been many, many months in the making with a kitchen as big as the 50-seat dining room, with one setback after another and permits trickling in gradually. They've been waiting anxiously for the last permit, which came in yesterday, and we got to go in for a look. So as you frantically call to make your reservation, here's a first, sneak peek into the restaurant behind the brown paper.
The kitchen is open and bright, so diners can see the staff at work. Here, Rush explains a technique to the team, while Kajioka slices hamachi. They designed the whole restaurant themselves, in the way that they want to work and diners to eat.
The eight-seat chef's counter will offer a multi-course tasting menu at about $185 per person (plus $90 for wine pairing, or $160 for reserve wine pairing), where you can watch Rush and Kajioka create the dishes. There's also a four-seat booth behind it for additional diners who want the experience, just a little farther back. They have to get the restaurant itself up and running first, though, so this dining option will not be available for at least two weeks.
They wanted to be sure to feature local design elements, so the chef's counter was carved from monkeypod by Dae Son of Wood HI. The handcrafted wood cabinetry was made by University of Hawaii professor Nick Hunsinger.
Mimi Mendoza was most recently the pastry chef at Chez TJ, a one-Michelin-starred restaurant in Mountain View, CA. She's originally from California, but her parents are from Hawaii, so her moving here to make Senia's success a little sweeter has brought her full circle.
When I peeked in, Kajioka introduced me to his wine director, Chris Ramelb, joking, "He doesn't look like much, but he's very accomplished!" Ramelb, a protege of master sommelier Chuck Furuya and Mark Shishido of Alan Wong's, is quickly becoming more recognized as a rising young star among Hawaii's sommeliers.
Ramelb pointed out the graceful, unique wine decanters the restaurant uses, which are made by local glass artisan Jonathan Swanz. You'll be hard pressed to find these for sale anywhere in Hawaii, as Swanz ships them off to the mainland when he makes them — since they are so expensive, there's not a huge demand for them here.
Swanz also made the glass chandelier that is the centerpiece of the dining room. In keeping with the local theme, there's a lattice-design wall separating the restaurant from their 12-seat private room, and it's made of bagasse, the fibrous material left behind after sugar cane stalks are pressed for juice. It's kind of a nice tribute, as HC&S finished all Hawaii sugar production this week.
But what about the food? No one should be surprised that every dish is thoughtfully created, artfully presented, and unquestionably delicious. I took so much time, as usual, to photograph my food that Kajioka came by to press me to eat it before it got too cold. (Even when an item had sat out a few minutes too long, it was still spectacular. But try to eat it promptly.) I don't have prices on these, but many of the plates are meant to be shared, which comes out to about $30 per person for lunch and $60 for dinner.
They're making as much as possible by hand, including pastas — in fact, the pasta machine is hand-cranked, not mechanical, and they use traditional methods of making and forming the dough. The foie gras, chicken liver mousse, even the squid ink and rice crackers that are part of the poke dish are made in-house. Rush said, "It's important to us that we make everything from scratch, because that's one of the reasons you go out to eat: having something that you wouldn't make at home."
I'm looking forward to trying other more unusual items, like za'atar grilled tako (za'atar is an Egyptian spice blend, a nod to Kajioka's work with Mourad Lahlou), "bubble & squeak" croquette (Rush's influence on a homey British dish), and pasta dishes by sous chef Patrick Collins.
For those of you wondering (I certainly was), there's no special menu on Christmas or New Year's Day, since they're closed on Sundays.
Senia
75 N. King St.
808-200-5412
Dinner, Monday through Saturday, 5:30 p.m. to 10 p.m.; Lunch starts early 2017, Monday through Friday 11 a.m. to 2 p.m.