Oodles of unusual noodles at Adela's Country Eatery
This Kaneohe hotspot serves local fare with a fresh twist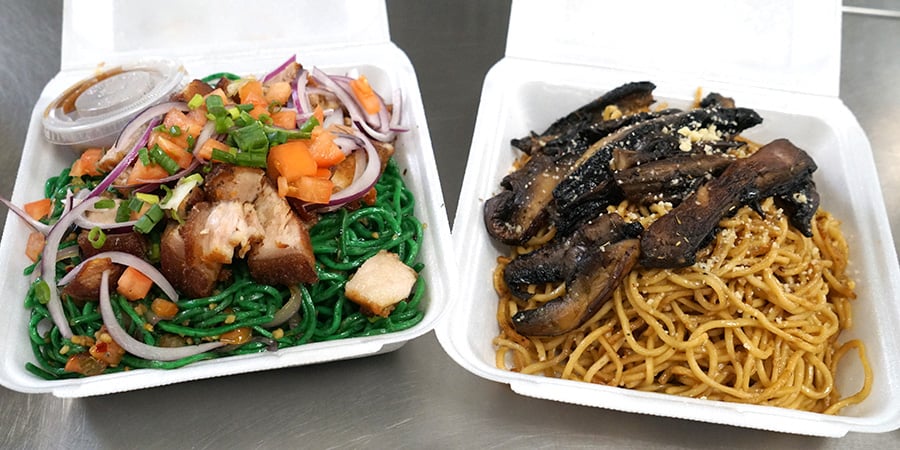 Ah, the power of social media. Once again, I was scrolling through my Instagram feed when I noticed that @susxoxo posted an interesting photo of pasta, proclaiming Adela's Country Eatery one of her favorite places in Kaneohe. That was good enough to take me on another Windwrd Oahu adventure.
People had warned me that there would be little parking and no place to sit, and sure enough, since it's behind an Aloha Island Mart gas station and shares a little parking lot with El Mariachi and an, um, adult accessories store, it can be pretty challenging to find a parking space at peak dining hours. There are three tiny two-tops in Adela's, so be prepared to get your meal to go.
I was so surprised to walk in and see Millie and Richard Chan of I Love Country Cafe behind the counter. Richard still owns I Love Country, but Adela's is a new project for Millie and their longtime friend Adela Visitacion. They had gone to an event in Hokkaido to showcase Visitacion's macadamia nut shortbread cookies, and had some extra time. Instead of touring around, they took an opportunity to learn noodle-making from a ramen master … and ended up buying a noodle-making machine for themselves. Inspired by their experience and determined to support local farmers, they came home and opened Adela's Country Eatery in February.
They experimented with various infusions to create their own unique noodles, each taking on the colors and flavors of the local ingredients they use, and then figured out the best toppings to match. The drum of the noodle machine is small, so noodles are made fresh daily.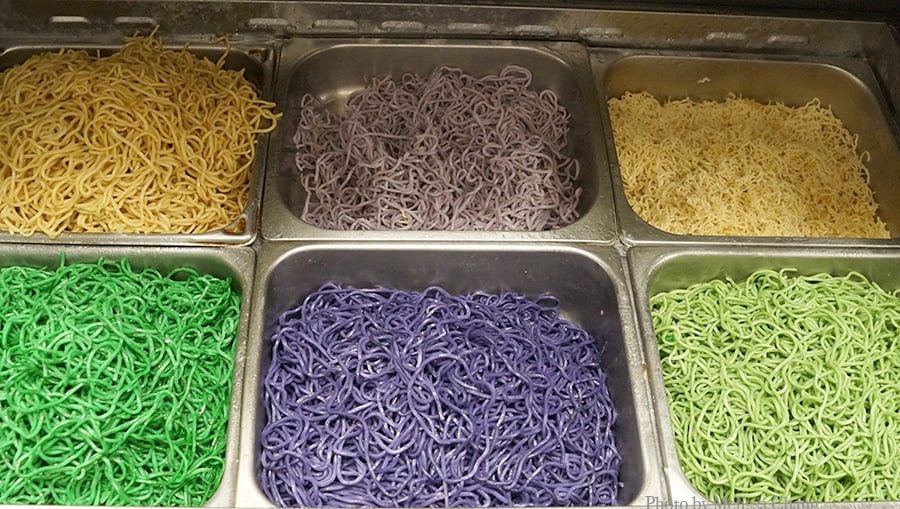 You can create your own pasta for $12 by choosing any of the noodles shown, then a sauce — alfredo, marinara, tomato cream, coconut cream, cacciatore, garlic butter or stir-fry. Toppings are extra, ranging from $3.99 to $6.99. The easiest thing, though, is to simply order the recommended combinations on the menu.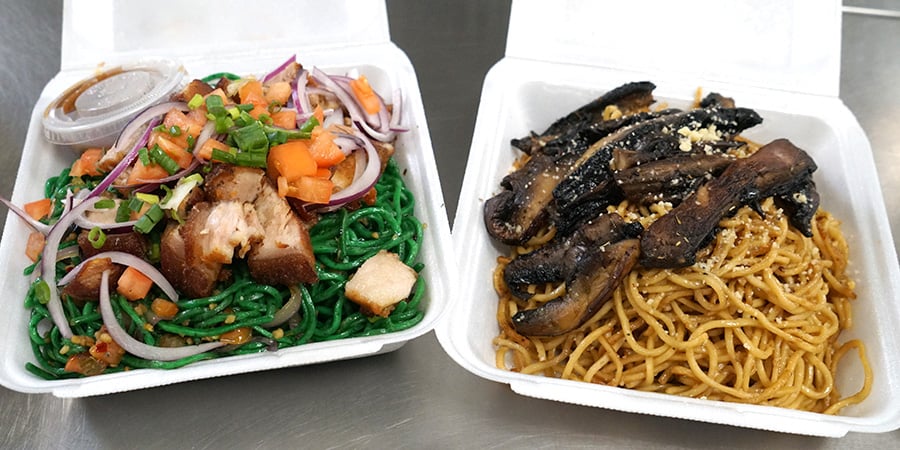 My favorite combo is the garlic ulu pasta with portobello mushrooms. This is the least photogenic, but its uncomplicated tastiness is kind of addicting. As it turns out, this pasta almost didn't make it on the menu. They kept trying to match it with different pasta sauces, but nothing tasted right. They finally tossed it with garlic butter, and it was good enough to keep.
My second favorite is the malunggay pasta, which only has a hint of the moringa flavor, topped with lechon. Not only is it crazy-looking, with shockingly bright green noodles peeking out from a mountain of pork and veggies, but it's so delicious. Lechon already has a good combination of textures with savory and refreshing flavors, but having it on malunggay pasta instead of rice is a whole different experience. Plus, the accompanying sauce seems to be Visitacion's riff on Mang Tomas (one of my favorite condiments).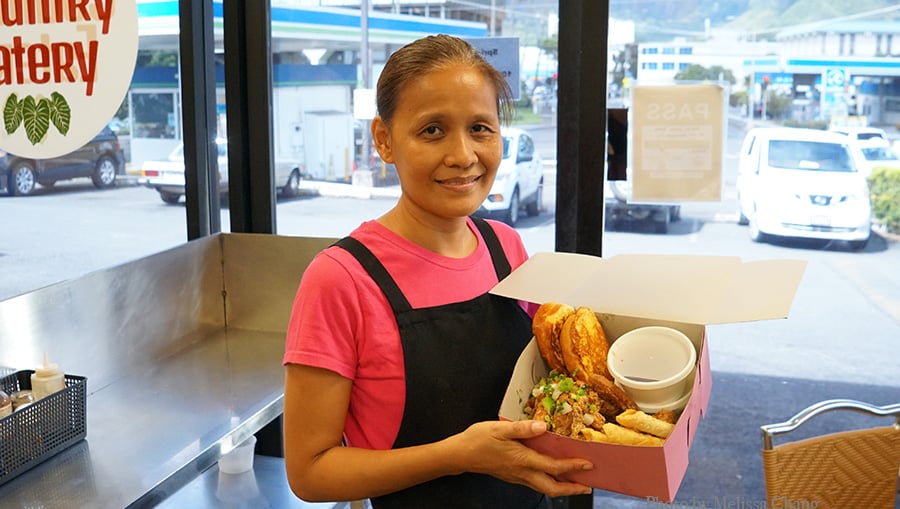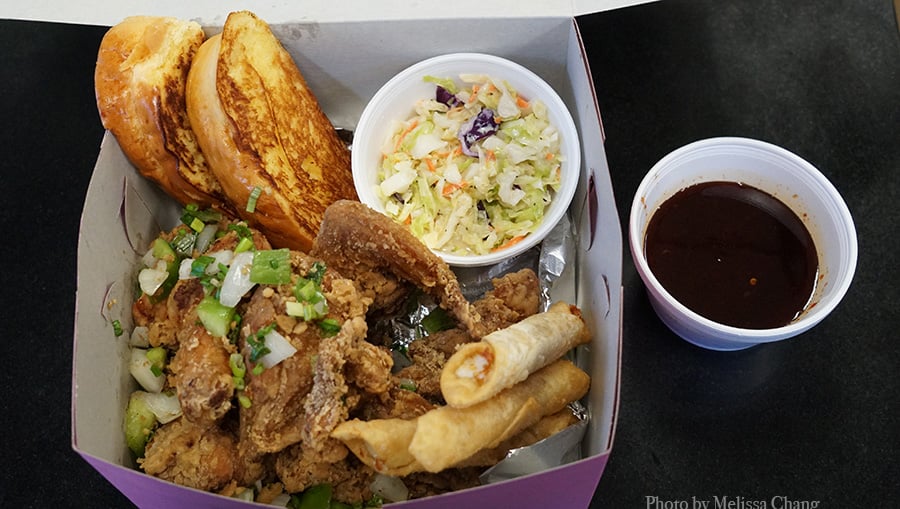 Adela's has more on the menu than just pasta. Another of my go-to indulgences is the fried chicken box (half chicken, $15.99; whole chicken, $29.99), filled with moist chicken pieces that are beautifully crunchy from being fried twice, then sprinkled with fresh green and white onions. It comes with cole slaw, fried mozzarella lumpia, homemade Portuguese sweet bread and your choice of sauce. But really, the chicken doesn't need any sauce.
That sweet bread is actually Richard's grandmother's recipe, and like the pasta, is made daily to ensure you get that fresh fluffiness.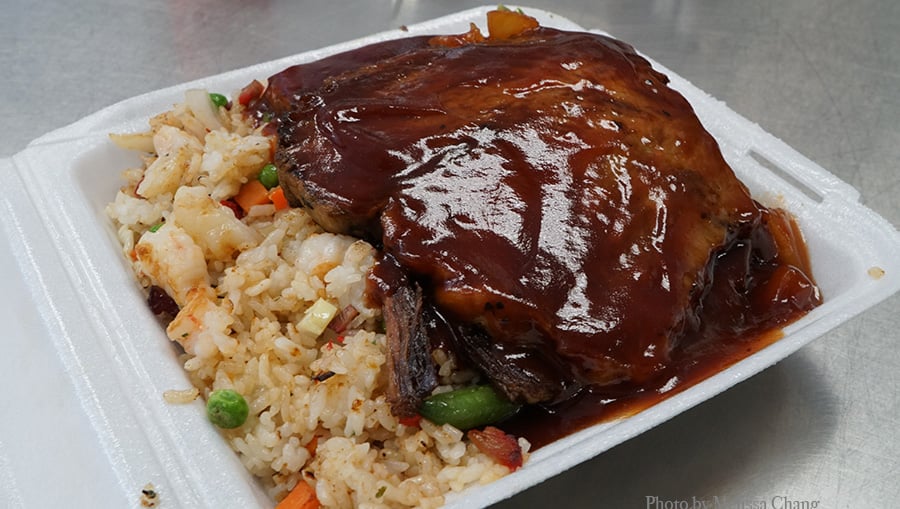 You can also choose from several kinds of fried rice, from a simple garlic fried rice with eggs to a more robust plate like this, covered in slabs of pork and barbecue sauce. (This one seemed more like brisket to us, but the Chans were so slammed that we didn't get to ask them.)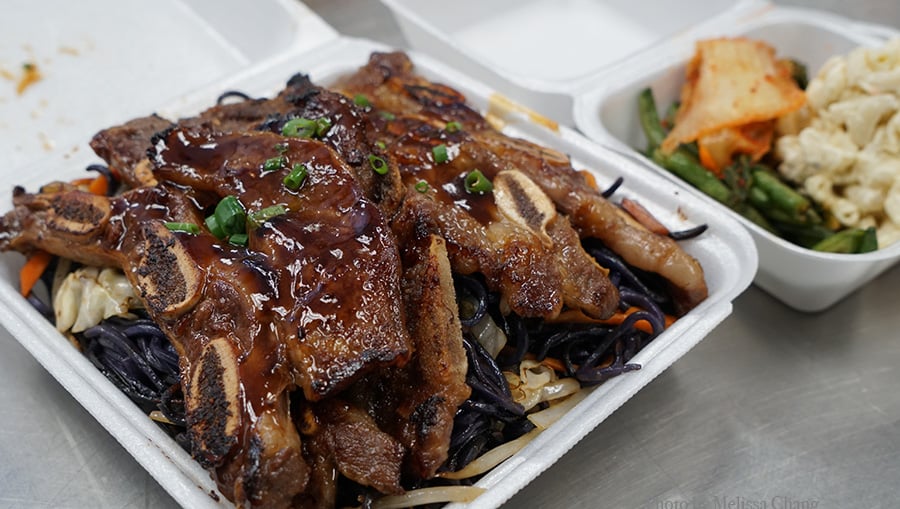 For something different, you might try the ube pasta (which only has a hint of the sweet potato flavor) with a salty topping, like kalbi. This one felt a lot heavier than the other pastas, too, so it's good if you're hungry.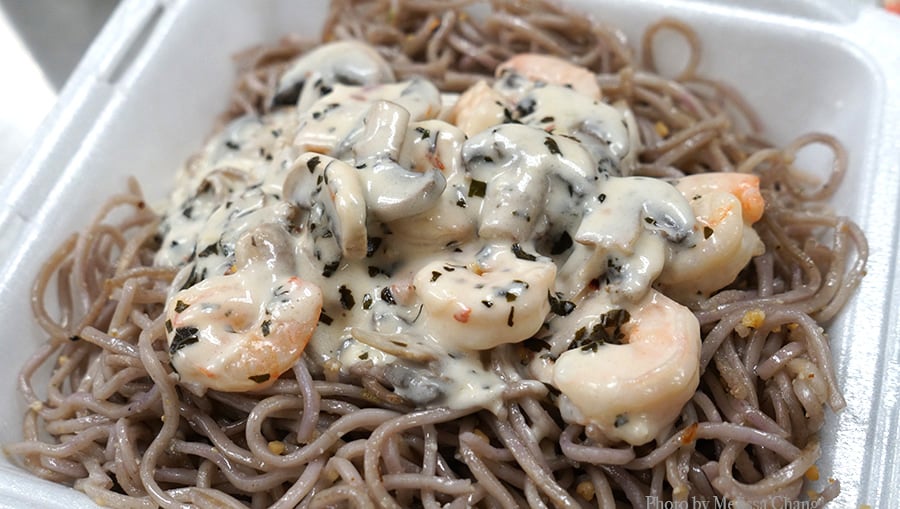 Another different and unexpected combination is the taro with coconut cream sauce, which is almost dessert-like. Most people expect their pasta to be savory, so you'd have to be open to it, but if you have an open mind and palate, this is actually pretty good.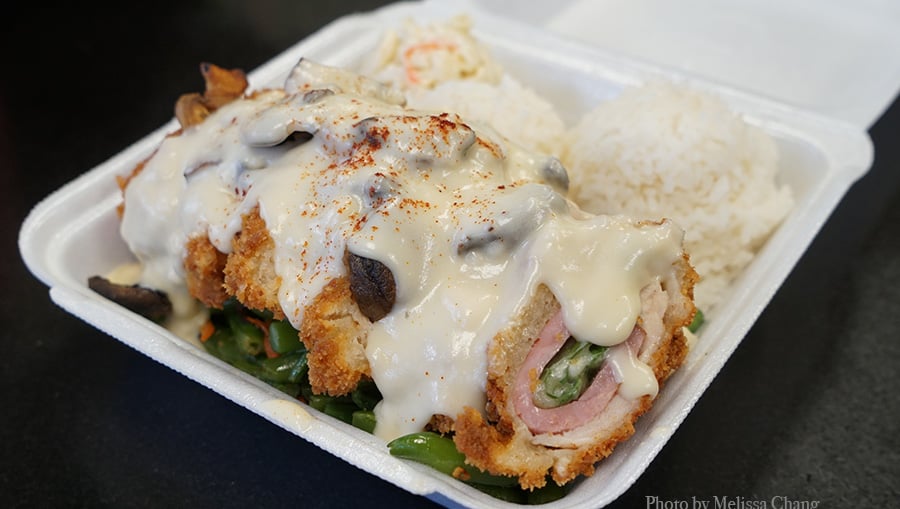 For a really hearty meal, the stuffed chicken topped with mushrooms and Alfredo sauce is one of the popular choices — we saw quite a few regulars ordering it while we waited for ours. It's really rich, though, so you may want to share this.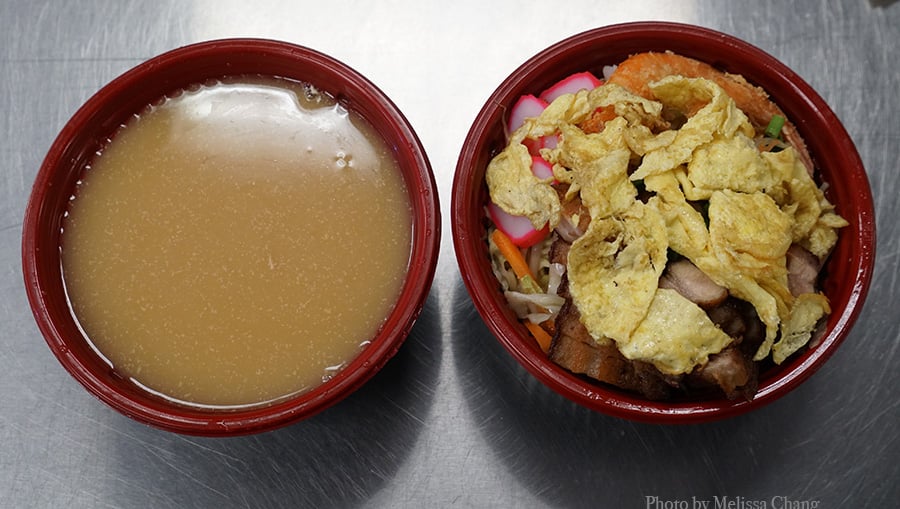 If I had the choice, I would take any of the pastas over the ramen any day, since they're so unique. We did try the ramen, and it was basically good, but you can get this anywhere. If you don't like surprises, though, this is for you!
You can also get dessert at Adela's, all $6.95 each. The cheesecake or the Okinawan sweet potato haupia pie seem to be the most popular sweets, but we couldn't find any room for it by the time we were finished.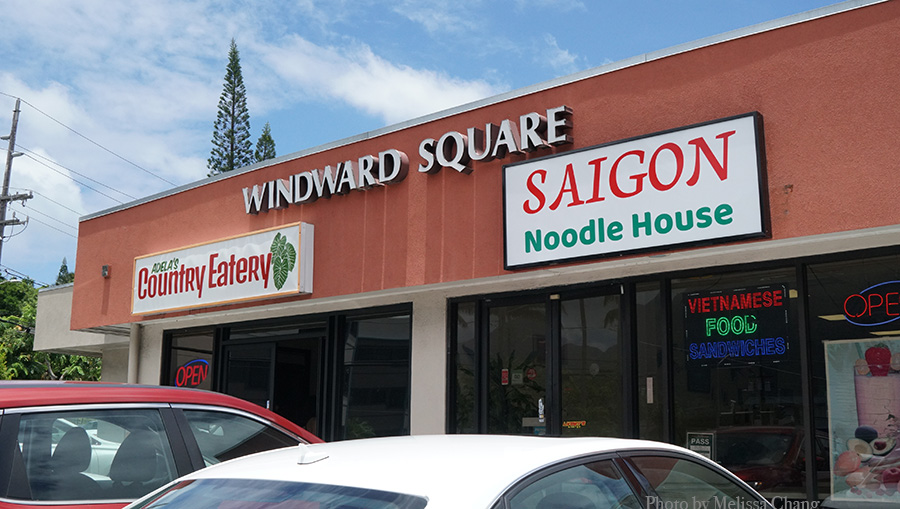 Adela's is open Monday through Saturday from 10:30 a.m. to 8 p.m. I highly recommend avoiding peak dining hours if you want to avoid a crowd in the parking lot and the restaurant.
Adela's Country Eatery
45-1151 Kamehameha Hwy.
Kaneohe
236-2366