Ono Pono Seafood Campaign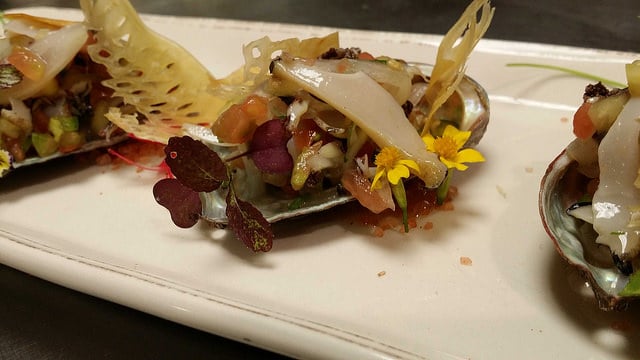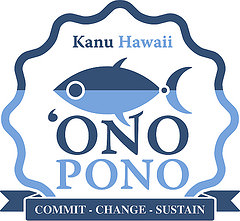 With 60-90 percent of the world's fisheries collapsed, depleted or over-exploited, the future price and abundance of your favorite nigiri is questionable. The Ono Pono Seafood Campaign, a project organized by Kanu Hawaii, is an effort to build awareness and encourage sustainable seafood choices in Hawaii.
If you're planning to dine out in October, a small group of local chefs have partnered with Kanu Hawaii to promote sustainable seafood alternatives in their restaurants throughout the month. To participate in this pilot, the seafood dish served must meet one or more of the following criteria:
Caught by Hawaii's fleet – one of the best managed and most-monitored in the world, particularly compared to international competitors who are not subject to the same regulations.
Caught preferably by "troll and pole" (aka "day bout" fishing) to minimize "by-catch" (accidentally snared turtles, sharks, juvenile fish).
Belongs to a strong population, based on recent Hawaii-specific stock assessments and clear fisheries management plans.
Farmed from local or domestic operations using methods that avoid antibiotics, spreading disease into the wild, and using wild fish for feeds.
Prepared using more than just the filet – e.g. whole fish, collars, heads, rib meet – getting more "yield" per fish and avoiding waste
Considered an invasive species like to'au and ta'ape, gorilla ogo, or venison from invasive axis deer. Creating demand for destructive invasives can help bring local ecosystems back to health and balance.
The following is a list of participating restaurants, but note that menu items may change depending on market availability of fish.
Bruno's Forno: Serving up an Italian steamed Mekajiki, foil-wrapped and baked with local vegetables, seasoned with pesto, garlic, ginger and lemon.
Cactus Bistro: In Kailua, chef John Memering avoids longlines and bycatch, featuring local "day boat" fish, roasted in fresh banana leaves with sweet plantains, charred Hau'ula tomato,chilé and lime.
Daylight Mind Coffee Co: In the heart of Kailua-Kona, this restaurant-bakery-coffee house is featuring a Big Island abalone cevice accented with local pineapple and tomatoes, garnished with `ulu chips.
Koko Head Cafe: Chef Lee Ann Wong features troll-and-pole caught, fresh island fish and eggs, sweet miso marinated, ong choy, ocean rice, house-made pickles.
Kona Brewing Co: The Koko Marina team avoids longlines with a troll-and-pole, char grilled, fresh local catch basted with a smoky Sriracha glaze. Served with hapa rice, mango-pineapple salsa, cucumber raita and Thai guava sauce.
Lunchbox by Pili: Chef Mark "Gooch" Noguchi will help diners eat eco-friendly by eating invasives, with a dish featuring venison from wild-harvested axis deer. Sorry, only available at Lunchbox, the private cafe for Hawaiian Airlines employees.
The Canoe House at Maunalani: Chef Allen Hess is serving up baked Big Island abalone with local mushroom and Hawaiian spinach in misoyaki sauce with spicy lomi tomato.
The Pig & The Lady: Chef Andrew Le cooks the equivalent of "snout to tail" with a Fishmongers Stew, prepared with sake-braised collars from fresh local catch, slow roasted with heirloom tomatoes and aromatic spices.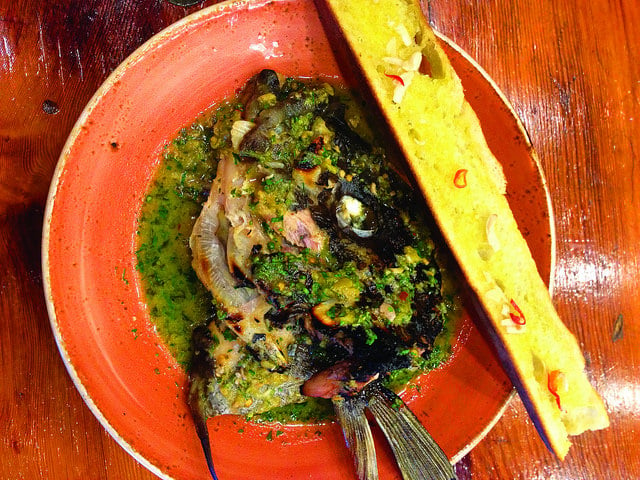 Town Restaurant: Chef Ed Kenney is giving ahi a break in October, and bringing back a traditional, local favorite. Fresh-caught Aku Tartar over risotto cake with balsamic vinegar.
Whole Foods Market (all stores): Encourages customers to look beyond ahi poke, and try other sustainable poke ingredients like aku, shutome, and opelu, limu, abalone, taro, breadfruit or ali`i mushrooms.
You can join the effort by making your personal commitment to dine at one of the participating restaurants and by sharing what you learn.