Only in Hawaii: Graduation to da max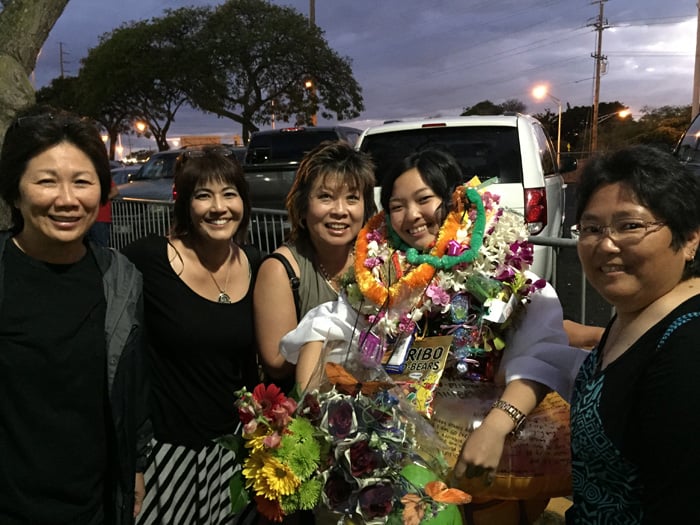 It's graduation season in Hawaii! We are the only place in the world where entire communities come to see someone graduate from high school and college, and that piles on congratulatory lei until your head disappears.
Back in my day, the lei mountain was the big thing. We didn't have signs, since we just gathered at the place where we were sorted alphabetically. My mom was sometimes practical and made lei of peanuts, in case you got hungry while waiting for your friends and family to finish visiting you. My sister made me a lei of manapua and condoms for my graduation from the University of Hawaii, and since I had no sign, my brother just yelled "MELISSA CHANG!" repeatedly so people would know where I was. That was about as nutty as it got.
I was trying to explain the spectacle to my friend from Japan, who didn't understand why I was attending my friend's daughter's graduation from Campbell High School last week. In Japan, only your parents come to see you — not even your siblings attend.
I guess I haven't been to a high school graduation in a very long time, because things have really changed a lot since the last one. My nieces had handmade signs so people could find them in the crowd, and Cymri was the first person I'd seen with a inflatable tube around her waist (given by a friend).
Now, that inflatable tube is the norm, as are huge signs with the graduate's name — or even their photo. Some people have gigantic banners made to mark the spot where their graduate is standing after the ceremony.
On one hand, the signs and banners make a lot of sense, especially when you have more than 400 people graduating. When family, friends, hanai family, coworkers, family friends and more are gathered in a finite space, you need more than just a sign on a tree identifying the first letter of the last name of the graduate if you are going to find them. On the other hand, some of these post-ceremony gimmicks are a little out of control.
The other oddity is seeing more people with yarn lei, or lei made of things other than flowers. When people saw me at Emi Bentosino's graduation with a fresh flower lei, they were impressed. What? Aren't the piles of fragrant flower lei one of the best things about graduation?
Here are some of the things we've seen at graduation this year that were over the top. I'm sorry I missed the family that brought a bunch of tables, chairs, food warmers and a buffet to the parking lot at Aloha Stadium for celebrating, post-ceremony.
This is me with my parents when I graduated from the University of Hawaii. Since I don't have a scanner, I just shot the print at a bad angle. But you get the idea. I'm standing under the C! No lights. No signs. No disco balls. Just a lot of flower lei (except for the Mentos that Wendy made).
Whether we have outrageous displays or not, no one else in the world does graduation like Hawaii does. I sent these photos and videos to my Japanese friend and now she wants to attend one of our graduations, simply for the entertainment value. What do you think of these new graduation practices? And what are the most outrageous things you've seen? Share them in the comments below!