One last look at New York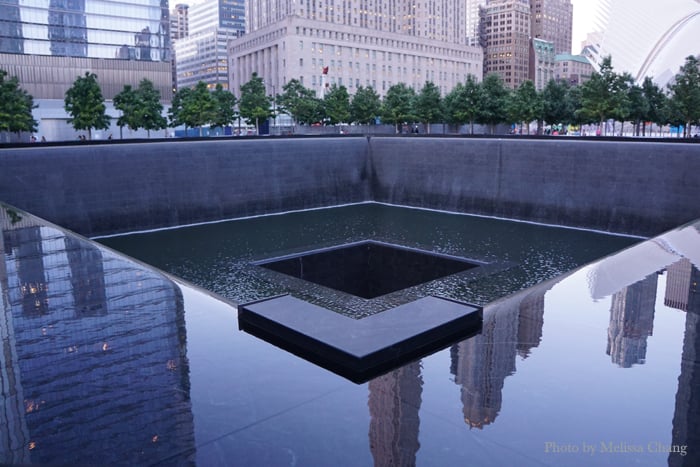 Everyone has their own list of must-dos in New York, but my trip was a little different because I was actually there for work, filming a special episode for Search Hawaii TV. I know a lot of people didn't quite get that I wasn't there for vacation despite my repeating it constantly, so I had a lot of people yelling at me to make time for a certain show or bar or restaurant. I appreciate the suggestions, though! Maybe next time.
Here's a look at some of the things I did get to squeeze in, between film segments, and before moving on to my real vacation in Maine.
I do want to give a shout out to the PR team at the Conrad New York, where we stayed. I appreciate businesses who understand how to use social media and know how to engage with their customers. I posted a few tweets when I checked in, and to my surprise, the Conrad team found me even though I didn't tag them. We exchanged a few tweets daily, so at the end, they actually found my room and sent me a snack. The power of social media! Don't let anyone tell you that Twitter isn't effective!
I found out that the Freedom Tower and the 9/11 Memorial was in walking distance of our hotel, so one evening when I had a break from work, I headed over. I had no idea what to expect; since it was an unplanned, spontaneous activity, I hadn't read anything to prepare myself.
I think my experience was similar to what many people feel, whether they have a metaphysical vibration or not. As I approached the area (not even the memorial itself), I could feel a wave of energy washing over me. The feeling got stronger as I got closer to the memorial, and it was almost overwhelming.
The Memorial features two large waterfalls and reflecting pools, each about an acre in size, set within the footprints of the original Twin Towers and more than 400 trees surround the reflecting pools. There's a grove of swamp white oak trees and a small clearing in the grove, known as the Memorial Glade, was thoughtfully created for gatherings and special ceremonies.
Now that I've seen it, I highly recommend going. It's not so much a place to be a tourist — have some respect, folks — but to remember the tragedy and the innocent lives taken, while reflecting on lessons that shape the world today.
I didn't have time to explore the whole thing, but I made a point to walk around one of the waterfalls to pay my respects. Just by chance, the last name I found on the last panel of my walk around was Hawaii girl Heather Ho, who was a pastry chef at Windows of the World when the towers came down. Talk about chicken skin.
At that point, the energy from the area was too much and I was starting to get light-headed, so I headed up the street for a quick dinner.
Too bad I was by myself, as the food and service at Da Claudio were so good. This was recommended by Adrian Kamali'i, who had been living in New York for a couple of months, recommended it not just for the food, but for the story behind it. Claudio and Linda Marini owned Barbarini Alimentari & Mercato, on the historic Front Street in the Seaport, for 17 years until it was completely destroyed by Super Storm Sandy in 2006.
It's hard to pick just one dish when you're a food blogger eating alone. But I settled on the lasagnette alla bolognese ($19), which is made with béchamel sauce instead of the usual layers of tomato sauce. The dish is rich and very silky thanks to the béchamel and … oh, the wagyu helps that, too.
Da Claudio
21 Ann St.
New York, NY
212-285-2668
what
One morning, I also had a small break before the next shoot, so I headed to The Spotted Pig, which Mike Lofaro, Bill Paris and Scott Culbertson of Search Hawaii TV had gone the night I went to noreetuh. On weekends, don't expect the usual fare, since it's focused on brunch. I know people had recommended all kinds of things on the menu, but they aren't available at brunch!
These are just a couple of the things they offer at brunch, but the menu is always changing, so I won't go into much detail except to tell you that The Spotted Pig is solid, and they have a great bar, too. They don't take reservations, so go early, put your name in, and wander the neighborhood. The restaurant has printed a map of their favorite things to see in the area, so you could walk around to build an appetite, or walk to work off the meal. Or both.
The Spotted Pig
314 W. 11th St.
New York, NY
212-620-0393
And wander, you must. After brunch, I wandered the Village (not the same areas that the Chus took me) and checked out the cute stores along the way. I even went into MAC, which was the size of a closet, and no one greeted me or even looked my way. Someone said that it's because New Yorkers are snobby, but farther up the street I entered a new gourmet food market, Suprema Provisions, and the shopkeeper was outstanding and friendly. She was so fun and charming, I ended up buying twice as much as I intended. The lesson? Stick to what I know. Fashion and beauty, no. Food, yes. And I'll definitely go back to Suprema for a meal.
Suprema Provisions
305 Bleecker St.
New York, NY
646-964-4994
Everyone talks about the Big Gay Ice Cream Shop, and since I was already in the Village, I thought I'd check it out. I didn't know this, but there are actually two shops — a huge one with a long line, and a smaller one with less of a line but no seating. I guess it depends on what experience you want; I went to the small one and enjoyed it, but later when I passed the large one and saw that line, I don't think I would ever have gone in.
Everyone will tell you to get the Salty Pimp. Yes, it looks delicious. But no, I made my own custom topping blend. And it was a winna! It was a sweltering summer day, so this really hit the spot — cult hit or otherwise!
Big Gay Ice Cream
East Village
125 East 7th St.
West Village
61 Grove St.
One other thing I'd recommend if you've got some time but don't have a plan: Take in a street festival. There are street fairs in Manhattan just about every week from April to November, and they're great for taking in a little bit of local flavor. They're kind of like Eat the Street or the Honolulu Night Market, with blocks of food vendors, retailers, and more. You can adopt a pet, or take your current pet in to align its chakras (what?).
If you're already into vintage and consignment stores, you know that there are tons of them in Manhattan. I'm not, but Kathy Muneno is, so one day on a break, we went to explore a few. We have pretty tame ones in Hawaii, but you should at least take a spin through the ones in New York to see the crazy stuff people have! (I was going to take a photo of myself in these platform shoes, but I saw someone else fall over earlier.)
Mahalo to Search Hawaii sponsors Hawaiian Airlines, Grand Wailea, Ulupono Initiative, Bank of Hawaii, and KHON! To see all photos from the work section of this trip, click here. To see the rest of the vacation, click here.
Up next: Visiting Maine and New Hampshire!