Once Scorned, Albizia Now Used to Make Stunning Surfboards
The Albizia Project uses a highly invasive tree and its wood to create designs and surfboards the old-school way.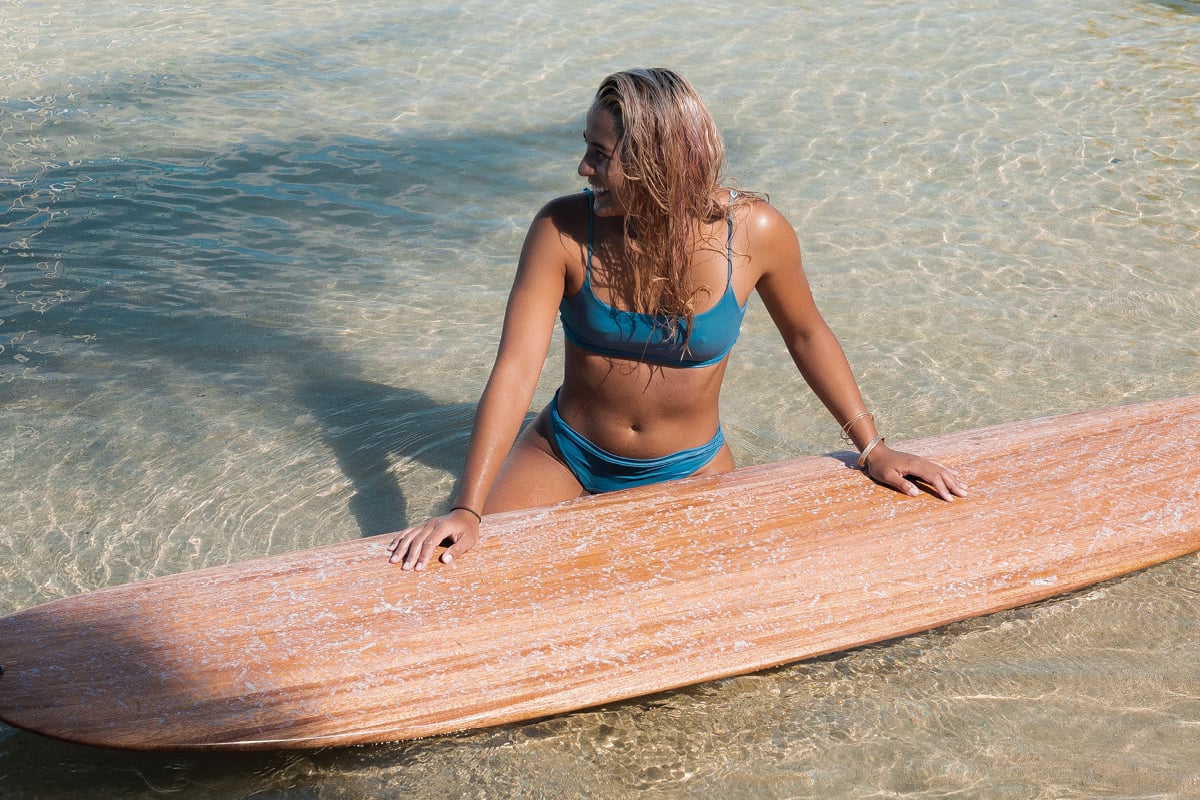 The first thing I see at Albizia Project's office is a tow-in surfboard made of albizia. It's not one of those glossy wood boards made for mounting on the wall; it's a prototype for Garrett McNamara, a big wave surfing pioneer. Once considered a tree too weak for building anything, albizia will soon be the foundation of a board ridden by a man who held the world record for surfing a 78-foot wave.
Albizia Project founder Joey Valenti is proving that the invasive tree, deemed one of Hawai'i's most problematic, can be beautiful and functional.
You've likely seen Valenti's work if you drove by the University of Hawai'i at Mānoa between 2018 and 2021—the arcing, pale wood structure on the lawn near the corner of Metcalf Street and University Avenue was his architecture thesis project, a proof of concept of albizia as a building material. Since then, he's designed and constructed the beams at Island Brew Coffeehouse in the Ward area, the counter at Daily Whisk Matcha in Kaimukī, accents at Patagonia on Ward Avenue and bins for vinyl records at Aloha Got Soul, all out of albizia. He's starting to incorporate albizia into an all-timber house in Kōloa, Kaua'i, and into a gym set, from weight benches to weights (the wood filled with lead) for 1 Hotel Hanalei Bay.
Valenti's designs resemble the light and graceful trees they're hewn from. Albizias are tall and their broad canopies can inspire awe, but the tree has been called a "widow-maker" for the way its branches can suddenly drop for no apparent reason. It also became known as "the tree that ate Puna" after thousands of them fell during 2014's Hurricane Iselle, destroying houses, entangling power lines and blocking roads. In 2004, heavy rains and albizia debris caused Mānoa Stream to flood, resulting in an estimated $85 million in damage.
Brought to the Islands in 1917 as part of a reforestation effort, Hawai'i's albizia is now the fastest-growing tree in the world—it can shoot up more than 15 feet a year, much faster than in its native Indonesia—according to conservationist John-Carl Watson. Because of how quickly it grows, it was assumed that the wood was weak. But in 2016, Valenti brought albizia to professor and structural engineer Ian Robertson, and they found that it was just as strong as Douglas fir, a common lumber.
Now, people in search of sustainable building materials are turning to Albizia Project, which mills, designs and installs the wood. Valenti doesn't envision albizia ever replacing construction lumber at hardware stores—the project's supply chain and processing just can't compete with that huge industry. He estimates the cost of using the wood to be higher than Douglas fir, but on the lower end of imported hardwoods like mahogany. Its best use, he says, is for specialty builds, like surfboards.
And it's this latest project that gets him most excited. For Bizia Surf, his line of albizia surfboards, Valenti is working with shapers Dick Brewer and Carson Myers. The boards are made with lengths of albizia, hollowed out and then glued together, inspired by 1930s designs when solid wood boards gave way to chambered boards to lessen their weight. "We're bringing back that kind of old-school system, but with newer technology," Valenti says. Surfboards these days are made with foam, fiberglass and epoxy—"the whole process is pretty nasty." Bizia Surf offers a stylish alternative, utilizing an invasive wood that Hawai'i can't get rid of fast enough. "It aligns with a lot of things that I believe in and I'm passionate about," he says.