On tap: Holiday beer events starting now
Christmas beer, all-afternoon happy hour and yes, an ugly sweater contest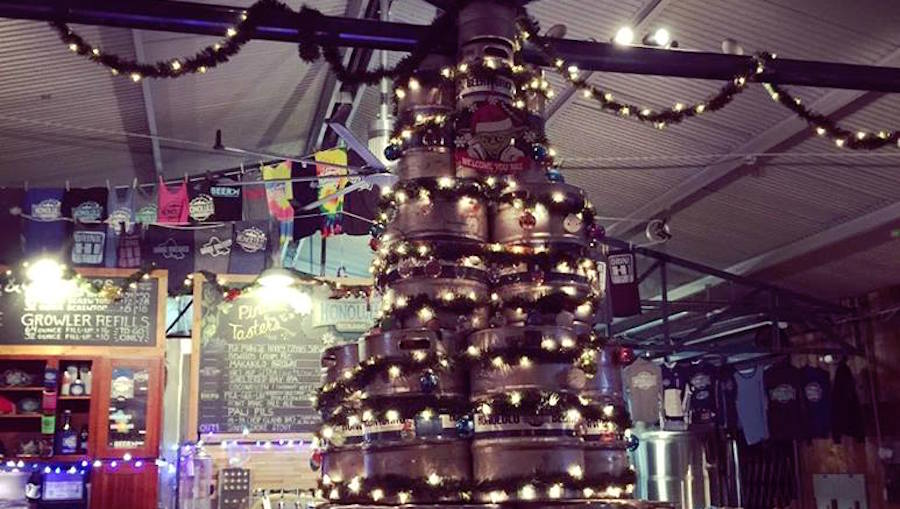 Let the festivities begin! From Christmas tree decorating to New Year's Eve parties, celebrate the holiday cheer with one of these events from Oahu's craft beer scene.
Honolulu Beerworks
When: Dec. 11 – 16
What: Holiday Ball Painting and Fugly Fashion Festivus aka Ugly Sweater Contest
Details: Honolulu Beerworks is asking patrons to help decorate its "keg tree." Glitter, craft supplies and ornaments will be provided, available all day throughout the week. Have a beer, get creative and hang your ornament on the tree. The weeklong fiesta culminates on Saturday, Dec. 16 with an Ugly Sweater Contest. Checkin starts at 8 p.m. and judging starts at 10 p.m. The funkiest attire will win Honolulu Beerworks prize packs.
328 Cooke St, Kaka`ako. Street parking.
Village Bottle Shop & Tasting Room
When: Tuesday, Dec. 12, 6 – 9 p.m.
What: Firestone Walker toy drive
Details: This one is all about beer drinkers doing good. Bring an unwrapped toy to support the Oahu Marine Toys for Tots Foundation, and sample new and rare beers from Firestone Walker, including Stickee Monkee, Helldorado, Velvet Merkin and others.
675 Auahi St, Kaka`ako. Validated parking in the SALT garage.
Bar 35
When: Now through Christmas
What: Toys for Tots toy drive
Details: Bring in a new or unused toy for Toys for Tots and get a Firestone Walker 16-ounce glass while supplies last.
35 N. Hotel St., Chinatown. Parking on street and in nearby municipal garages.
Growler USA
When: Now through Dec. 29
What: Weekday happy hour from noon to 5 p.m.
Details: $4 beers and 20 percent off some food items at this Kapahulu spot with 100 beers on tap.
449 Kapahulu Ave., Waikiki. Parking in the building.
Waikiki Brewing Co.
When: Sunday, Dec. 24
What: I'm dreaming of a Black RyePA Christmas
Details: Waikiki is releasing its new Aumoe Black Rye IPA on Christmas Eve at both its Waikiki and Kakaako locations. It has the aroma and hoppy bitterness of an IPA, but it's black in color and has spicy notes of rye malt to add something toasty to your Christmas Eve cheer.
1945 Kalakaua Ave., Waikiki, and 831 Queen St, Kakaako. Both have street parking.
Lanikai Brewing Co.
When: Sunday, Dec. 31
What: New Year's Eve Cocktail Party, 6 p.m.
Details: Feeling fancy? Lanikai Brewing welcomes 2018 in style with a beer-soaked, cocktail-attire New Year's Eve party. Dress up, watch the ball drop and enjoy local brews at the Windwardside's newest taproom, Tap & Barrel, which just opened this fall. Glasses of prosecco will also be for sale, and, as always, you can bring your own food.
167 Hamakua Dr, Kailua. Street parking.