On now: Yi Lin Hu fashion photography exhibit
There's so much more to fashion photography than flowing dresses and gorgeous models. Astute fashion photographers are familiar with design, textiles and different fabrics – to them, it's about the artistry and fantasy, not just commercial appeal.
Now through March 31 at Ward Plaza's Canon U.S.A., you'll have a chance to see the work of Yi Lin Hu. The collection is presented in three sections: intricacies of fashion design, contemporary portraiture and cinematic fashion story lines. The photos feature clothes by local designers Beverly Horton, Kini Zamora, Dinko Satta and Joelle Perry.
I had a chance to sit with Yi Lin Hu for a quick Q&A:
When did you first fall in love with photography?
I was born in Canton, China and it wasn't until I was 19 years old that I got my first camera soon after my parents and I moved to Honolulu. In my early photography journey, I took many photos of flowers, animals and landscape, like other novice photographers.
In 2013, I met Mark Arbeit who conducted a fashion photography workshop and shortly after started working as his photo assistant. He shot for French and Italian Vogue and much more, and he introduced me to true fashion photography. He taught me to pay close attention to detail and how to direct the models. But the most precious thing I learned from him is that a good photographer must have a good personality.
What do you look for in a subject?
Fashion, music, movies, photographs, and all the things around me are my inspiration. I am not really looking for something specific, but I always open my mind to new things.
Let me use this photo as an example: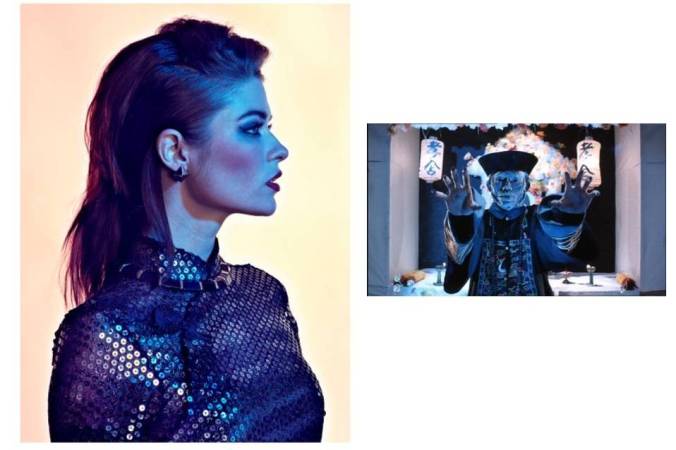 Stylist Reise Kochi showed me this interesting black Chinese dress with matching accessories that inspired me to recreate this red and blue dramatic lighting seen in the image on the right. Makeup artist Vanessa Li exaggerated the model's lips, eyes and skin tone.
Here's a look at some of our favorite shots from the opening reception:
Yi Lin Hu fashion photography exhibition
Through March 31
Canon U.S.A. at Ward Plaza
210 Ward Ave.
Admission: Free
yilinhu.com