Ola I Ka Hā: There Is Life in the Breath
By Robbie Dingeman | Photos by Aaron K. Yoshino
Too hot. Spiking temperatures across the globe make news daily as scientists tell us that climate change may turn this into the hottest year recorded on Earth. In our state, Native Hawaiians long ago created an ahupua'a system of sustainable land management where everyone played a role and recognized their kuleana to take care of the environment. In part three of our climate series (the first focused on water, the second on land), we examine the impact of soaring air temperatures and what our community can do.
As Aaron Kubo teaches eighth graders about the U.S. Constitution, he's competing with intense heat and humidity radiating through his classroom, despite 24 fans humming and blackout fabric stapled to the windows. "As soon as you walk in, you feel the intense heat envelop you, and within minutes, the sweat starts to pour out," Kubo says, describing a typical day at Hilo Intermediate School. "It's just so hot that (kids) are falling asleep because they're so exhausted. This can't be healthy."
With climate change pushing Hawai'i's air temperatures higher each decade, Kubo says conditions in his second-floor social studies classroom have gone from hot to "excruciatingly miserable." Kubo shakes his head over the juxtaposition of teaching about the Bill of Rights, guaranteed freedoms and what government should provide for its citizens, while his students swelter in often oppressive conditions at the public school. "We all do the best that we can but is that doing anyone justice?" he asks.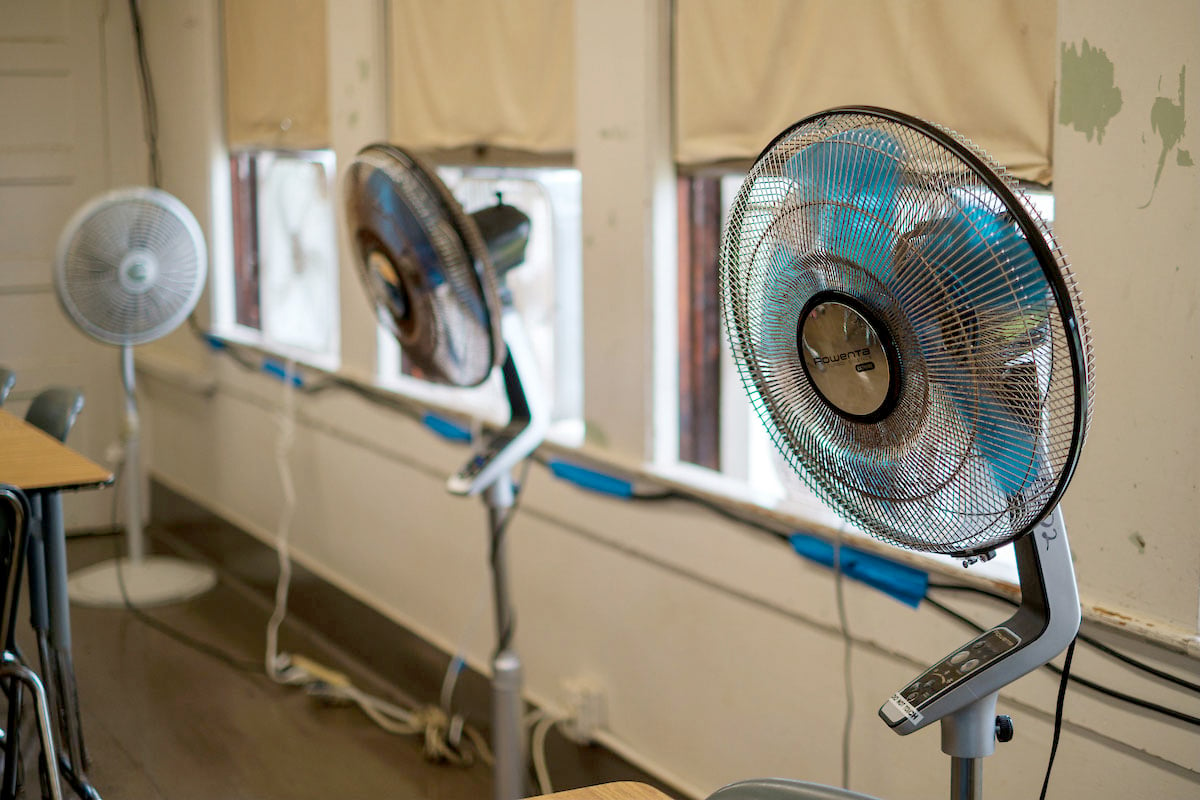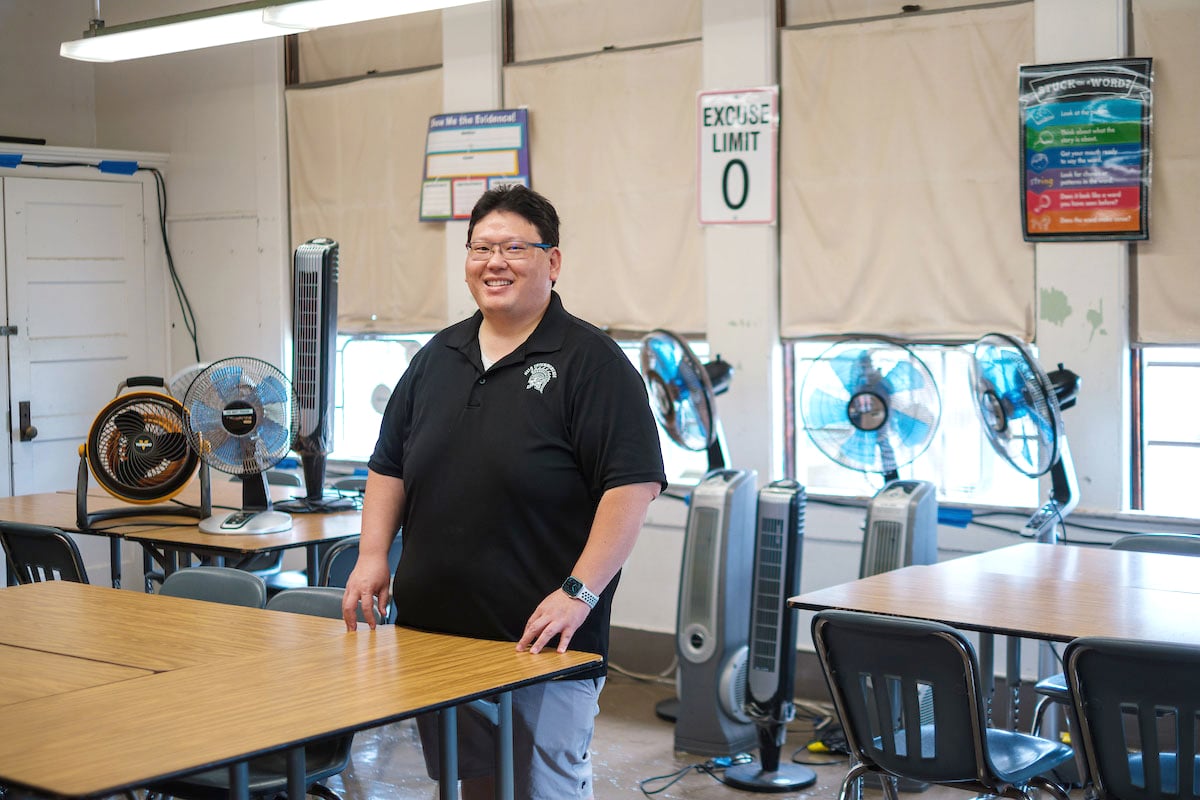 Hot and Getting Hotter
National climate researchers estimate that by 2050, the average temperature across the United States will warm by 5 degrees Fahrenheit. Climate specialists in Hawai'i say it would be difficult to extrapolate an accurate estimate for nearly 30 years from now since work is being done to try to slow or reverse that trend. However, based on 2018 numbers, experts estimate that Hawai'i's average temperatures could increase by as much as 5 to 7 degrees Fahrenheit by the end of the century, according to the state Climate Change Portal. In Hawai'i, researchers say an increase of 2.6 degrees Fahrenheit since 1950 may not sound dramatic but shows a progressive ascent and an accelerated pace over the past decade. Since 1990 we've endured more hot days, with spikes of 90 degrees or more increasingly common.
This year's historic heat has generated headlines across the globe, alerting people about extreme weather and accelerating global warming. European Union scientists declared it the hottest June ever recorded. A sizzling Fourth of July took on new meaning as the U.S. National Centers for Environmental Prediction dubbed it the hottest day on Earth since 1979, and perhaps one of the hottest in 125,000 years. And, combined with the return of the El Niño climate pattern, scientists say 2023 may prove to be Earth's warmest year ever.
To see the impact of rising temperatures, weather pattern shifts and how overall climate change affects our Islands, we need only look at our state public schools.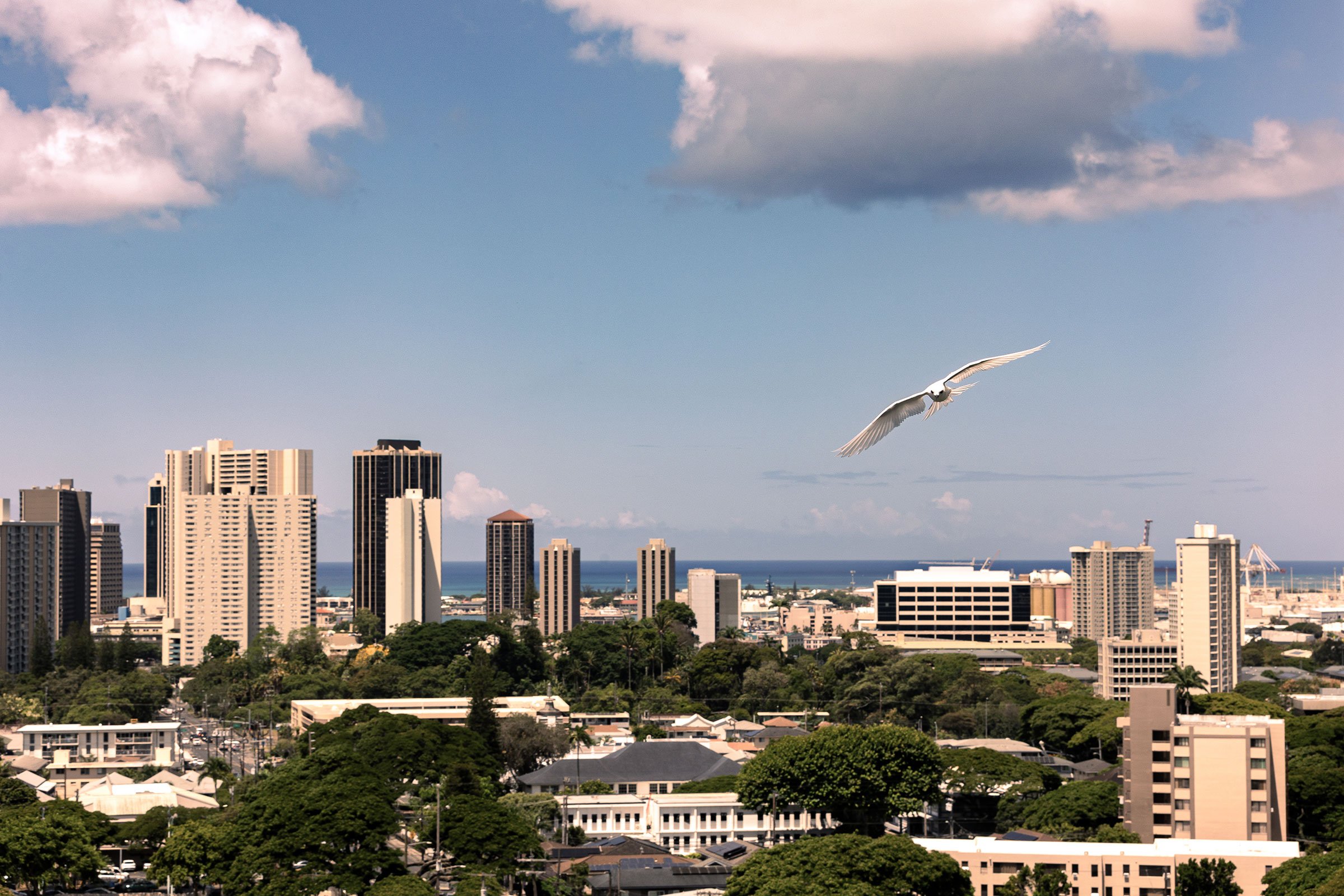 Cooling the Kids
Hilo Intermediate opened in 1929, the year the Great Depression began, in a town renowned for rain, not heat. Statewide, 6,000 of the Hawai'i Department of Education's 11,000 classrooms have air conditioning, according to Randy Tanaka, assistant superintendent for the DOE's Office of Facilities and Operations.
Many schools are currently waiting for air conditioning, but Hilo Intermediate can't even make the waitlist because its buildings lack the modern electrical capacity needed to run a cooling system. Kubo says that even before the added expenses of upgrading for ventilation and COVID-19 compliance, the school was told that it could cost more than $70 million to renovate the old buildings. Tanaka acknowledges outdated buildings loom large as a problem, noting that the average age of Hawai'i public schools is now 65. The DOE estimates the cost of installing air conditioning at all Hawai'i public schools at $1.7 billion.
Heat Affects Learning
National research indicates that learning and academic performance suffer when temperatures rise. A 2018 study followed 10 million students who took the PSAT, a standardized test that measures reading, math and writing skills. The study, which included a survey of students, teachers and counselors about heat discomfort at their schools, found that students' scores dropped about 1% for every degree at their schools that was hotter than the average. Another report showed students scoring significantly lower on a New York City high school exit exam on a 90-degree day than on a 72-degree day.
Analysts who study how temperature affects education say the ideal temperature for effective learning in reading and mathematics ranges between 68 and 74 degrees Fahrenheit, according to Penn State's Center for Evaluation and Education Policy Analysis.
As classroom heat intensified, Kubo asked the DOE what could be done. Officials suggested he keep a daily record, so he logged the temperature and humidity for more than seven years. Entry after entry shows his classroom's readings in the mid-to-upper 80s. Kubo says temperatures commonly shoot up in July as teachers prepare to start a new academic year and remain high into November. Even on a rainy day in June when we visited, we felt the contrast between the breezy hallway and the humid classroom, thrumming with fans. Hilo's high humidity frequently drives the heat index into the 90s, and even above 100.
Kubo keeps his lowest classroom windows—below the already-fading blackout fabric—open for maximum ventilation. Since the classroom doesn't face the ocean or catch prevailing breezes, the air remains muggy even with the fans. When the heat is most stifling, he takes his class outside under the sprawling banyan trees that front the school, but he knows that's hardly a solution. He also reminds students to drink water, eat snacks and bring extra uniform shirts so they can change rather than remain soaked in perspiration. The school tried reflective material and other coverings beyond the blackout fabric on the windows but found they fell apart in months, he says. And they experimented with powerful ventilators to suck the hot air out of the windows, but those sounded like jet engines that drowned out conversation, so they switched back to box fans. He stores another five fans so he can replace any that quit working.
"I don't remember summer being oppressively hot," says Kubo, 41, a graduate of Waiākea High who returned to teach in his hometown a decade ago. "When I was growing up, I feel like we used to have a lot more rain."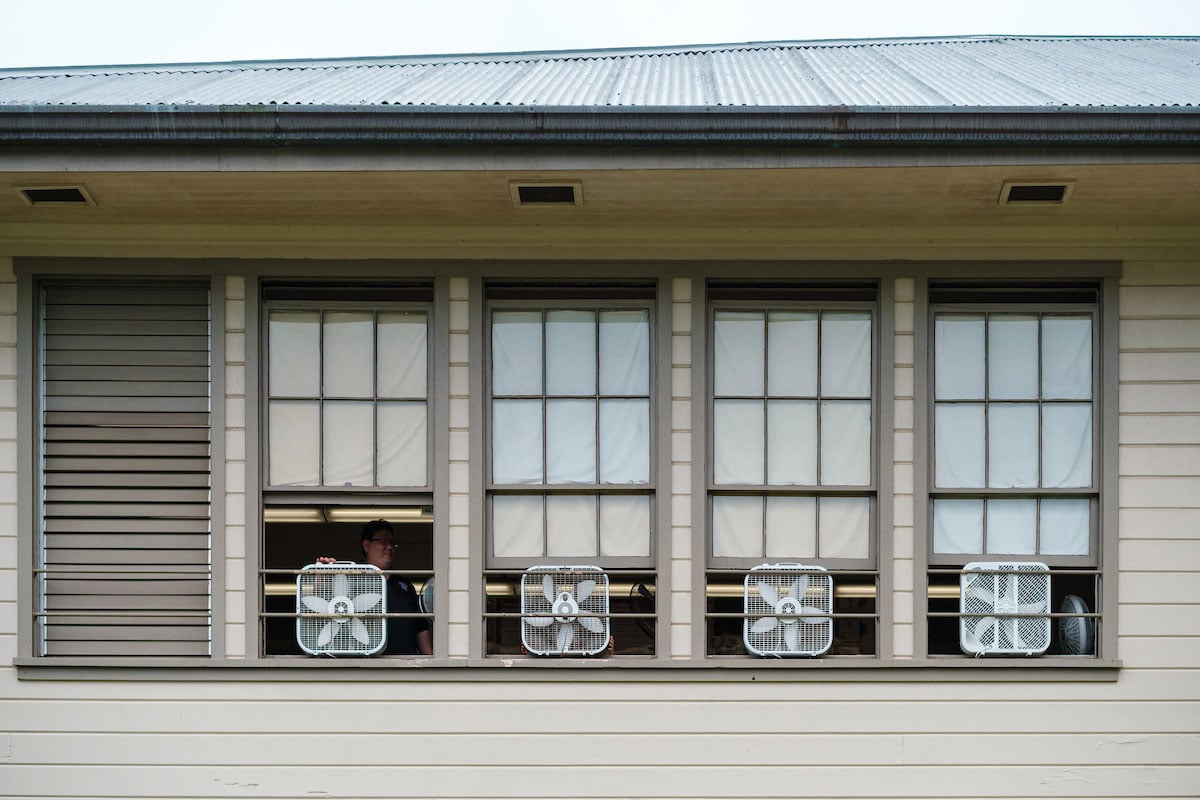 Hotter Than Ever
Less rain, fewer tradewind days and hotter temperatures can all be linked to climate change, says Charles "Chip" Fletcher, a paleoclimatologist at UH Mānoa, who studies our state's climate change future. He serves as interim dean of the School of Ocean and Earth Science and Technology and has emerged as one of the strongest voices calling for climate change action. 
Burning fossil fuels—gas, oil and coal—releases carbon dioxide, methane and other greenhouse gases into the atmosphere. Those emissions blanket the Earth, trapping the sun's heat to create global warming. Experts say those burning fuels account for more than 75% of global greenhouse gases and almost 90% of carbon dioxide emissions. And that's why attention has shifted to reducing emissions to slow the rise in worldwide temperatures. 
Hawai'i weather data indicates that tradewinds have decreased steadily since the 1970s, which profoundly affects the community, says state toxicologist Dr. Diana Felton. "What's going to happen with the tradewinds is really going to influence the health impacts related to air in Hawai'i," she says. 
Heat Wave of 2019
Remember that brutal heat four years ago? In 2019, Hawai'i broke more than 300 temperature records around the state. "We had over 45 days of continuous temperatures over 90 degrees," Fletcher says. Stores sold out of fans, air conditioners, even blocks of ice to make shave ice. And we experienced one of the biggest dangers associated with heat waves when night temperatures didn't drop to bring cooling relief. "You get this unrelenting heat, and you'll never get a chance to cool off," Fletcher says, putting the very young, older adults, the ill and frail at most risk. Fletcher points to the angry red colors of a satellite map of the Pacific showing the marine heat wave from the sweltering summer of 2019.
Although air conditioning can ease the heat when temperatures surge, fueling the cooling can further stress the power system. Fletcher recalls public service announcements going out from Hawaiian Electric in 2019 asking that people not run their air conditioners through the night "because we were threatening the grid; we were threatening a blackout."
And, as we've seen across the globe, heat can be lethal: In 2003, heat waves killed 70,000 people in Europe; in 2022, another 20,000 deaths there were attributed to heat. In 2021, the National Weather Service linked hundreds of deaths to scorching heat across the Pacific Northwest. A heat wave this year in Asia that began in April took more lives. And Fletcher points to high-rises as potentially very risky. "It's during blackouts that you get people trapped in upper floors of apartment buildings, where they can't use the elevator and in upper floors of apartment buildings very often you can't open the windows. And so these become hot boxes," Fletcher says.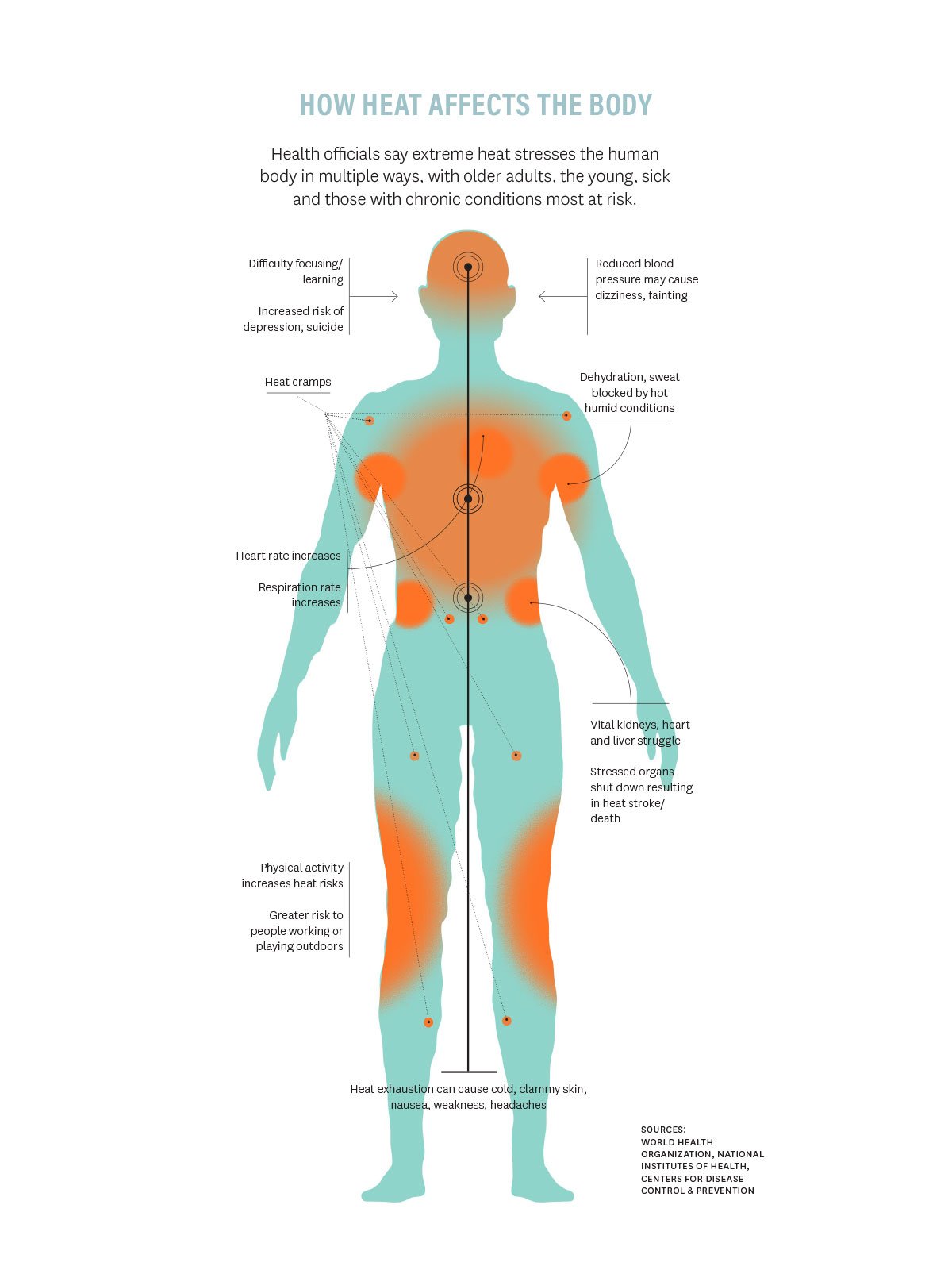 How Heat Affects Health
Back at the state Department of Health, Felton, who has worked as an ER physician, is focused on the growing health consequences of climate change in Hawai'i. "I think there's a tendency to think of climate change as melting icebergs and polar bears," something that's happening to the Earth's ecosystem far from us, she says. But heat-related illness already affects our families here at home, especially older adults, children and those who are navigating chronic medical conditions. When the temperature simmers in the 80s and 90s, "we're the ones who are going to get sick," Felton says, with heat cramps, heat exhaustion, heat stroke and even death.
Research on the continental U.S. has shown spikes in violent crimes, as well as increases in reports of mental illness and deaths during peak heat incidents. And Felton says she expects similar spikes and increases in our state, though it's impossible to know for sure since Hawai'i hasn't collected local data on heat-related illnesses and death.
To fill that gap, the Department of Health this summer began a study to evaluate local emergency room and urgent care visits for heat-related illness. Results weren't available by the publication date for this article, but experts do cite heat as a health threat here.
Links to Mental Health, Violence
Already, national studies chart a troubling trend. A 1-degree increase in average yearly temperature "would yield a 6% increase in violent crime rates or as many as 25,000 more serious and deadly assaults just in the U.S.," Felton says. Another study in 2020 looked at mortality and temperature over 38 years. Researchers found that periods of very warm temperatures correlated with increases in suicides.
A look at O'ahu's census data shows that the hottest areas of the island overlap those with the fewest financial resources. "It's in the poor neighborhoods, lower socioeconomic, and that really puts those people at really increased risk for heat-related illness," Felton says.
To combat the health risks, officials have begun planning for community heat warnings. "We need to at least be ready to put out warnings on particularly hot days with no trades and high humidity that maybe it's not a good day to work outside or for kids to play sports that day," Felton says.
At the same time, the state is looking at providing a different kind of emergency shelter: "Maybe that's setting up some cooling centers when it gets to a certain combination: temperature, humidity, tradewinds," Felton says. Cooling centers have proven effective in Arizona and other states this summer, she says, providing a place to escape the heat.
What's Warming Our Community?
Hawai'i has long been cited as a leader in clean energy, with ambitious goals to reach 100% renewable energy by 2045, boosted by a record of clean air and an average life span for residents that's among the longest in the nation. To meet its renewable energy goal, Hawai'i remains committed to weaning itself from fossil fuels that warm the planet and contribute to rising temperatures. The Hawai'i State Energy Office says the biggest sources of emissions come from energy (gas, oil, propane, electricity, fuel, etc.) and transportation.
At the City and County of Honolulu's Office of Climate Change, Sustainability and Resiliency, Matt Gonser is working on a climate action plan to improve energy use in buildings, transportation and waste management. His office is developing policies to reduce air heat through improved community design and by expanding transportation options, "making it safer for kids to get to school, safer for kūpuna to get off a bus and go to the grocery store," he says.
It's Electric
Gonser's office also supports a transportation trend that's more visible each month on O'ahu as drivers swap their gas-powered cars and trucks for electric vehicles. In the first quarter of this year, electric and plug-in hybrids accounted for 15% of vehicles registered in Hawai'i, the fourth-highest in the country.
Growing the charging system to support these vehicles is crucial to success, Gonser says. As the city's chief resilience officer, he expects the federal Inflation Reduction Act to spur progress by providing incentives and rebates for clean modes of transportation such as electric vehicles. He also encourages the use of buses, bicycles and other transportation options including Skyline, O'ahu's new rail system. "We need the whole mix of approaches to address some of these health and safety concerns," he says. "And the more we can buffer ourselves against wildly volatile imported fossil fuel expenses, keep money circulating on this island, across the state, that is how we will thrive into the future."
"Back in the day, it was way cooler than now; we could play outside all day."

 –Gregg Nakamura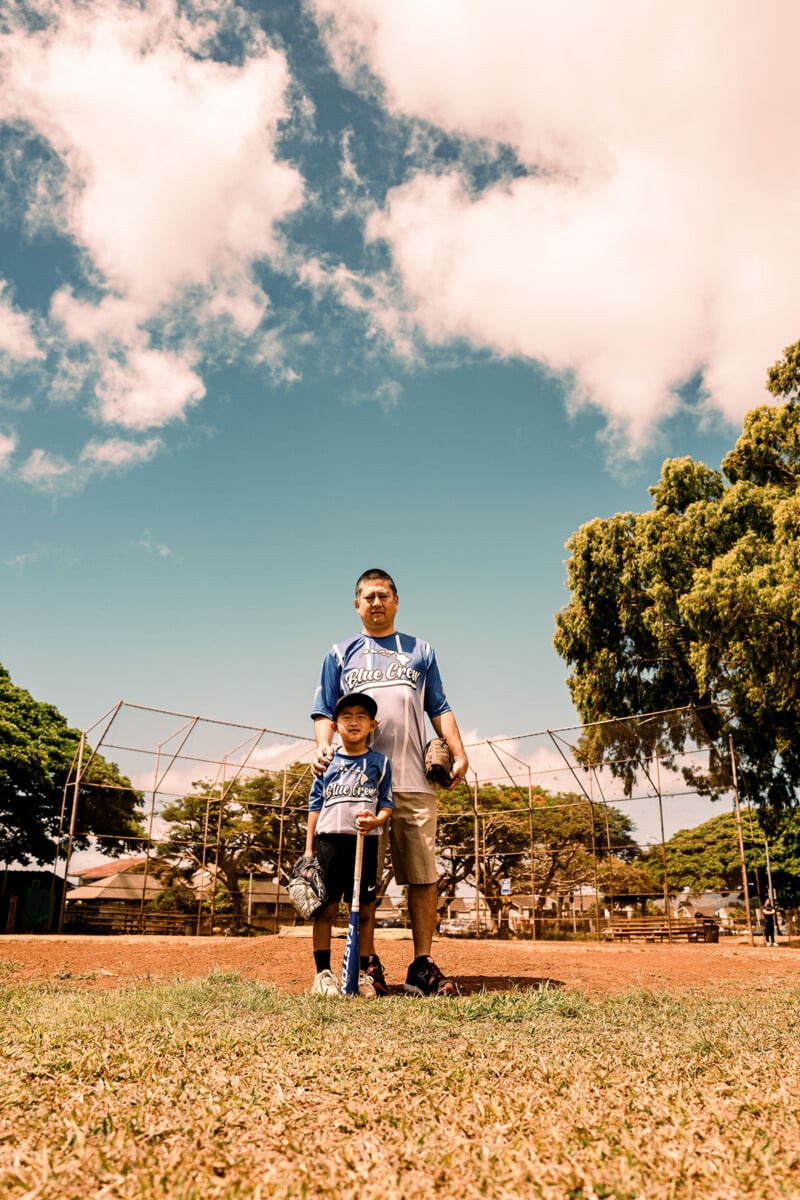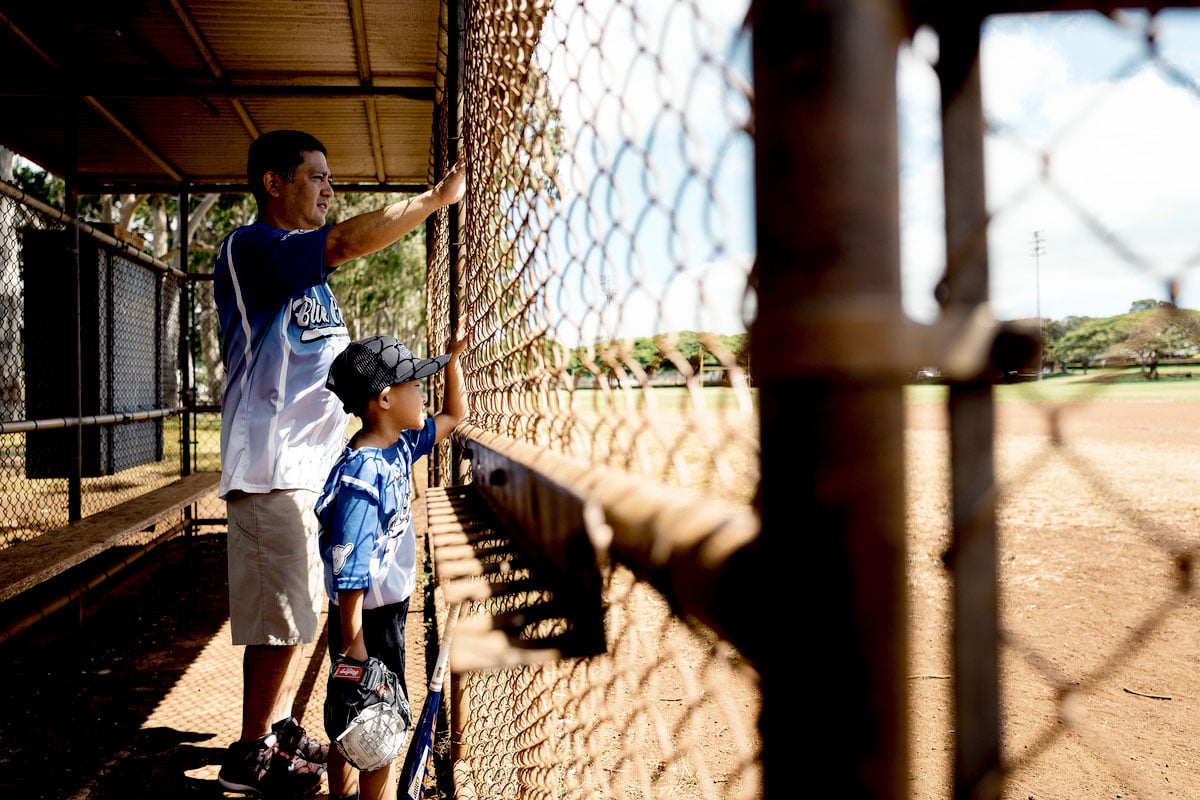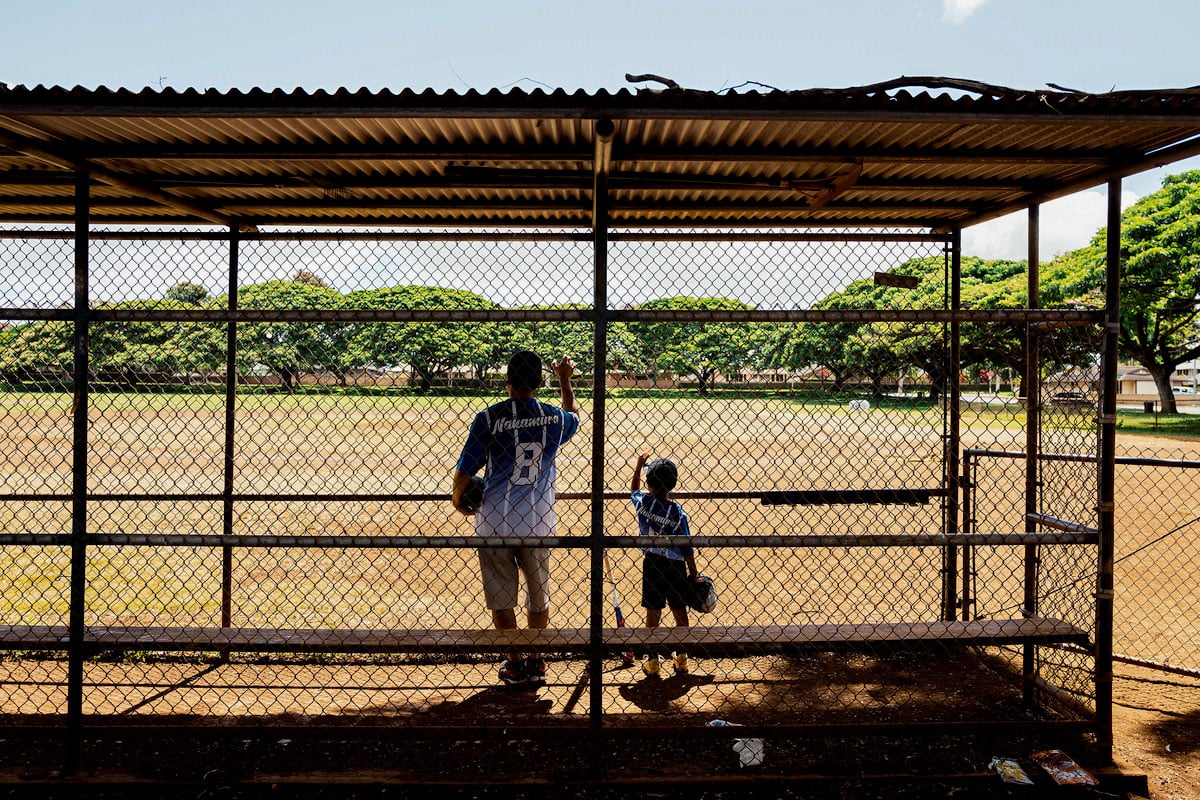 West O'ahu Gets Relief
Gregg Nakamura began teaching in Hawai'i public schools 23 years ago: six years at Nānākuli Elementary School and 17 before that at Mākaha Elementary. At age 52, Nakamura recalls a different experience when he was a public school student in Pearl City: "Back in the day, it was way cooler than now; we could play outside all day."
At Mākaha, Nakamura says the heat forced teachers to change the way they taught. "We would try to do the heavy stuff in the morning, like the reading and the math and the writing," he says. "After lunch, it was too hot to do anything," so they opted for activities that required less concentration and often took students to the farm next door to learn.
Now, with air conditioning at Nānākuli as well as Mākaha, Nakamura sees students benefiting inside classrooms. Still, teachers need to remain vigilant because students spend time outside, traveling to and from school, for PE and at recess.
"Even if it's 100 degrees, they still love to go outside," he says, so teachers remind students to drink water and watch for signs of heat exhaustion. He's encouraged that the DOE installed water bottle refill stations at Nānākuli that provide cool, filtered water for students who bring their water bottles.
But Nakamura frets about future conditions for his students and his son, Brady, now in first grade in Mililani. "I remember when I was growing up, 90 (degrees) was a rare thing. Now, 90 is almost the new normal, and that's the part that makes me worried."
Looking ahead, he wonders if baseball, football and soccer will even be possible for his son and elementary students of tomorrow as the heat continues to climb. "Just hydrate, I guess? It's very scary,"
Nakamura says.

Good News/Bad News
Back at UH, climate change policy expert Fletcher worries that big change requires broad commitment. The increased investment in clean energy ($1.4 trillion invested worldwide in renewable energy in 2022) will help the planet. And locally, this year's closing of the last coal-burning plant in Hawai'i marks a significant win for improving air quality here and in the fight against global warming. Felton concurs: "We needed to not be burning coal and putting carbon monoxide and mercury and all of the terrible emissions out into our air that our neighbors breathe."
The positive news, Fletcher says, is that communities are fighting against global warming by reducing fossil fuels, shifting to cleaner energy alternatives that include solar and wind, driving electric vehicles, eating more local than imported foods, and even consuming less meat. "Studies have actually shown that the single most effective action that any individual can take is to eat more vegetables, and it also happens to be better for you," he says. "It's important to reduce the amount of beef in our diets because agriculture is a huge component, a huge sector of greenhouse gas emissions, and the beef agriculture produces 100 times more greenhouse gas than vegetable-based agriculture."
The bad news, however, is that we're already feeling the negative impact of climate change, and reversing that trend takes time.
Back in our steamy public schools, frustration builds when DOE officials recognize the problem with hot classrooms but say there's little they can do.
While the Hawai'i State Teachers Association has for years successfully advocated for relief from classroom heat, union officials worry progress has stalled. "I think that those in our public schools, those students in our classrooms are treated as second-class citizens," says Osa Tui Jr., the union president. "Everywhere else where there are state workers in offices in buildings, you'll have air conditioning."
What Schools Got Cooled?
The state invested $670 million to provide air conditioning to more than half of the classrooms in Hawai'i's 258 public schools, but that still leaves 5,000 classrooms without, says Tanaka, the assistant superintendent at DOE. He says the annual electricity bill for public schools is already $48 million and will increase as more schools get cooled.  
The schools now use a mix of cooling methods, including solar skylights; increased insulation in roofs and walls; ceiling fans; loud solar-powered ventilators; and roofs with heat reflective coatings. But Tanaka admits more needs to be done, especially as heat relief and air conditioning dropped in priority during the pandemic. "COVID gave us the new reality," Tanaka says. "Open the windows, fresh air is good." 
Didn't Ige Already Do This?
Tanaka says the Legislature has been setting aside about $10 million annually to ease the heat at public schools, and that comes after more than $110 million was spent on heat abatement under former Gov. David Ige, who made it a top priority.
The outdated electrical systems at Hilo Intermediate and other schools will continue to be an expensive barrier to cooling, Tanaka says. "It all comes down to funding; that's the tough reality," he says.
Meanwhile, Kubo keeps trying to cope with temperatures that leave students sweltering into November. "It's a little rough when people say that there's nothing we can do," he says.
Use fans, air conditioning and window coverings; stay hydrated; wear lightweight and loose-fitting clothing.
Avoid the outdoors during the hottest times of day (10 a.m.–4 p.m.).
Wear sunscreen and seek out shade; be aware of the symptoms of dehydration, heat cramps, heat stroke and heat exhaustion.
Know where to find air conditioning nearby. Preparing for heat events can include planning to go where air conditioning is available, whether to a friend or neighbor's house, nearby mall, library, community center or movie theater.
Know your neighbors and check in on kūpuna and others who may be sensitive to heat. Heat causes more deaths each year than any other weather event.
To upgrade to energy-efficient or clean energy systems that can save you money, check out Hawai'i Energy rebates and federal tax credits.
Install a cool roof, or use a cool roof coating to reflect heat and lower energy bills.
Find other ways to get involved: resilientoahu.org/getinvolved
Source: Honolulu Office of Climate Change, Sustainability and Resiliency