Everything You Need to Know About Skyline, Honolulu's Rail System
Skyline is now in operation between Aloha Stadium and Kapolei, taking riders from end to end and back in less than an hour.
By Andrea Lee   |   Photos by Aaron K. Yoshino
O'ahu's rail system opened on June 30, 2023, with free rides for the long 4th of July weekend. Once the freebie period passed, along with the initial rush of tens of thousands of people, I was ready for my own test run.
I'm a townie, so I wouldn't hop on Skyline as part of my regular commute. But I'm intrigued by the ride. Since the O'ahu Railway & Land Co. left the station in the 1940s, it's the closest we'll get to a real train again. And growing up on Harry Potter and Spirited Away, I have romantic notions about it all. Plus, it's funny to see a part of the futuristic Hawai'i portrayed in Godzilla (2014) come to life with our own rail system.
Though it's a smooth trip, you'll want to be prepared. Here's what you need to know about Skyline, whether you're on it for the ride or to get places.



Holo Card 101
Each passenger needs a Holo card to access Skyline—you can't scan your card more than once to let someone else in.
You also need to tap your Holo card to exit. FYI, the gate tracks how many people exit. I saw a man beckon his family after he tapped his card to open the gate, and the gate beeped at them as they followed him out. Don't be that guy.



Skyline Fares
Skyline fares are the same as TheBus. A single adult fare is $3 with a day cap of $7.50, which means after you spend that amount, you will no longer be charged that day. There is also a month cap of $80, the same cost as a monthly pass.
The fare for people ages 6–17 is $1.50 with a day cap of $3.75 and a month cap of $40. You must use a Youth Holo card to get this fare.
There are also specific cards and reduced fares for seniors, people with disabilities and people on Medicare. The fare for them is $1.25, the day cap is $3 and the month cap is $20.
Where to Get a Holo Card
You can pick up a general-use Holo card at:
For other cards, head to:
TheBus Pass Office, 811 Middle St., for annual or reduced fare cards, including disability, Medicare, senior and youth cards.
Satellite City Hall (except the Ala Moana location), for senior and youth cards, available by appointment only.
How to Reload a Holo Card
You can reload your card online, at a station or at a participating store that sells Holo cards, with a $3 minimum reload. All sellers, except ABC Stores, can load that value or more onto your Holo card. Some stores can also load day, month and annual passes. At ABC Stores, an adult Holo card comes preloaded with a day pass.
A new or replacement Holo card costs $2. So to get a new Holo card at the ABC Store, I paid $9.50 ($2 for the card plus $7.50 for the preloaded day pass).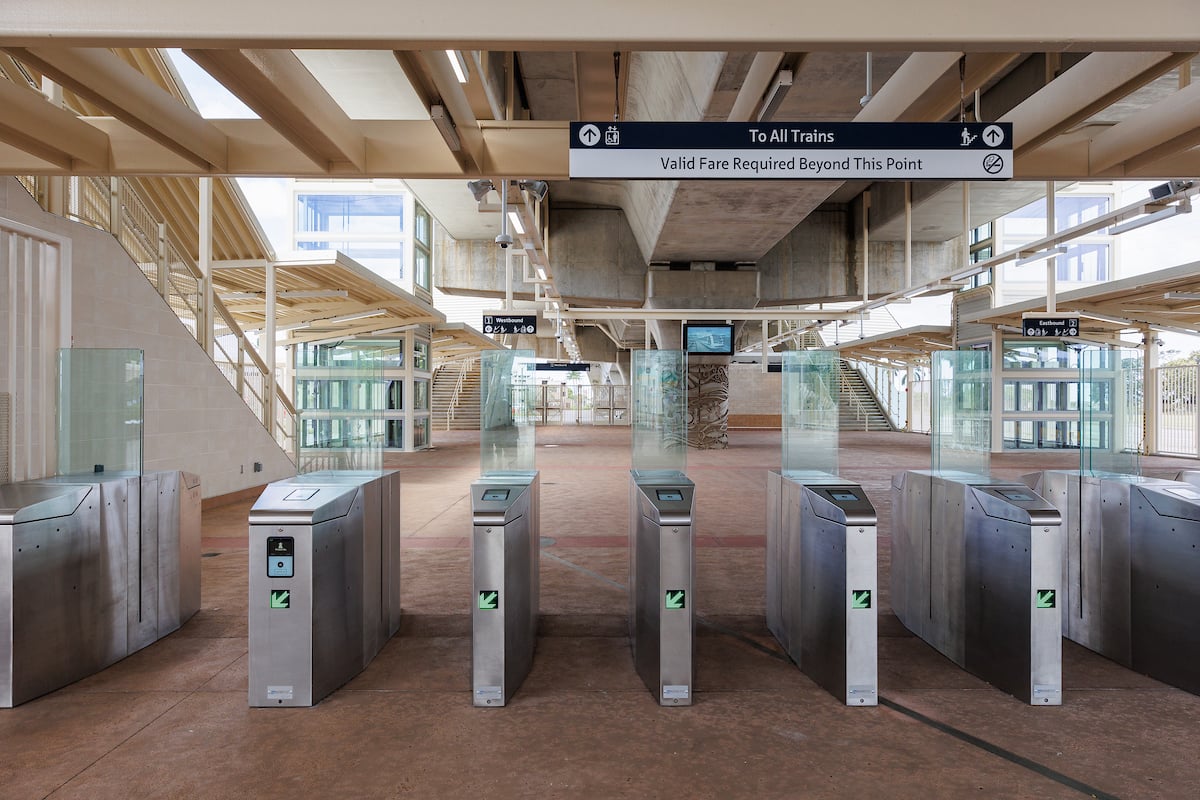 How to Ride Skyline
To enter the Skyline station, tap your Holo card on a gate scanner with a green arrow display. One with a red X will not open for you. Once the scan goes through, a shaka will appear and the gate will open. You can get up to the platform by the stairs, escalators or elevators.
Skyline comes every 10 minutes. Some stations have center platforms, meaning the trains arrive on both sides of one platform, while others have two platforms on opposite sides of the track, so you need to pay attention to where you board. Even someone directionally challenged like me can figure it out: Just remember, the eastbound train heads toward Honolulu and the westbound train heads away. 
Skyline schedule:
Monday to Friday: 5 a.m. to 7 p.m.
Weekends and City Holidays: 8 a.m. to 7 p.m.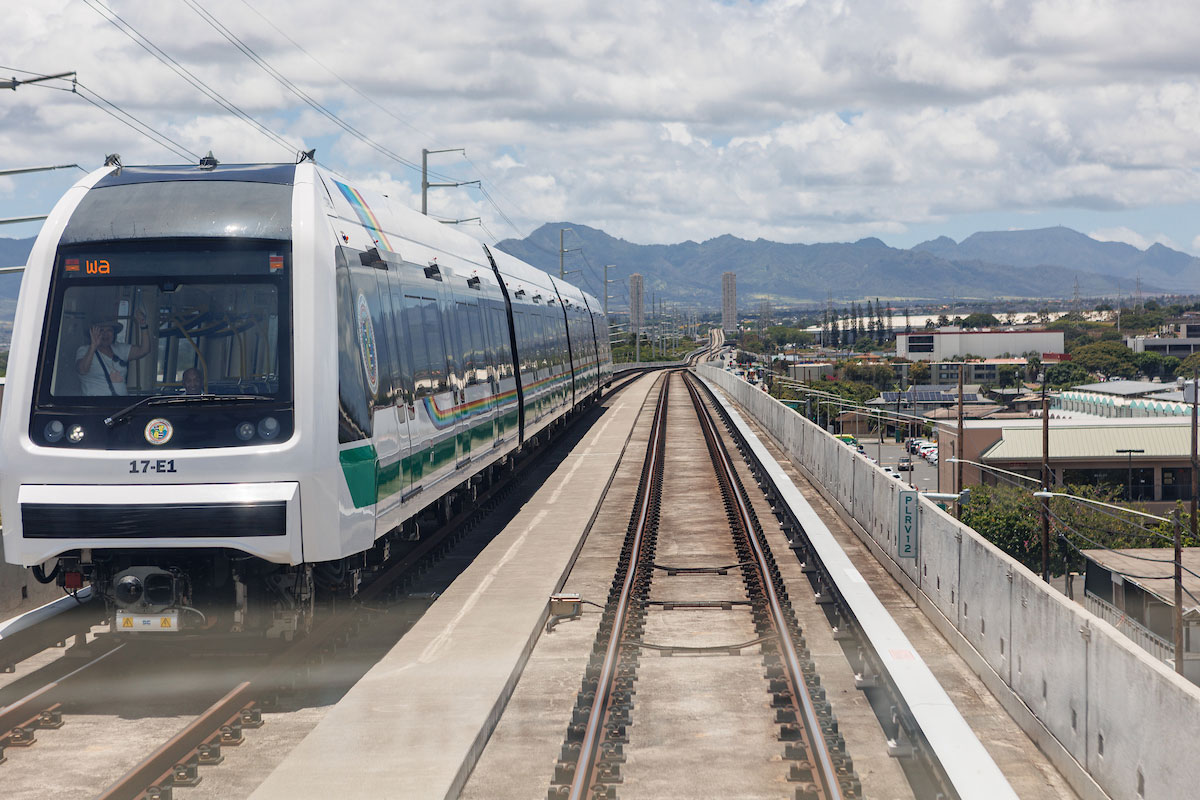 What the Ride Is Like
I went to college in New York, where I rode the train into Manhattan and used the subway to get around the city. Skyline runs just as quickly as the subway—only a few minutes between stations—with the bonus of a great view. Plus, it's shiny and new and empty for the most part, which makes for a pleasant ride.
On a Friday afternoon, I got on at Station 9: Hālawa – Aloha Stadium and rode all the way to Station 1: Kualaka'i – East Kapolei, which took about 22 minutes. I had an entire car to myself for the majority of the trip and took turns sitting and standing by the windowed doors to take in the scenery. Since I don't drive out of town that often, it was easy to enjoy the unfamiliar, beautiful countryside. Even if you do live in these neighborhoods, it's different watching the rooftops and landscape whiz by from above.
At the end of the line, the train heads back, so I just stayed on. And I wasn't the only one. Other folks were taking pictures and videos to commemorate their first rides. It's a scenic trip worth checking out.



How to Get to the Skyline Stations
Currently, nine stations are open, and 10 more will be once the rail line ends at Ala Moana Center.
Station 1: Kualaka'i – East Kapolei
91-3253 Kualaka'i Parkway
Serving the Kapolei, Makakilo, 'Ewa Beach and outlying residential areas
Station 2: Keone'ae – University of Hawai'i West O'ahu
91-3590 Kualaka'i Parkway
Serving the UH West O'ahu campus and outlying residential areas
Station 3: Honouliuli – Ho'opili
91-1251 Farrington Highway
Serving the residential communities of Ho'opili and outlying residential areas
Station 4: Hō'ae'ae – West Loch
94-135 Farrington Highway
Serving the West Loch, 'Ewa Beach, Waipahu and outlying residential areas
Station 5: Pouhala – Waipahu Transit Center
94-818 Moloalo St.
Serving the Waipahu, Waikele and outlying residential areas
Station 6: Hālaulani – Leeward Community College
Leeward Community College campus parking lot, 96-47 Ala 'Ike Bldg. 1
Serving the Leeward Community College Campus, Waikele and outlying residential areas
Station 7: Waiawa – Pearl Highlands
96-249 Kamehameha Highway
Serving Pearl Highlands Center, Pearl City and outlying residential areas
Station 8: Kalauao – Pearlridge
98-80 Kamehameha Highway
Serving Pearlridge Center, Pearl City, Waimalu, 'Aiea and outlying residential areas
Station 9: Hālawa – Aloha Stadium
99-232 Kamehameha Highway
Serving Aloha Stadium, 'Aiea, Salt Lake, Moanalua and outlying residential areas
TheBus
For now, TheBus connects to all stations except for Station 3: Honouliuli – Ho'opili and Station 6: Hālaulani – Leeward Community College. Use your Holo card to transfer onto a bus for free within 2.5 hours of your first tap. Find more details on the updated bus routes here.
Park and Ride
Three stations have free park-and-ride facilities:
Station 2: Keone'ae – UH West O'ahu Park-and-Ride
Open 3:50 to 12:30 a.m.
Enter from Ho'omohala Avenue off Kualaka'i Parkway
Station 3: Honouliuli – Ho'opili Park-and-Ride
Open 4 a.m. to 8 p.m.
Enter from Kamālie Mua Street off Ho'omohala Avenue
Station 9: Hālawa – Aloha Stadium Park-and-Ride
Open 3:30 to 2 a.m.
Enter from Salt Lake Boulevard
At this time, the parking facilities seem to be mostly unoccupied, so it's a safe bet parking will be available if you want to drive. Six of the nine stations also have kiss-and-ride areas, where you can park for 10 minutes while you pick up or drop off someone.
Bicycles
All nine stations have basic racks to park your bicycles. You can also take bikes onto Skyline. The stairs leading up to the platforms have wheel gutters on the sides so you can roll a bike up or down, though it doesn't look easy to lug one up. I'd opt for an elevator.
On the train, bike racks are available to hook up your bicycle vertically. Otherwise, you can keep your bike with you—just try not to block other riders.



Skyline Rules & Tips
Hold on! The train moves quickly, so if you're not seated, grab a pole or overhead strap, and make sure your keiki are secure too. Since the ride can be bumpy, you'll probably be more comfortable in a seat.
If you have a bike, stroller, luggage or other bulky item, like a surfboard, or if you're in a wheelchair, you can go through a wider station gate for easier access.
Look out for signs on the platform gates—the icons indicate which train cars have bike and luggage storage and accessible seating. Baggage must be stored on dedicated racks, not on seats or in aisles.
Things you shouldn't bring on board include open food and drinks, sharp objects and firearms. The trains are no-smoking areas.
You can bring pets if they're in carriers that fit on your lap or under your seat. Leashed service animals can sit with you.
Be courteous of other passengers and listen to your music or audiobooks with earphones. Likewise, no playing musical instruments on board, and keep your phone on silent mode.
Skyline trains and stations have security measures like surveillance cameras, patrolling security and emergency call boxes. If you ever feel unsafe, you can press an emergency button on board or use a call box at a station.
Every station has restrooms; you can ask a station attendant to let you in.
Get in well ahead of closing time. While the stations close at 7 p.m., the last trains may leave before then. If you want to do a round trip, end to end, the latest train you can take would be around 6:15 p.m.