Oahu craft beer roundup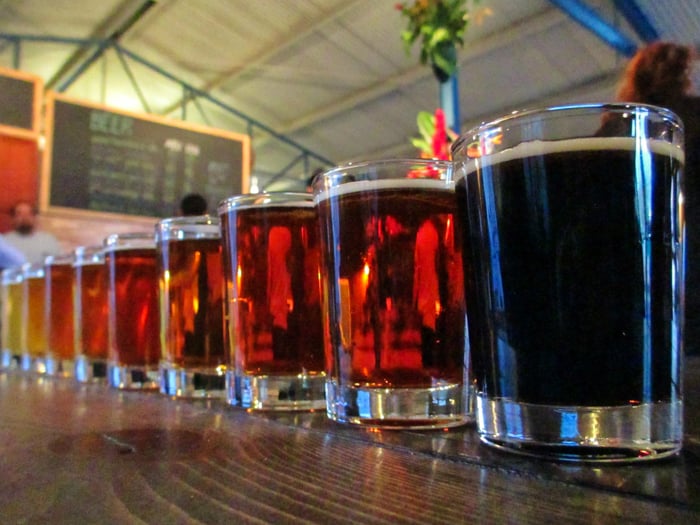 A few years ago, Oahu's locally brewed beer scene was pretty much limited to Aloha Beer Company on Nimitz Highway. Luckily for beer aficionados, a small wave of home brewers-turned-entrepreneurs have since opened craft breweries across the island and started to let their taps flow.
In honor of Honolulu Beer Week and the Honolulu Brewer's Festival happening this Saturday, here's a roundup of Oahu's craft breweries and brewpubs.

What: Brewpub
What's brewing: Skosh with peaches, Muisca IPA, rye pale ale, coffee porter, white flag saison, golden plate, berliner trois, kolsch
Recommended: White flag saison: a refreshing farmhouse ale with a crisp, dry finish
Available at: Just Beer Lab, for now
Beer Lab HI opened last month after engineer friends Nick Wong, Derek Taguchi and Kevin Teruya came together over a shared passion for brewing. Beer Lab's varied array of craft brews range from a rich coffee porter to a tangy berliner. Their taps rotate constantly between different styles, so it's best not to get too attached to any one brew. Expand your beer horizons and try something new.
1010 University Ave. • Moiliili • www.BeerLabHI.com • 888-0913
What: Brewpub and museum
What's brewing: 442 Go For Broke Ale, Charlie Brown Ale, Pilot Pale Ale
Recommended: Pilot pale ale: bright with a hint of fruit, easy to drink
Available at: Just the Brewseum
Beer names at the Tomlinson family's Home of the Brave Brewing Company and Brewseum (brewpub) in Kakaako commemorate the U.S. military. Be sure to bring friends and head over for trivia Wednesdays, when you can try to land a nerf plane on a homemade aircraft carrier equipped with a tailhook.
909 Waimanu St. • Kakaako • www.hotbbc.com • 396-8112
What: Brewpub with beer garden
What's brewing: Currently on tap are Pia mahi'ai honey citrus saison, Cooke St. ESB, Animal Farmhouse Ale, Sheltered Bay IPA, HI-PA Hop Island IPA, Makakilo Brown Ale, Kewalos Cream Ale, South Shore Stout, Point Panic Pale Ale, Dup-Trip Triple IPA and barley wine
Recommended: South Shore Stout: a dark, bold, chocolatey beer
Available at: Honolulu Beerworks
Brewer and owner Geoffrey Seidman opened Honolulu Beerworks in a converted warehouse in a rapidly redeveloping Kakaako neighborhood two years ago. Surrounding the brewery and brewpub is an indoor/outdoor beer garden.
328 Cooke St. • Kakaako • www.HonoluluBeerworks.com • 589-2337
What: Brewery and tasting room
What's brewing: Pillbox Porter, Moku Imperial IPA, Route 70 Saison
Recommended: Route 70 saison: dry with a hint of tartness, hibiscus flowers and lehua honey
Available at: The brewery, Foodland, Tamura's, Whole Foods, Bev Mart and some bars and restaurants on Oahu
Lanikai Brewing Company has produced three signature beers: an imperial IPA, a porter and the new saison. Occasionally they come out with a seasonal brew only available at the tasting room.
175-C Hamakua Dr. • Kailua • www.lanikaibrewing.com
What: Brewery and tasting room
What's brewing: Makana Island Wheat, Batch 518 Pale Ale, Swear Jar IPA, Smoking Cannon Smoked Imperial Stout
Recommended: Swear Jar IPA: mildly hoppy, easy drinking
Available at: The tasting room, Lulu's Waikiki, Cheeseburger in Paradise, the Brewseum
Oahu's newest brewery is on the windward side in Kaneohe's industrial area along Kahuhipa. Owner and brewer Darren Garvey is a one-man operation who offers samples of his wheat beer, IPA and pale ale at his four-seat tasting room.
46-174 Kahuhipa St. • Kaneohe • www.stewbumandstonewall.com • 664-6684
What: Brewpub
What's brewing: Aloha Spirit Blonde Ale, Ala Moana Amber, 808 Pale Ale, Eee Pah IPA, Hana Hou Hefe, Black Strap Molasses Porter, Jalapeno Mouth Amber Ale, English Brown Ale, 808 XPA
Recommended: Hana Hou Hefe: extremely refreshing, brewed with orange peel and strawberry puree
Available at: Cheeseburger Restaurants, Yardhouse, Top of Waikiki, Genius Lounge and other restaurants
Waikiki Brewing Company brewmaster Joe Lorenzen is also general manager of the Cheeseburger Restaurants. He turned his home brewing hobby into a business with a seven-barrel brewhouse.
1945 Kalakaua Ave. • Waikiki • www.waikikibrewing.com • 946-6590