Nurturing Independence
By providing the right amount of support and challenge, you can nurture children's drive toward self-reliance.
By providing the right amount of support and challenge, you can nurture children's drive toward self-reliance.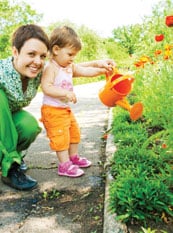 Ages & Stages
0 to 2 years old
During the first year, it's important to follow babies' cues and develop a schedule around their individual needs. Form a sense of teamwork with them as they learn to manage sensations such as hunger, fatigue and elimination. Tune in to their preferences and unique temperaments. This helps them feel secure and confident. You become the emotional and physical home base they rely on as they begin to explore. When they learn to crawl, they will move away and return to you, depending on their needs.
Doing It on Their Own
As toddlers' motor and thinking skills develop, they begin to want to do more for themselves. The difficulty begins when they can't quite do what they want to do.
Set Up for Self-Help
Toddlers often enjoy doing meaningful "adult" tasks. You can set up the physical environment to help toddlers become more independent.
Limited language skills and strong emotions may make a toddler's path toward autonomy rather bumpy. Entice children to work with you during this exciting trip. Your guidance will help them become independent and lovingly connected.
What You Can Do:
Give young toddlers the opportunity to help with dressing and undressing. For example, pull a sock halfway off and ask the toddler to take it off.
Encourage independence by giving toddlers limited choices. "Do you want the red cup or the blue cup?" Respect children's preferences.
Be flexible and comfort toddlers when they need to be"babies" again.3 to 4 years old
Preschoolers revel in their newfound independence. They delight in deciding which friends to play with in the sandbox or whether to build a zoo or a farm in the blocks area. Being able to make such choices is a natural part of growing up, and gives 3- and 4-year-olds an exciting sense of themselves as powerful people.
Testing Limits
Four-year-olds, who are eager to test their limits, mayrespond defiantly to any efforts to restrict their behavior.
What You Can Do:
Provide reasonable alternative choices. For young 3-year-olds, it is often appropriate to provide duplicates of popular materials to cut down on sharing problems.
Involve children in planning and rule making. Preschoolers are wonderful idea generators. Ask them for suggestions about rules so the learning environment becomes an extension of their needs and interests.
Role-play troublesome scenarios. Encourage children to play out some scenes with you so they can discuss and practice ways of not hurting one another's feelings.
Reinforce positive assertions and ignore negative ones, if possible. When a child shares with a peer or gets over a previously troublesome encounter, show your approval. On the other hand, try to ignore negative assertions. If a preschooler says, "I'm not eating snack today," remember that this is not the end of the world. When a child's safety is in question, however, you cannot ignore the situation.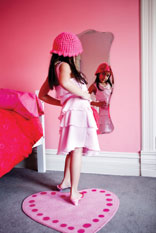 Ages & Stages
5 to 6 years old
There is a strong desire in 5- and 6-year-olds to explore the world independently, particularly at the end of the kindergarten year. At this stage and time of year, they have learned so many new skills they feel ready to take the world by storm.
Emerging Individuality
On the positive side, 5- and 6-year-olds are developing a stronger sense of self-confidence and identity than they have ever had. This is a time when children begin to truly see themselves as separate from parents and other adults. Children at this stage often develop a particular interest and style in dressing, play with particular things and friends, and expressively speak their minds.
Developing Impulse Control
Part of this stage of emerging independence is the increased ability to accept and manage challenges. As children experience successes in kindergarten, they begin to feel the pleasure of learning how to do new things. The more success they have, the more they will be willing to accept greater challenges in school and at home.
An important part of this equation is self-control. At this stage of development, children are learning how to control their impulses. In a sense, they are learning to think before they react. By adding this emerging skill of self-control to their growing ability to manage difficulties, children become able to recognize appropriate and inappropriate challenges and to act consciously in any situation.
Making Decisions
As children become more independent, they are asked to make more decisions. Kindergartners have more and more decisions to make—from who to play with to what activity to participate in. When children learn they can make their own decisions and voice their opinions, they may explore how far they can push adults and the rules. Children at this stage of emerging independence like to test limits and sometimes experiment with contrary behavior. It's important to understand that this is normal and even positive, while being clear about your expectations for behavior and participation.
Looking Ahead
First grade is on the horizon for many children at this time of the year. First-grade teachers expect children to be able to take care of most of their personal needs, to follow directions without close guidance, and to be self-motivated in terms of working and learning.