Number crunching: June 2013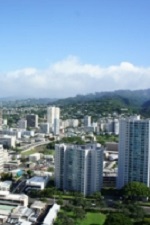 Oahu's housing market continued to heat up in June, according to the latest statistics from the Honolulu Board of Realtors.
The numbers released Monday show that both single-family and condo resale were significantly higher last month than in June 2012. At 308, single-family home resales were 10.4 percent higher than the previous June. Condos saw an even bigger jump — the 392 resales represent a 14.6 increase over the prior year.
Homes were selling at higher prices, too, another indicator that it's still a sellers' market. The median single-family home price was $677,250, up 9.2 percent over June 2012. Condos were selling at $330,000, up 11.1 percent from June 2012's median price of $297,000.
On top of that, homes are also selling swiftly, averaging 20 days on the market.
"June was another strong month for sales, with double-digit increases for both single-family homes and condominiums," said HBR President Kevin Miyama. "Additionally, the median sales price for single-family homes is the highest it's been since the market's peak at $685,000 in June 2007. We're now only 1.1 percent below peak price."
More information is available at the Honolulu Board of Realtors website, HiCentral.com.
(Note: The statistics reflect only resale of existing properties, not new home sales.)