Now you can get IPA from Big Island's newest brewery on Oahu
Ola Brew's lager and pineapple cider are coming next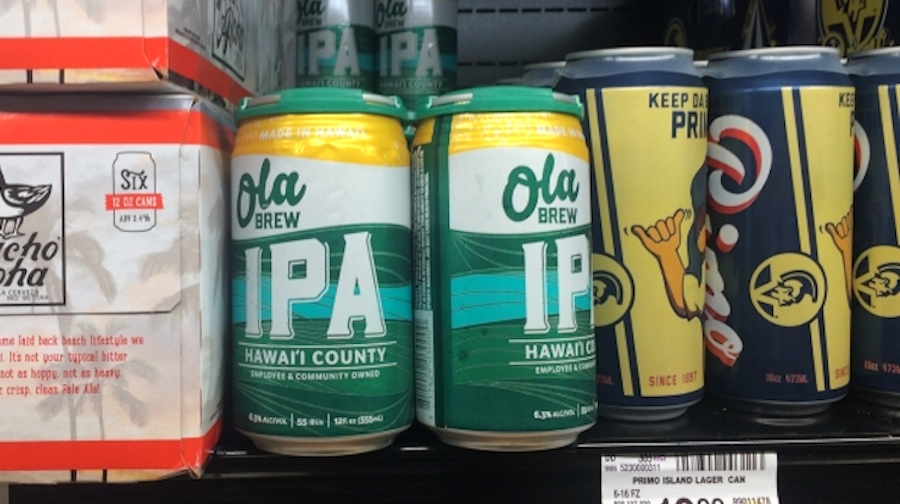 How do you know you have a beer obsession? Perhaps it's when you walk into the beer aisle at the grocery store and, within seconds, you can tell something is different.
The green, yellow and white packaging popped up immediately in my peripheral vision, and I felt like a kid on Christmas morning as I inspected the six-pack. What was this new local brew?
Oahu, meet Ola Brew, the newest brewery on the Big Island, the first brewery/cidery combination in Hawaii and the newest addition to beer aisles islandwide. The new beer that you will find in stores is its IPA (6.5% ABV), priced at about $15 a six-pack after taxes.
After debuting in Whole Foods back in mid-July, October marked its major outreach: Ola is now distributing its IPA to more than 100 stores on Oahu and 250 stores statewide, including Safeway, Foodland and Tamuras.
Ola has made incredible strides in a short time. It has increased its production capacity from 3,000 barrels to 12,000 barrels since opening at the beginning of the year – which is nothing short of remarkable. It has launched a canned beer statewide, with two more – a Lager and a Pineapple Cider – coming. And on its website, there is already talk about expanding its tap room in Kona.
To what does the brewery owe the fast-paced success? Owner Brett Jacobson thinks the product is speaking for itself – they make high-quality beer, as you will see when you buy a sixer. But also drawing praise is the business model.
Ola started as a cidery. In fact, Ola's original product and current best-seller is the aforementioned Pineapple Cider (which will be released in cans on Oahu in coming weeks). Jacobson, who has a permaculture background, originally chose cider to help local farmers. He bought pineapple, dragon fruit, starfruit and other fruits as he perfected his recipes. In the last year, he has been able to quadruple the amount of fruit he purchases from local growers. Jacobson relishes the idea of creating symbiotic relationships between local businesses, believing it to be the strongest, most sustainable way forward.
He decided to start making beer because he saw another opportunity to create a two-way market. If he strives to make beer only from local ingredients, and others follow, will that encourage local farmers to begin producing grain and hops?
"We'll be chipping away at it the next five years," Jacobson says. "I call it 'beer sovereignty'… One day I hope to make beer from 100 percent Hawaii ingredients."
The name "Ola," which means life, health, well-being and prosperity, is aimed at the local economy.
"Our whole reason for existing is to create a demand for local agriculture in Hawaii," he says. "With the high demand [for craft beer and cider], we can make an impact, front and center."
Ola Brew
74-5598 Luhia St.
Kailua-Kona
olabrewco.com