Noodle Tuesday: Slurp at Vino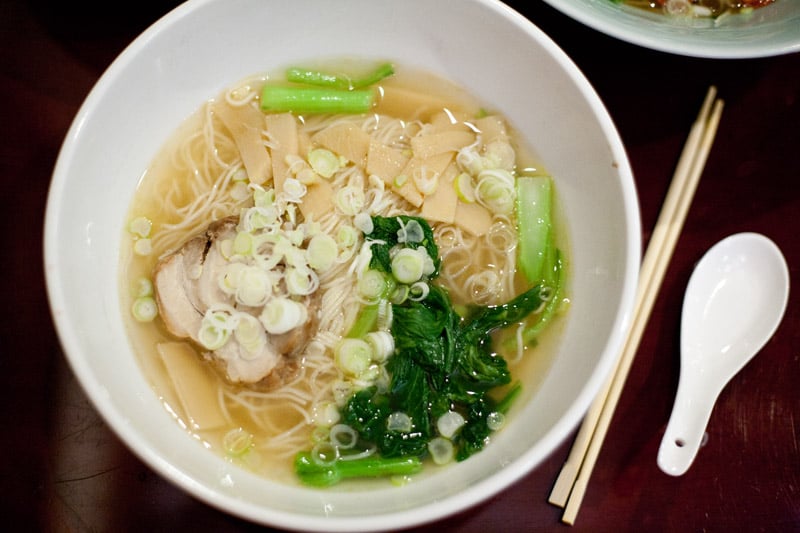 There's a new ramen in town, and it's at Vino. Yup, Vino. There, chef Keith Endo is turning his noodle attention from Italian to Japanese—at least during lunchtime on weekdays. He recently debuted Slurp, a pop-up devoted to Japan's most popular noodle.
Endo starts with a chicken and pork stock and then layers flavors to create his bowls, which include a classic shio, infused with dashi, and a tonkotsu, slightly thicker thanks to an extra boost of pork essence. Because the base of all the bowls is a relatively light soup, Slurp's ramen are not as rich as at other places—which I like. In addition to traditional-style bowls, Slurp also offers riffs on ramen, including a crab one similar to DK Kodama's popular crab truffle ramen at Sansei. It's as good as I remember, almost like a pho-style ramen, in a clear broth and herby and bright with Thai basil, cilantro and jalapeño.
The noodles for all of them is the same—thin, straight and white, made by Sun Noodle of course. It was Endo's trip to Sun Noodle's New Jersey factory last year that sparked Slurp. (A trip that also included no less than three dinners a night for four days straight.)
The ramen pop-up is at Vino, but for drinks, you'll have to settle for those of the nonalcoholic variety—which isn't settling at all because they include housemade sodas such as liliko'i and an incredibly refreshing, not-too-sweet lychee soda. Just the perfect pairing.
Open from 10:30 a.m. to 2:30 p.m. Mondays to Fridays, Slurp at Vino, Restaurant Row, 524-8466