Noodle Tuesday: Little Sheep Mongolian Hot Pot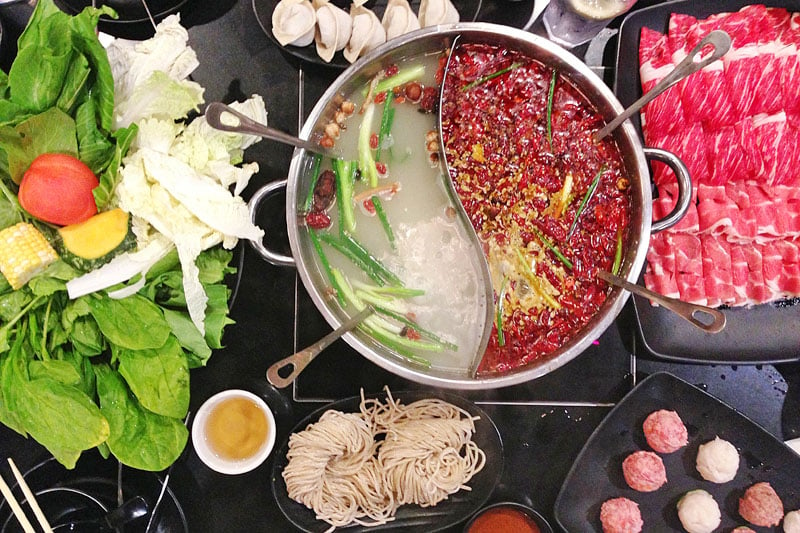 I love you Ichiriki, and I love you Sweet Home Café, but I'm a little crazy for the new hotness in town: Little Sheep Mongolian Hot Pot. I don't care that it's humid out, that I'm sweating because of all the steam and the soup is searing my mouth with chilies and Szechuan peppercorns. Neither, it seems, does anyone else—we waited 30 minutes for a table on a recent Wednesday night … at 8 o'clock, even.
The broth gives a spice high, the sauce bar provides even more fun, and there's nothing wanting from the meat and veggie options. But what really sends Little Sheep over the top are the carbs. Little Sheep has the best side of carbs of any hot pot in town: the steamed and fried buns, which taste like airy and crunchy funnel cake; the sesame bread, a gigantic hunk of deep-fried dough; and the fresh, thick noodles.
Though labeled "fresh," the noodles are actually quick-frozen and shipped from L.A. Even so, they don't seem to suffer in texture–evidence that proper freezing and handling can make some things just as good as the fresh. These, in particular, are fantastic—chewy and toothsome, with just the slightest bit of sweetness to counter the musky, full-bodied broth. Noodles, often an afterthought (literally) at a hot pot meal, hold their own here. Throw them in at the end to soak up all the goodness, for about four minutes—make sure not to overcook them. Think of it as the best build-your-own noodle soup ever.
1200 Ala Moana Blvd., 593-0055