Nonstop partners with Groupon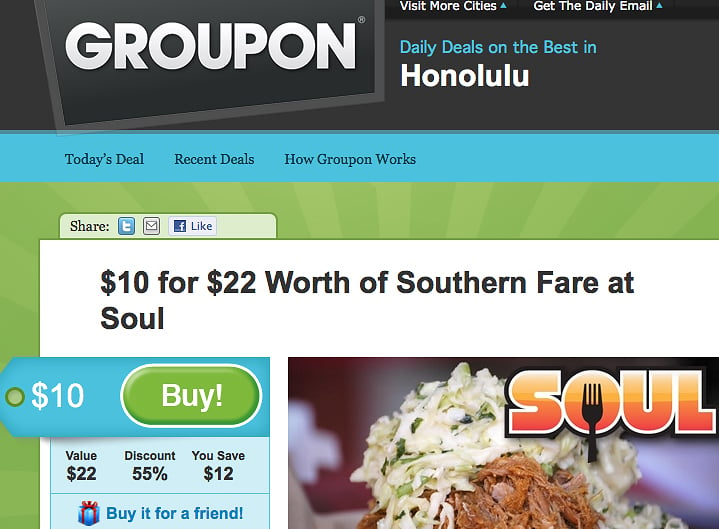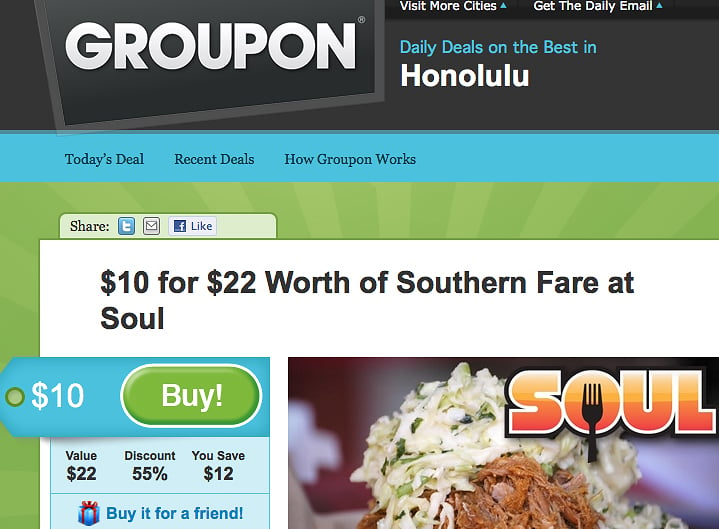 Although my Nonstop partner John Garcia and I are primarily technical/design and editorial people, we've also become entrepreneurs with the launch of this site. (Actually, John has long been an entrepreneur; but this is my first time at it.) And an important part of our overall work is turning Nonstop into a profitable venture through advertising and business partnerships.
Today, we moved closer to that goal by launching our partnership with Groupon, which Forbes magazine has deemed the fastest growing company ever. Groupon, as you may or may not know, is an Internet company that offers significant discounts to restaurants, stores and other businesses in cities around the world. It's the latest digital coupon operation to enter the Honolulu market, and it launched today with its first daily daily, $10 for $22 worth of Southern food at Soul on Waialae Avenue.
Every day, Nonstop Honolulu will display Groupon's latest daily deal for Honolulu. If you click on the ad and purchase the deal off our site, we get a percentage of the sale, which will help pay for expenses to run Nonstop.
The partnership came about serendipitously through Titus Nakagawa, who is handling Groupon's deals in the Honolulu market. Titus briefly worked as an ad sales rep for Metromix right before The Honolulu Advertiser was sold to Oahu Publications. In a very short time, he sold thousands of dollars in advertising for Metromix, tapping into the potential we knew was there, but hadn't quite capitalized on.
Anyway, when John and I were first conceptualizing Nonstop, I met with Titus to see if he'd be interested in working with us on Nonstop. I didn't know him very well, but we clicked because he got Nonstop right from the start. He knew what we wanted to do, and he knew it would be good. He wanted in. He was, however, interviewing with Groupon at the time, and he got the job. Although disappointed he wouldn't be working directly with us, I knew somehow we'd work together in some capacity.
During a training trip to Chicago, Titus convinced his bosses that Nonstop Honolulu was the site to partner with, so we became the first Groupon affiliate site in Honolulu.
We think it's a win-win for both Groupon and Nonstop, and we're hoping the partnership can extend into new areas, although I assure you, our editorial coverage will never be influenced by this Groupon arrangement.
We hope you'll join us at a party we're throwing together in mid-November to celebrate Groupon's Honolulu launch and our partnership. More details about this will come soon. And if you're interested in any of Groupon's daily deal, remember to purchase it off Nonstop.
My recent blog posts
How soon is too soon?
Are we using ! too much?
Melissa & Mari — our new food critiquing duo
Nonstop at 1 month: So how are we doing?
The best gift ever
Covering the 'Hawaii Five-O' premiere
We've got two new bloggers
What if people actually work together…
Why 'Nonstop?'
A look behind Nonstop