Nonstop Movies: 'The Croods'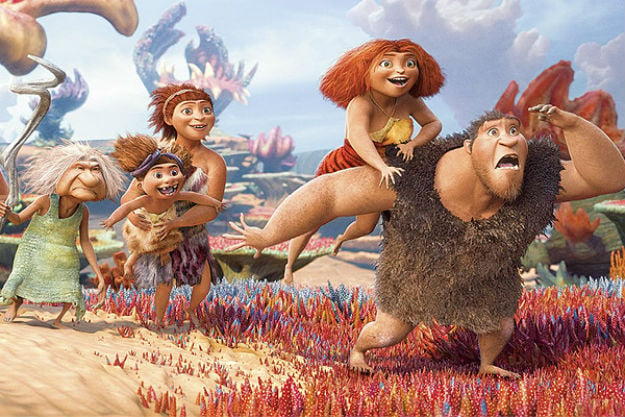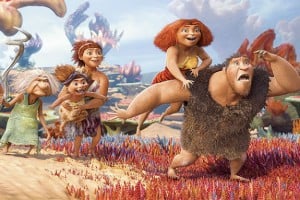 I've prefaced several of my reviews of animated films by stating that I'm not a fan of the genre. For some reason, I've never been able to fully appreciate and enjoy them. Every time I've sat in a theater for an animated film, it's been with a slight feeling of dread, anticipating that the next 90 minutes would be a tortuous melding of silly characters, childish humor and simplistic stories.
But "The Croods" has changed all of that. My appreciation for the genre started with last year's "Wreck-It Ralph," but it's "The Croods" that really converted me into a believer. Much like Grug, the head of the cave family in the movie (voiced by Nicolas Cage), I was reluctant to allow myself to see the beauty beyond what's comfortable and familiar. Grug instills insecurity in his family, and I did the same with my previous animated film reviews, attempting to convince others that there was nothing to appreciate in unfamiliar territories. But when Grug and his cave family are forced to move out beyond their protective cave due to the shifting of the Earth, they are led by a more developed human named Guy who has seen and thrived in the outside world, and as a result their eyes are opened to the beauty beyond their cave. Similarly, I too now believe there's much to appreciate in the animated genre.
Speaking of beauty, "The Croods" is one of the most beautiful animated films I've seen. The colors are vibrant and pop out of the screen. From the exhilarating opening action sequence to the exploration of new worlds, the animation is simply stunning. Hollywood must also finally be learning how to best utilize 3D technology, because the effect is put to great use here.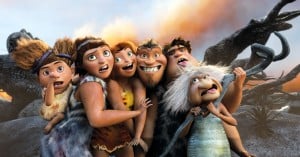 Silly characters, childish humor and simplistic stories? What Stone Age movie reviewer said these were elements of all animated films? You won't find them in "The Croods." All the members of the Crood family are unique and memorable. The voice work by Nicolas Cage, Emma Stone as his daughter, Eep, as well as the rest of the cast is very well done. They bring a sense of familiarity to the movie, yet don't distract from the film. As for the humor, sure there are some silly slapstick moments for the kids, but overall the humor will make both the adults and children laugh out loud as I did many times. The movie also tells an effective story of trust and love for one's family that should engage all audiences.
Yes, I am a big fan of "The Croods," and while it's still early, it's my favorite film of 2013 thus far.
"The Croods," 98 minutes, is Rated PG and opens in theaters today.