Nonstop Movies: Kinetic Films Showcase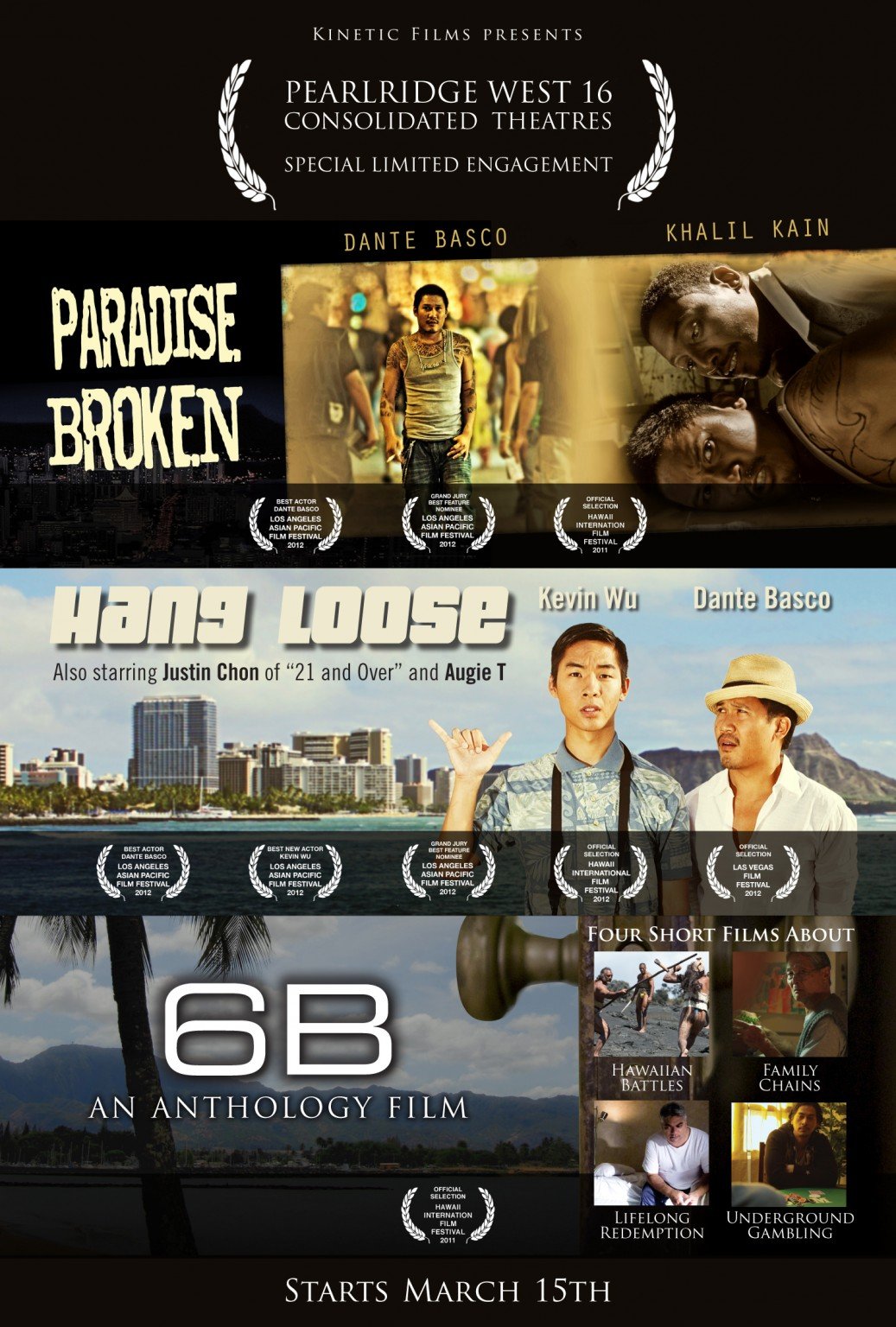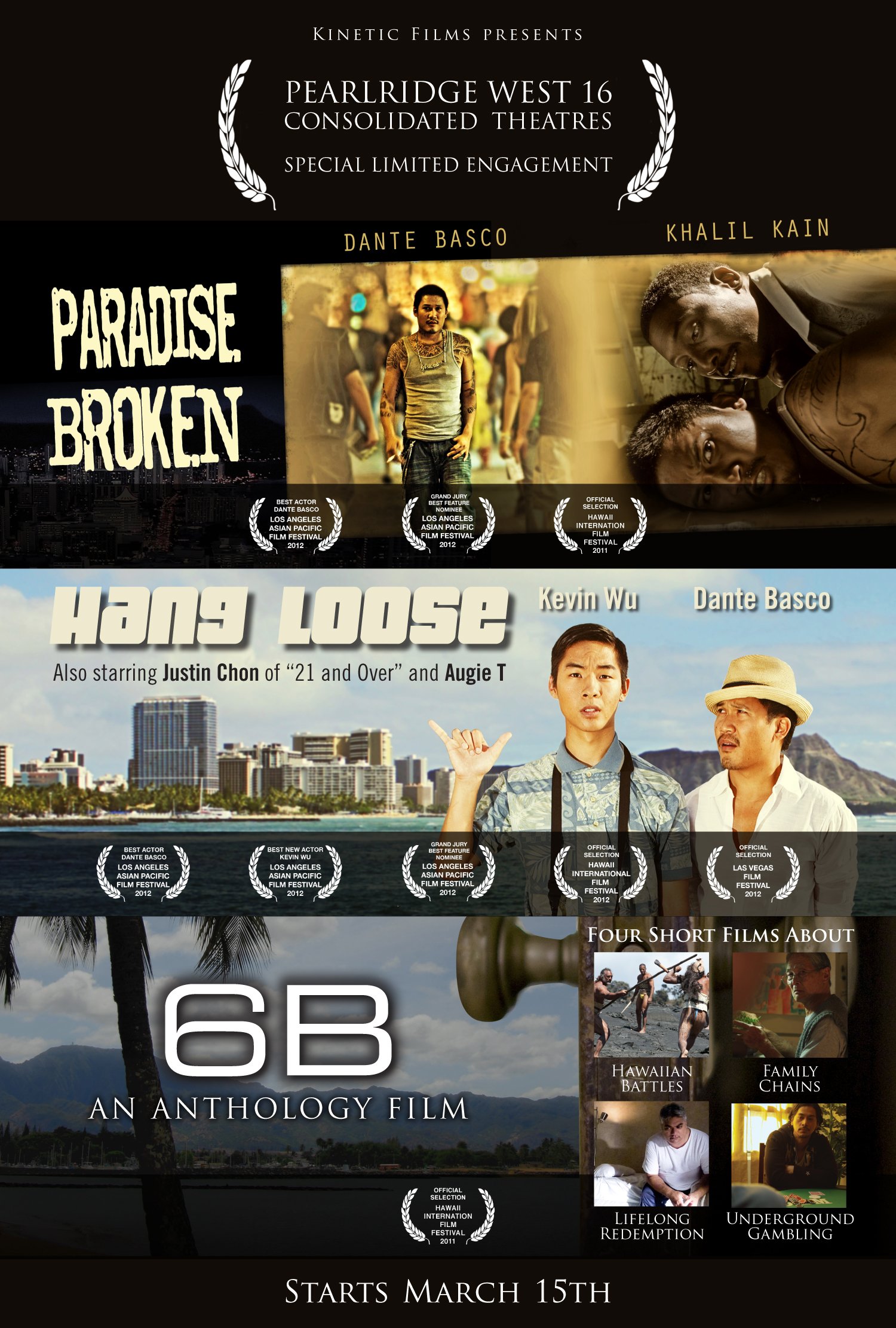 Everyone's always talking about "buying local" and "eating local." Well how about "watching local?"
Local film production company Kinetic Films has partnered with Consolidated Theatres to show three feature films, "Hang Loose," "Paradise Broken" and the short film anthology "6B" starting this Friday, March 15, at Pearlridge West 16 Theatres. James Sereno, an award-winning filmmaker and founder of Kinetic Films, is the director of "Paradise Broken" and producer on the other two films. Sereno says his intent is to make movies that tell stories of Hawaii from an "inside-out" perspective, meaning from a local person's view. He says TV shows like "Hawaii Five-0" are great, but depict Hawaii from an "outside-in" perspective and not the real Hawaii as we (locals) know it.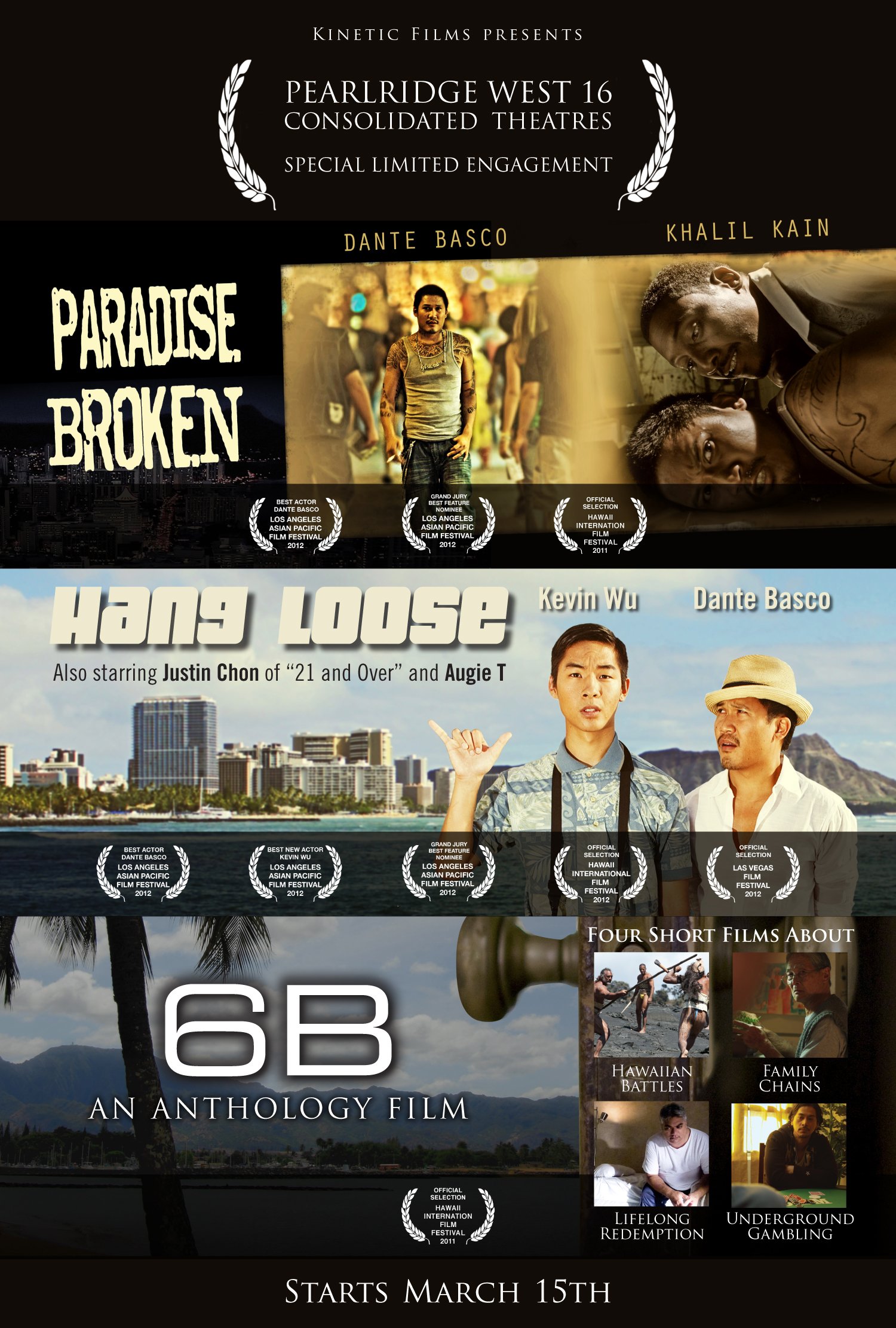 When asked why he chose to direct "Paradise Broken," Sereno explains that the story originally was slated to be a short for "6B," but after a dinner with "Paradise Broken" screenwriter and local author Chris McKinney, he realized there was enough material to instead make it a feature film. After reading McKinney's finished script, he felt both the material and timing were right to return to directing. The result is a dark, yet fascinating, look at Honolulu's seedy underworld with frank depictions of drug use and prostitution, subjects we normally turn away from. Dante Basco, most well known for playing Rufio in "Hook," plays the lead and gives a performance that will make you forget he was ever a Lost Boy in Neverland.
Basco also stars in "Hang Loose," which can be simply summarized as "The Hangover" in Hawaii. Also starring Kevin Wu (aka KevJumba of YouTube fame), "Hang Loose" is a fun comedy where an uptight mainlander (Wu) visits Hawaii to attend his sister's wedding. Of course there's a bachelor party and with that follows strippers, late-night drinking, pot dealers and naturally some fireworks tied to genitals. "Hang Loose" is definitely a good time, especially since I've experienced some crazy nights myself in the very locations featured in the film.
I have yet to watch "6B," but if it's anything like the other two films, I can't wait to do so, especially since it's the only film of the three that features an all-local cast.
So what's up for Kinetic Films in the future? Sereno says that "Man Up," written and directed by Kevin Wu and Justin Chon ("Twilight," "21 & Over") should be coming out soon, and that there's also the possibility of a musical in the future as well. But in the meantime, go out and support your local filmmakers by watching these films. They're only guaranteed for a one-week run, but if ticket sales are strong, their runs may be extended.
KHON segment