Niu Brings Its Plant-Based Soft-Serve to Mōʻiliʻili
The former 'Ohana Hale Marketplace tenant takes diary-free ice cream to the next level in a new central location.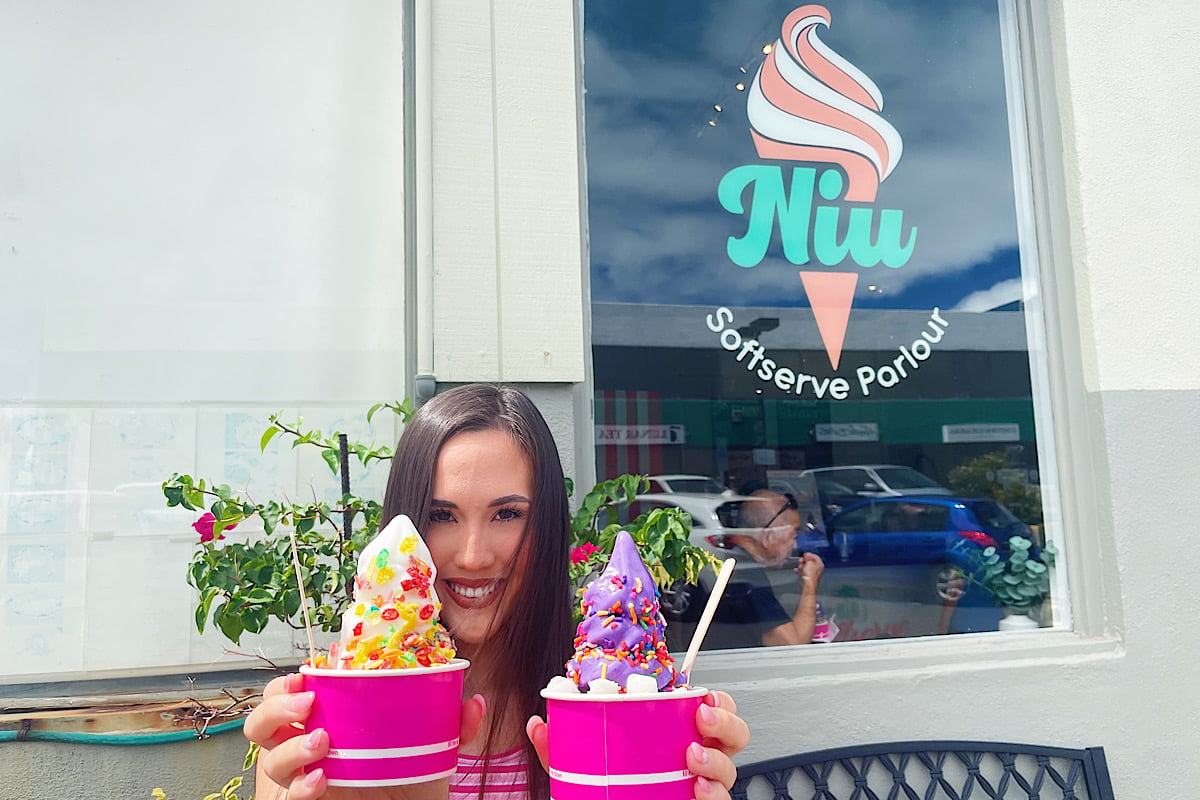 Niu Soft-Serve, the coconut-based ice cream spot that originated in 'Ohana Hale Marketplace and on Waiakamilo Road, opened its new parlor in Mō'ili'ili across from the Old Stadium Park. It's perfect for all my plant-based and lactose-intolerant besties, and although I'm neither, I'll take any excuse to enjoy something sweet.
Walking into the store, I see glass jars filled with topping options from Oreo cookies and macadamia nuts to biscotti. They'll even drizzle your soft-serve with strawberry li hing sauce.
Niu rotates four flavors weekly. This week, flavors include niu (coconut), ube, cake batter and liliko'i dragon fruit, the latter of which are two of my favorite fruits. But before I can say "liliko'i," the staff mention they are sold out of both the liliko'i dragon fruit and cake batter. Disappointing, since I drove from Mililani, but that feeling evaporates because it's ice cream.
I settle on a cup each of niu and ube to try out the remaining flavors this week. I top the niu with toasted coconut and Fruity Pebbles ($8), while the ube gets rainbow sprinkles and mochi balls ($8). Cones and sundae options are also available.
I do not long for coconut-flavored treats; on the other hand, I love ube. The familiar flavor strikes a fine balance between savory and sweet.
The vibrant purple ube with sprinkles and the white niu topped with Fruity Pebbles both remind me of rainbows. Dipping into the ube first, I'm stunned at how dairy-free ice cream can achieve the same consistency as regular soft-serve. The ube flavor starts off savory with a gradual blooming of sweetness. It's not overly sugary and pairs well with sprinkles and chewy mochi balls.
The niu flavor takes me by surprise. With the coconut flavor, there is a strong hint of vanilla. The coconut flakes and Fruity Pebbles give this cup a crunchy texture boost. Like the ube, niu is not overly sweet, similar to the sweetness level of Menchie's vanilla frozen yogurt.
The worst part of eating ice cream is the heaviness it leaves you feeling. With Niu, which is plant-based and has a consistency between ice cream and sorbet, you feel light and guilt-free.
Despite the lack of other flavors, my first experience with Niu Soft-serve is delightful. But learn from my mistake and call ahead to make sure they have a specific flavor before driving over. Your taste buds will thank me!
Open Tuesday to Thursday from 1 to 8 p.m, Friday and Saturday from 1 to 9 p.m., and Sunday from 1 to 6 p.m. 2320 S. King St., (808) 436-3739, niusoftserve.com, @niusoftserve