Night Market Preview: Print Bigger!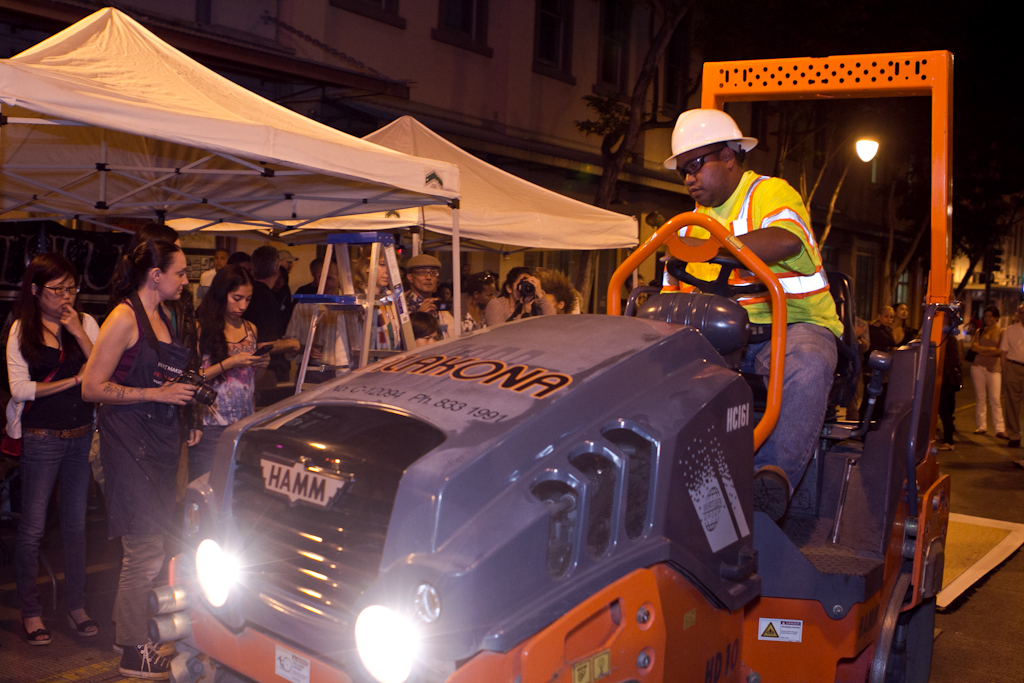 Something unique is coming to this month's Honolulu Night Market — Print Bigger, an epic steamroller-driven art project that makes most woodblock prints look tiny in comparison.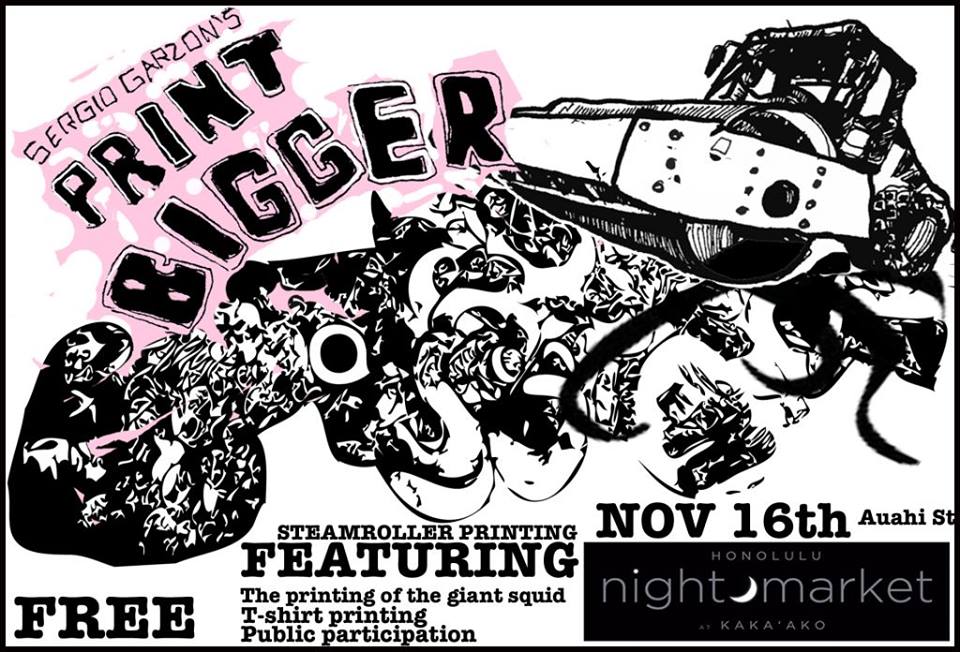 Headed up by local Chinatown artist Sergio Garzon (the same guy responsible for the intricate mural on the back wall of Bevy), Print Bigger utilizes a 5,000-pound steamroller leased from Alakona Corp, a licensed Hawaii contractor that specializes in asphalt paving and maintenance, for a very different purpose — to create a giant woodblock print. It's a feat that would otherwise be very difficult to accomplish, since traditional presses can't accommodate prints that big.
The process starts with a painstakingly carved wood block, which serves as the "stamp" for the image. Ink or paint is then brushed or rolled onto the woodblock, and giant sheets of paper are laid over it. Then the steamroller slowly rolls over the sheet of paper and presses the paint into it, leaving an impression of the woodblock. The design for this Night Market project is an enormous, intricately carved giant squid, carved by Sergio himself. The squid took three months to plan and draw, and over 400 hours of carving, he said.
Why a squid? Well, it's sort of a logical followup to the giant 24′ x 6′ sperm whale, the largest print in Hawaii to ever utilize this method, that Sergio used to demonstrate the technique when Print Bigger appeared on First Friday in March, bringing a fascinated crowd of onlookers out to watch the steamroller.
You can see a brief video of that printing here by photographer Robert Nakama:
Here are a few photos of the First Friday event:
Print Bigger will be clearing a path on Keawe Street starting at 6 p.m. and the steamroller will be running throughout the night. The print will go to cover the King Street side of the new Longs Drugs construction barricade, and may later be installed at Kailua Elementary School.

Honolulu Night Market runs from 6-11 p.m. Saturday on Auahi and Keawe Streets in Kakaako. For more information, check back tomorrow for our complete guide to this month's Night Market.