Night Lights Weekend Wrapup: October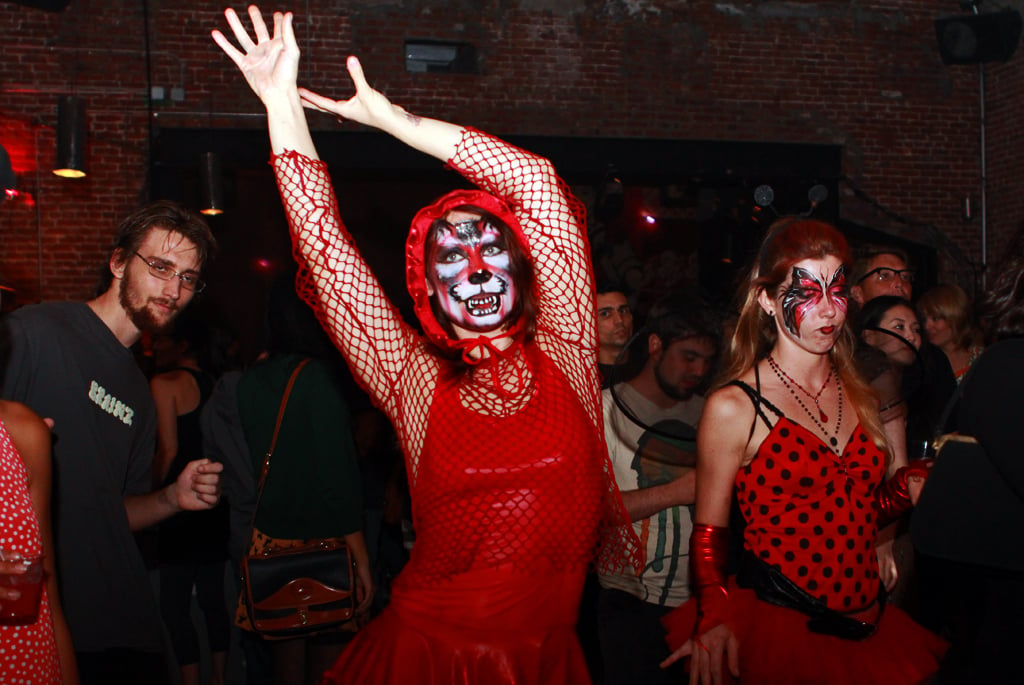 Yes, I know, I wait til the last week in October to actually write a blog. Sorry, guys. Not that there haven't been things to write about, but more because I've been doing so many things that I didn't have the energy to write about them all. It's been an action-packed month, all told. But seriously… October should just be designated as a month-long celebration for Halloween. What happened in October? Oh yeah…
There was HIFF, which in addition to the film festival, resulted in a week-long lineup of concerts, gatherings and parties, several of which Nonstop covered.
There was Miss Vamp Hawaii, the annual vampire beauty pageant thrown by Camera Obscura and DJ Nocturna, that took over Hawaii Theatre for a fully legit and gorgeously goth night of glamor and (fake) blood.
There was Crazy, Sexy, GHOUL, the best pre-Halloween costume party in the state, thrown annually as a charity fundraiser by the altruistic folks at the Slopes of Diamond Head Hui.
There was Nonstop Kakaako, which went off in a huge way, with over 10,000 people in attendance. Although Nonstop has been involved with Eat the Street for some time now, Nonstop Kakaako, in conjunction with Kamehameha Schools, was our biggest event and our first anniversary celebration, and although it was the first to reach such ambitious proportions, it still blows my mind how many people and organizations got behind the event. In that one night, I felt like we were doing something that really impacted the community.
Then, there was Hallowbaloo. Organizer Mark Tarone and his crew really outdid themselves this year, putting together almost a full week of festivities, including the Baths concert, the Warpaint and Paper Diamond concert, and of course the huge street festival.
I ran into Mark several times over the course of Hallowbaloo, and although he often looked flustered and stressed as hell from running the whole operation, he was never too busy to give me a smile and a hug. Oh yeah, and Oct. 31 is his birthday, too… or at least he claims it is
Thanks for everything you do, Mark, and happy birthday!
A lot of my weekend this week was spent at Hallowbaloo happenings, actually. Honestly, I expected Thursday night at NextDoor, with Baths, to be a relatively quiet affair. But although musician/producer Will Wiesenfeld, aka Baths, was feeling ill (what's with visiting musicians getting sick as soon as they get to the island?), he held it together and still performed a great show to a pretty big crowd.
Here are the pics:
The next night was the Warpaint concert at The Waterfront. Although the crowd seemed smallish (a lot of people I knew who wanted to go were working), the girls from Warpaint put on a great show as well. It really helps that all of them are super photogenic. Girlcrush? Definitely.
Unfortunately, most of the crowd left after Warpaint was done, which sucked for the next performer, DJ/producer Paper Diamond, who, in addition, kept having trouble with his equipment. But again, respect to an artist who can stick it through, even when a lot goes wrong.
That was only Friday; Saturday was the Hallowbaloo street festival, the really big deal. Photographer Jonas Maon consented to take the earlier shift and shoot the street fest before I got there at 8 p.m., and together, we did our best to capture the craziness:
Wait, the weekend's not over yet though! With all that ramp-up, it's hard to believe that Halloween is still tonight. Word all over town is that Waikiki is definitely the place to cut loose. It starts with a giant zombie walk at 7:30 p.m., starting at the old Niketown building (appropriate?) and open to anyone who wants to participate, the zombies will shamble their way to Waikiki Shell, joining zombie walks across the world in one huge global preview to the zombie apocalypse.
Starting at 9 p.m., you can pretty much throw a beach ball and hit a Halloween party in Waikiki. Tiki's, Zanzabar, Jimmy Buffett's and just about every bar and club in town will be holding a costume contest, but one of the most notable and buzzed-about ones is Halloween @ Magic, a big party at The Waikiki Beachcomber Hotel thrown by Tantriq, Racesauce, Element Group and Architects.
Don't forget about Ala Moana's costume ball, either. Several of the biggest promoters on the island (Double-O-Spot, Golden Child Entertainment, HI Society, Rick Rock and Russell Tanoue ) team up to bring you a triple party for one cover at Mai Tai Bar, Pearl Ultralounge and Tsukiji's at the Ala Moana Center.
Party safe, guys, and see you around!