Night Lights Weekend Wrapup May 5-8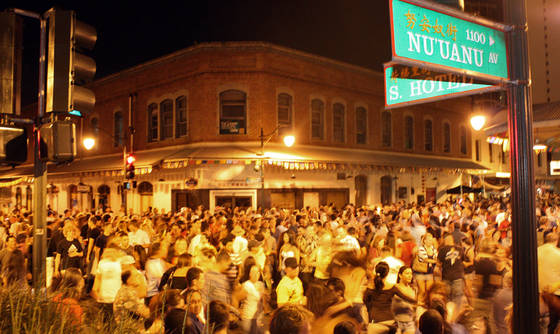 People often don't realize what a good workout photography is. Even if you're not lugging a bunch of heavy equipment, you're holding a camera in your hands that easily weighs 8-9 lbs, depending on what kind of lens and flash you're packing. And that's not even counting the running around, bending, squatting, standing on tiptoes, and other general physical activity required to get shots from a good angle. After a week like last week, I'm definitely feeling the effects of shooting for 5-6 hours a night three nights in a row.
And people wonder why I only work out once a week, eat all the time and stay (relatively) fit.
On the other side, people often don't realize what a good workout clubbing is. Especially if you're the kind who goes out and ends up dancing hard for several hours, then running to a different club on the other side of town to repeat the process. Bonus points if you're doing all this in heels.
All that said, I've got a feeling that people didn't get to party nearly as hard this weekend as they would have liked.
The rain really dampened peoples' spirits for the Cinco de Mayo Street Festival on Thursday. Although there was a decent crowd in the clubs later on that night, the street festival itself wasn't nearly as well-attended or crazy as last year.
Here's the gallery from this year:
Just for giggles, here are a few photos I took during the 2009 Cinco de Mayo Street Fest: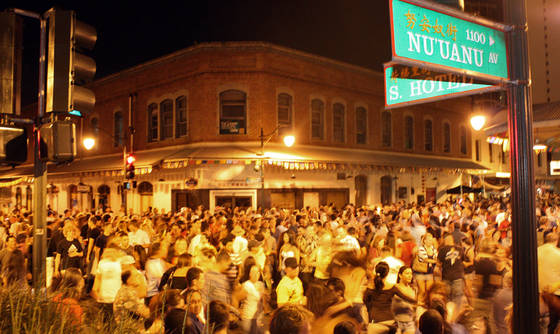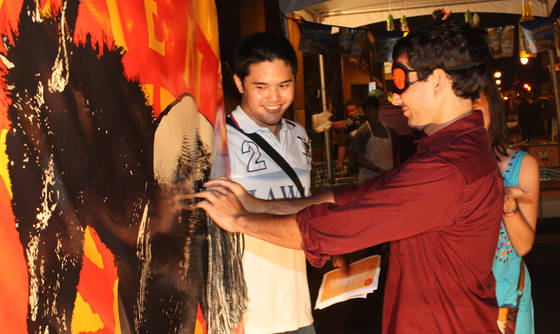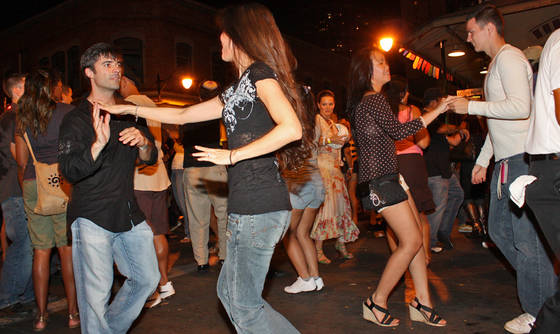 After the street festival was Chinatown Get Down, which drew a slightly different crowd. By 11 p.m., most of the clubs along Hotel Street were packed, with everyone trying to get out of the rain, which was coming down in sheets.
Friday, the weather was much the same, which really cut down on the number of people walking from gallery to gallery. News that might excite some of you: I ran into Jay Niebuhr, of J.J. Dolan's and the Chinatown Merchant's Association, and he told me that starting this month, they're trying out the whole lunch truck thing on the streets of Chinatown during First Friday. Thus, the presence of the Melt truck and Tiki Truck on Bethel Street, where I hope they'll be next month as well. Because damn, that pastrami sandwich from Melt was good.
There were a couple notable grand openings, too; cool new businesses that should be on your list of places to check out next month. The first is Let Them Eat Cupcakes, the new cupcakery at 35 S. Beretania, just around the corner from Fashionista's Market in the old Mix Cafe space. Do get there early though, like around 5 p.m. They make small batches, and sell out fast!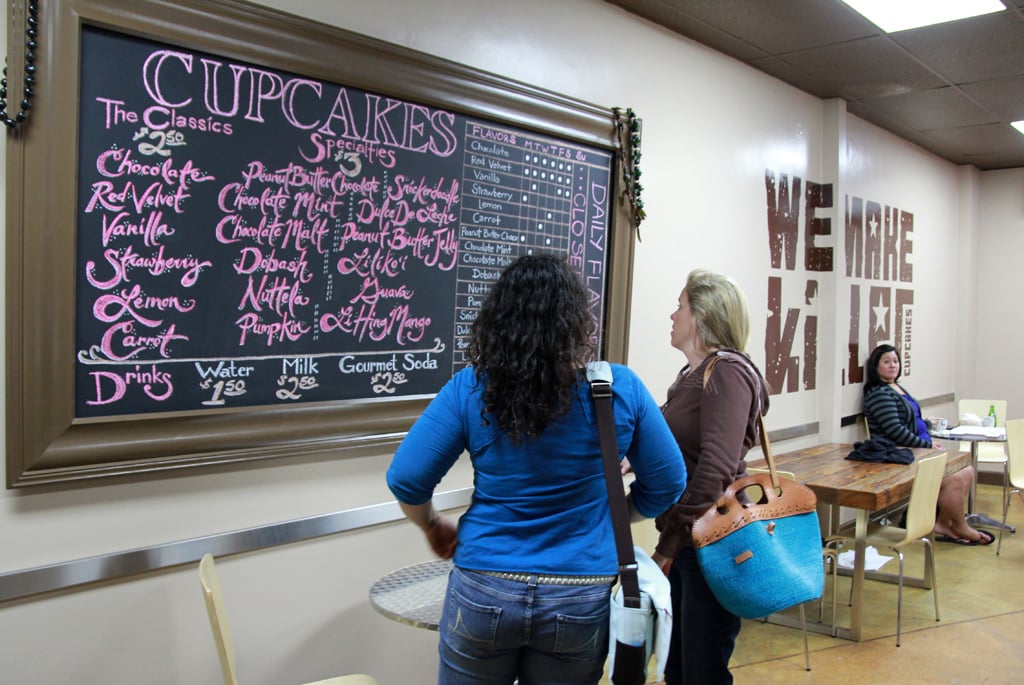 The second is Black Cat Tattoo's new digs in the old Louis Pohl gallery space. They've moved in and totally redecorated, and it looks amazing! Also, if you're so inclined (and if you don't mind other people watching) you can actually stop by and get a tattoo on First Friday.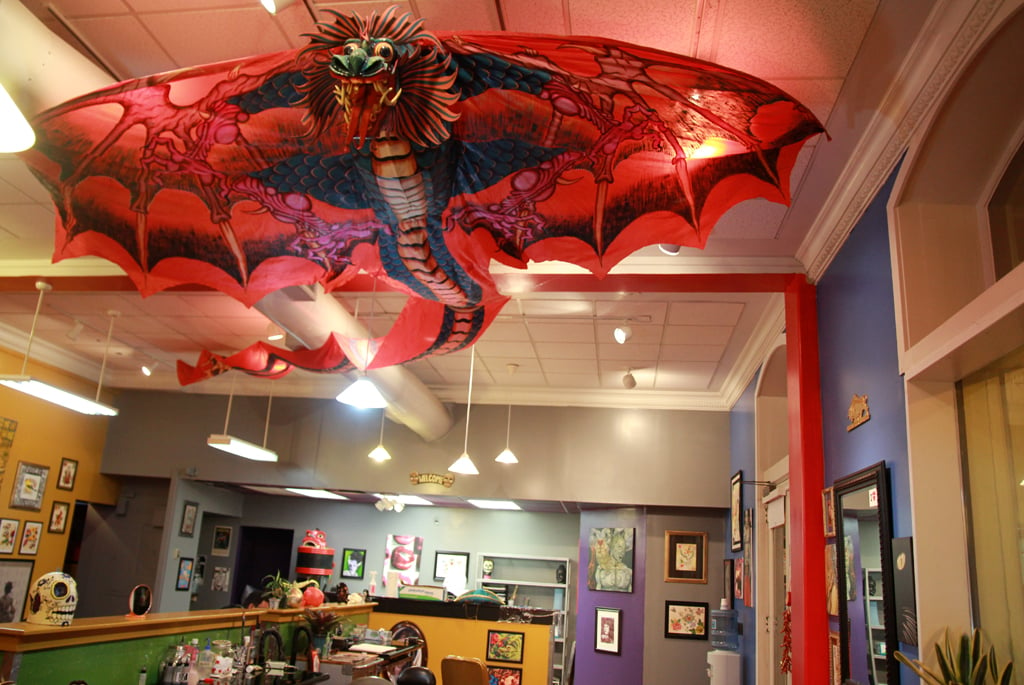 Here's the rest of the First Friday gallery:
Saturday, after dinner at Brasserie du Vin and a movie ("Thor"), I felt like something strange and different, so I went to Loft for a party that the Hawaii Fire Artists, Asylum and the local Burning Man crew had put together. The lineup and music were pretty fantastic though, and I had a lot of fun.
If you ever make it to one of these parties (anyone can go, but these gatherings are pretty underground, promoted mostly by word of mouth and Facebook within the affiliated communities), you'll hear and see things unlike anything you'll normally experience in Honolulu. It's been a while since I was baffled by a musical genre, but these creative folks (many of whom also possess technical skills and/or advanced scientific degrees that make me feel like a moron) have a style all their own.
As a (former) professed pyro myself, I am, of course, absolutely mesmerized by the firedance crew, and try to make it out to events they're a part of.
Hmm, is that it? Yes, I think so. Next week, the Rainbow Film Festival kicks off at Doris Duke, highlighting LGBT issues, along with several related nightlife events. Also, Camera Obscura's annual Pirates Ahoy party Friday at The Venue, psychadelic electronica musician and sound designer Free the Robots Saturday at NextDoor, and the Honolulu Triathlon on Sunday.
See you around!
#