Night Lights Weekend Wrapup: July 7-11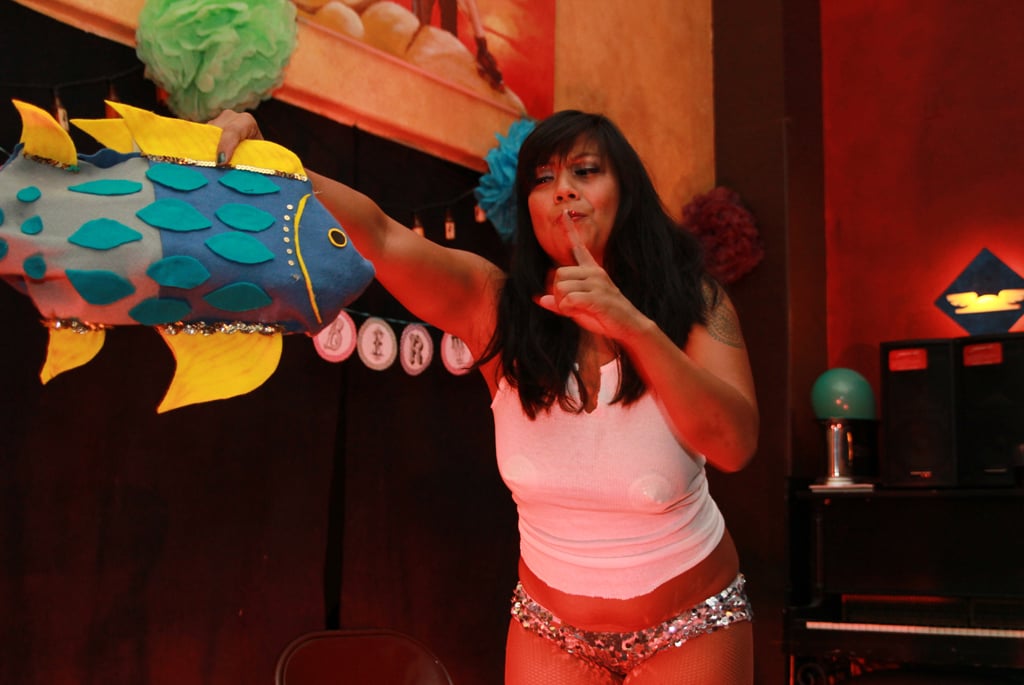 If you've somehow managed to miss it in the last several months, Honolulu has been undergoing an art revival.
Thursday's unveiling ceremony for the huge Water Writes mural done by Estria and 808 Urban really drove that home for me, although I've been present for a lot of moving and shaking in the Honolulu urban art community.
The trouble with concentrating on so many scenes at once is that every time I turn around, I feel like I've missed something important. Pow Wow was definitely one of the highlights for the art scene, as was Chinatown opening up artist lofts for some of our most talented local young artists to create in. The Water Writes mural, part of Estria's international project to raise awareness about our most essential natural resource, was another highlight. If you've seen it, you've witnessed history. Not only is it the biggest mural in Hawaii, the collaboration effort itself was an unprecedented gathering of over a dozen artists of the highest caliber, legends in the national graffiti art community, and many of whom would normally work solo. Although I only knew a few of the younger artists beforehand, I found out that most of the guys who worked on the mural are old-school, active taggers during the '80s who went underground or put painting on hold to raise families or become more "respectable" members of society.
By the time the mural's unveiling ceremony happened, though, I'd had the privilege of meeting and having some great conversations about art, philosophy, the nature of the underground scene and the history of graffiti in Hawaii with several of the artists, including John "Uncle" Prime, Chris "Demise" and Estria himself. At the unveiling, I saw other urban art legends, like Katch, either admiring the wall with everyone else or lurking in the background, obviously uncomfortable with all the attention.
I got to hang out with the kids from Pow Wow, who were there in force, the Lightsleepers crew, and Doug from Shaka Talk, who I hadn't seen out in ages. It was a good, insightful evening. What made it all the more impressive and gave the entire thing an atmosphere of hushed reverence was the huge painted image of Queen Liliuokalani watching over everything, and the respect everyone gave her. "Her eyes follow you," I heard more than one person comment.
You'll see what I mean in the photos that Ed Morita and I took at the unveiling:
Friday was devoted to an entirely different scene. I was asked to spin at Camera Obscura, the monthly goth/industrial night that did the sci-fi and alien fashion show last month. Although it was a chill night, it gave me a chance to bust out my harder industrial stuff for a tag-team set with DJ Sniper Wells.
Afterward, I stopped in at SoHo for their Vegas-themed party with DJ Stellar and a ton of showgirls in crazy headdresses:
Saturday started with a Nonstop meeting, and then Russell Tanoue's birthday at Pearl. If you've heard a lot of nice things about Russell, chances are they're true. He's one of those people who, every time you turn around, is finding ways to help others and make them happy. It was great to see him surrounded by so many beautiful people and prominent members of our community on his birthday… and cooler yet that it was for his Project Shine, which aims to help out people with terminal illnesses or financial/medical hardships by giving them makeovers, a photo shoot and financial assistance.
"It was so special when I presented my recipients with a $500 photo shoot package and $500 check," he told me afterward. "I really love shocking people!"
We really love you too, Russell.
Here's the gallery (oh hi, Tia Carrere):
After Pearl, I dropped in to Mercury Bar for Cherry Blossom Cabaret's fifth anniversary, and found the place packed. Unfortunately, most of what was going on was a little too risque to post on Nonstop; if you want to see some more photos from the event, you'll have to check my Facebook gallery. Here's a teaser:
I ended the night Saturday at Slow & Low, the monthly dubstep night put on by my friends, DJs Monkey and Toki. Dubstep is my new favorite kind of music, and perhaps the genre that I've most recently (in the last couple years) come to appreciate. What made it better was that I got a chance to catch the Organized Grime crew spinning, the same guys who got me into dubstep in the first place with their night at SoHo. No photos, but if you're into dubstep too, do check these guys out on Facebook or at www.organizedgrime.net.
Wow. I think that's it for the weekend.
What's up this weekend? Well, we've got Hula's 37th anniversary on Thursday, BayFest at Kaneohe Bay Marine Base starting on Friday, and Showdown in Chinatown at NextDoor and a whole ton of other stuff happening in Chinatown Saturday.
See you around!