Night Lights Weekend Wrapup Feb. 17-20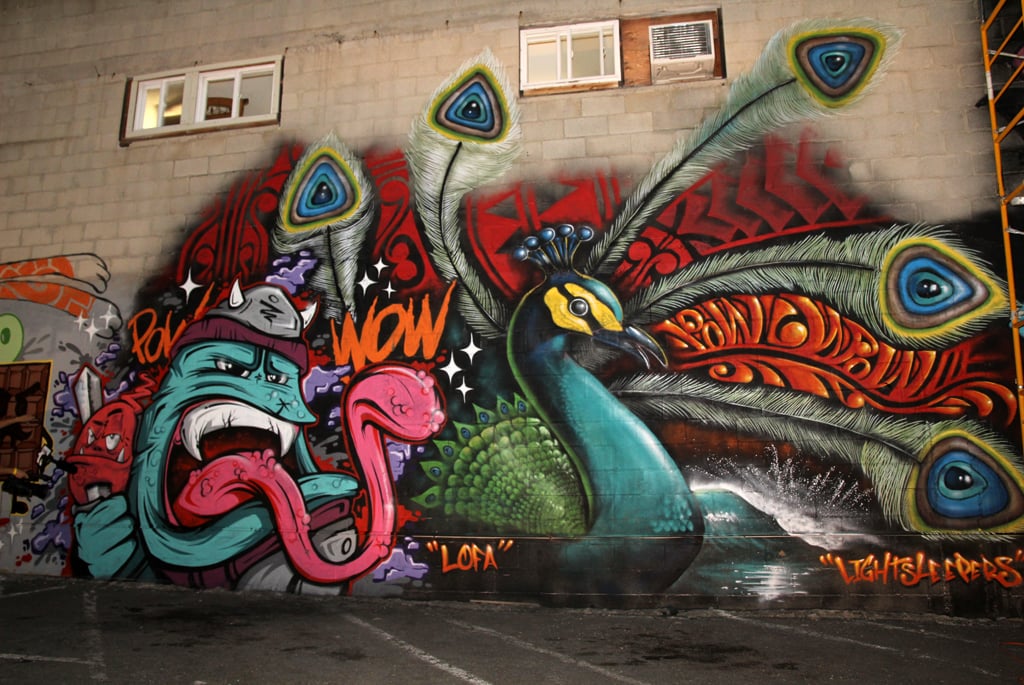 This past weekend made me realize how much we AREN'T missing out on an amazing nightlife scene just for living on an island. With all kinds of big names in town and doing shows this weekend, including DJs Mark Farina and JJ Flores, rappers Donnis and Josh Martinez, the Deftones and OneRepublic, it's really tough being one person and not able to split myself into two or three.
That said, I'm still pretty happy about all I DID manage to do.
First, there was the FLUX Magazine issue launch party at Apartment3. The locally-run lifestyle magazine has really hit their stride with the last, women-themed issue. In addition to some amazing photography, the articles were well-written and thoughtful, and I still find myself reflecting on the issues raised since I got my copy in the mail a couple weeks ago and read it from cover to cover.
I arrived late for the party, but still caught most of the staff and people who had come out to support:
FLUX Magazine issue launch party
Afterward, I headed back to Chinatown to see house DJ JJ Flores at SoHo. Prior to Odin Works' promotions of his show here, I'd never heard of the guy. But his set was a fun mix of old-school electronica (seriously, when was the last time you heard Prodigy played in a club?) and international house and dance music. From what I could tell, the people on the dance floor appreciated it too… and the fantastic laser and visualization show by Vizual Cortex really helped the mood. As a photographer, I'm a sucker for a good laser show… ever since I learned at Pipeline how to really capture laser shots, they've been one of my favorite things to photograph; can you tell?
JJ Flores @ SoHo
Picture 1 of 13
Chicago house/electro DJ and producer JJ Flores made his Hawaii debut Thursday night at SoHo's Tap That Thursdays, playing an eclectic mix of old-and-new-school dance and house music for the dancing crowd. The spectacular laser and visual displays made the night an out-of-this-world experience.
Friday, I left the house early for the Deftones show at The Waterfront, and a good thing, too. Aloha Tower was madness, and the line for the concert was backed up longer than I've ever seen it there. I got in as Kings of Spade were playing, then got to hang out with them (coolest kids ever!) while we were waiting for Deftones to come on.
The main act, a band that I liked more in high school than I do now, was nevertheless one of the most energetic live artists I've ever seen. Lead singer Chino Moreno was running, jumping and headbanging all over stage, whipping the crowd up into a screaming frenzy. There were so many people crowd surfing that every time I looked over, it seemed like someone else's legs or arms were flailing in the air. It was a memorable concert, and hopefully nobody got too injured in the crowd!
Deftones
After I left the Deftones show, (fortunately it was still early enough to go to Chinatown), I headed over to Bar 35 to do a followup and see the crazy costumes at this month's Harajuku-themed DesignU fashion show. For more info on what DesignU is, read my previous blog.
The models in the show, all done up in brightly outrageous outfits, were a joy to photograph; take a look at some of the cool stuff they were wearing:
Friday Couture & DesignU
Saturday, I FINALLY got a chance to check out Pow Wow Hawaii, which I'd been intending to do since Wednesday. Fresh Cafe's warehouse has been completely remodeled and looks amazing, and that's not even counting the fantastic art filling it Saturday night.
Well, the first thing you'll notice if you haven't visited Fresh Cafe recently is this mural on the adjacent building: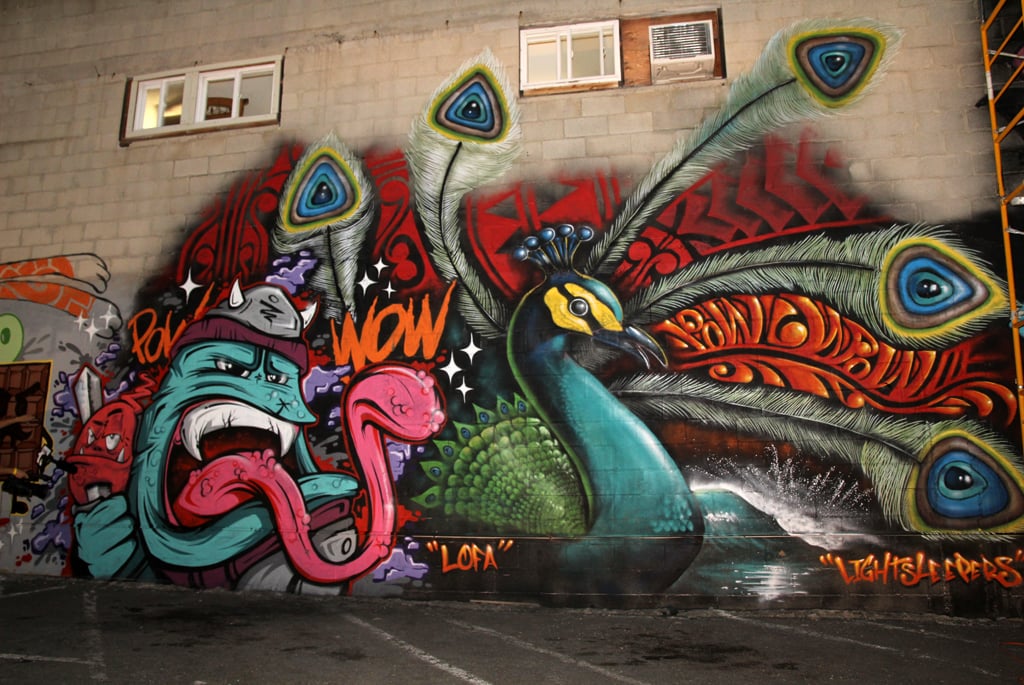 Spearheading the organization of this (hopefully first annual) international art gathering was local artist Jasper Wong, who looked tired but happy at Saturday's closing party. I was blown away by what he and his fellow organizers, including Christa Wittmier, Kamea Hadar, Eskae, Fresh Cafe owner Tiffany Tanaka, Mikey Inouye, who was everywhere with his video camera, and Alt/Air lead singer Aly Ishikuni, had come up with.
That picture on the front? Yes, that's Grace Park ("hey, did you see the "Hawaii Five-0″ girl?" Kamea Hadar asked me, as he was taking a break from his live painting) and rapper Donnis (who I didn't recognize at first without the glasses on his promo shot), who performed at the Pow Wow after-party at NextDoor. Sadly, I didn't get a chance to see his performance. Did any of you?
I feel I should say more about what an awesome event this was, and how we absolutely need it to happen again next year, but you can easily see that from the photos:
Pow Wow Hawaii
Picture 1 of 45
A new international art gathering made some impressive waves this week, culminating in Saturday's party at Fresh Cafe. With live painting all night at Fresh Cafe's newly remodeled Loft in Space and music by local and visiting DJs, the show attracted lots of people involved with the local art scene, as well as some international visitors and celebrities like Grace Park from "Hawaii Five-0" and rapper Donnis.
Sunday, the only thing worth mentioning was brunch at Downbeat Diner. I woke up a few hours after going to bed (at 10 a.m.), and stumbled down for the chicken & waffles plate that co-owner Serena Hashimoto had promised us. It was delicious; if you've never had the soul food dish of fried chicken on top of a waffle drenched in syrup, I highly recommend it. Normally, the chicken would be fried, but Downbeat does theirs as a breaded, baked chicken breast that's much healthier. There's fake chicken for the vegans, too.
Ok, that about wraps it up for this weekend… what's happening next weekend? Oh yeah, ARTafterDARK on Friday, the Hawaii Chocolate Festival on Saturday, and Nas with Damian Marley at Kakaako Amphitheatre, also on Saturday. Woo hoo!