Night Lights: Weekend Wrapup Dec. 3-5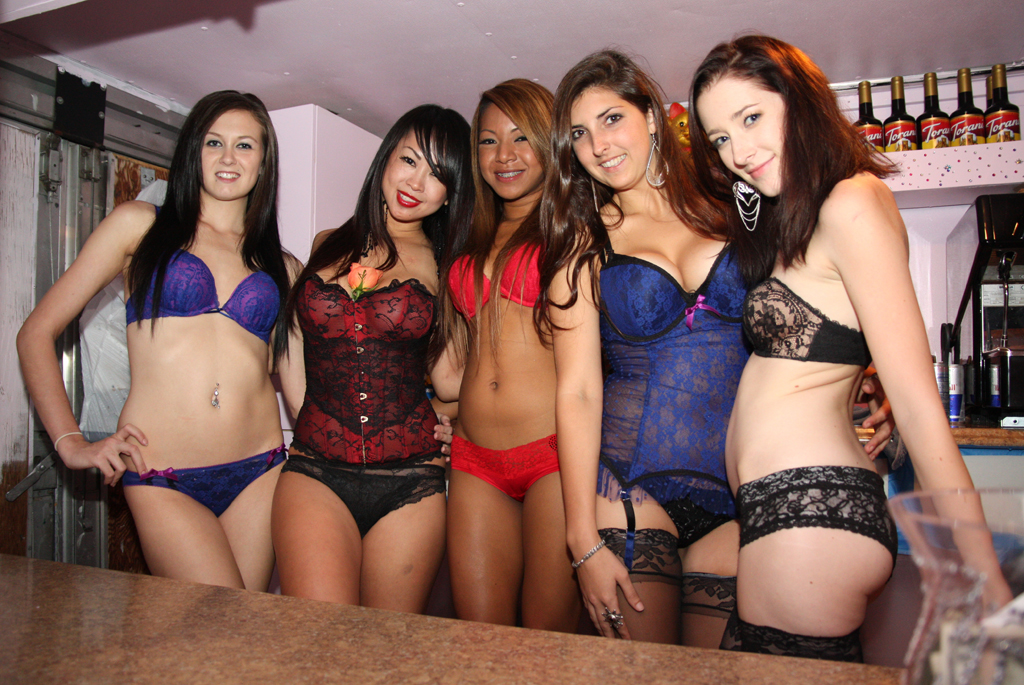 I guess you could say that the weekend started early for me, with Groupon's launch party at Ka, co-hosted by Nonstop. Seriously though, look at these guys… how can you not love 'em?
In case you haven't noticed it on Nonstop's home page, we're hosting Groupon's Deal of the Day, which ranges from 50-70 percent off little local hole-in-the-wall restaurants to chain stores like American Apparel. Dangerous for me, because, as someone who really likes discounts, it's totally the kind of thing I could get addicted to using. Anyway…
First Friday. You were there or you weren't, but either way, it was pretty good. From meeting the girls at Wild Bean Espresso, which has now mistakenly been dubbed the "Lingerie Lunch Wagon" (far as I could tell they don't serve food at all… just drinks and eye candy)…
To spotting this party bus, one of a growing number of party buses that transport people from First Friday to Waikiki and back…
Several places in Waikiki, including Wang Chung's and Crazybox, have jumped on the bus with the whole concept of party shuttles, and I think it's a great idea to give people the option to bounce to Waikiki if they're tired of the Hotel Street craziness. Whether you just want a change of scene after hitting some of the Chinatown clubs, or you started the night in Waikiki and then want to go clubbing in Chinatown, it's a safer, funner and more convenient option than driving.
Here's the rest of the First Friday gallery:
Saturday made me realize why I love being plugged in to so many different scenes in this town. I started the day at a dress rehearsal for Handel's Messiah at Central Union Church, a choir performance that I take part in every year. After that, I headed to the Hawaii Convention Center, where I ended up tag-teaming an art and food fest, Spread the Word, with Nonstop's Mari Taketa. It was an event that I didn't hear about until last-minute, but what I did hear really intrigued me. I didn't know what to expect, but when I went in, I found that the crew from Real Word. Magazine (celebrating their first anniversary) had succeeded in setting up something that looked amazingly like a very classy First Friday in a conference room.
It seemed like much of the focus was on food, with 17 pretty well-known chefs from the local culinary scene in attendance, but there were also a lot of photographers, artists, poets and musicians set up in booths on one side of the room. While, at times, there seemed to be a disconnect in some of the entertainment and art (young slam poets, a nude body-painted model, etc) and the largely older, professional crowd that paid $85 to attend, the event was well-organized and had some of the best food I've had in quite a while. Take a look at my gallery:
Spread the Word
Picture 1 of 24
What was Spread the Word?
It was the first look (and taste) of an annual event thrown by Real Word. Magazine, as a way to showcase local arts and cuisine. Think kind of like First Friday, only in a conference hall, and with fantastic food. Real Word. Magazine is a publication launched one year ago (the event was their first anniversary party) to give voice to local artists, poets, and people with stories to tell.
Look at Mari's too:
Spread the Word
Picture 1 of 22
By Mari Taketa
Nonstop
So here's the thing: Nonstop gets invited to this arts bash called Spread the Word, only we have no idea what it is.
It's at the Hawaii Convention Center, which is also a co-sponsor, so right off it's pretty major. Tickets are $85 a pop, not exactly in a starving artist's budget. And it's put on by Real Word. Magazine, which for the last year has been featuring the art of uber-hot local painters, photogs, slam poets, fashion designers, musicians, body artists — you get the picture.
But get this: 17 chefs are in the mix, including Fred DeAngelo of Turtle Bay's Ola, who with his wife Cheryl here publishes Real Word. Will the food be as hot as the art? That's what I'm here to find out.
After Spread the Word, I headed into Chinatown to fulfill a prior obligation at Bar 35, and ended up popping into NextDoor, where Brooklyn-based drum & bass/dubstep fusion DJ Dieselboy was spinning. The event, one of Double-0-Spot's Energy nights, was supposed to be held at The Warehouse, the all-ages venue behind Pipeline, but due to the problems Pipeline's been having, it got moved. Turns out Damian Higgins, aka Dieselboy, is a really cool guy, and he comes to Hawaii all the time. Here he is (on the right), with friend and fellow DJ Smash Gordon.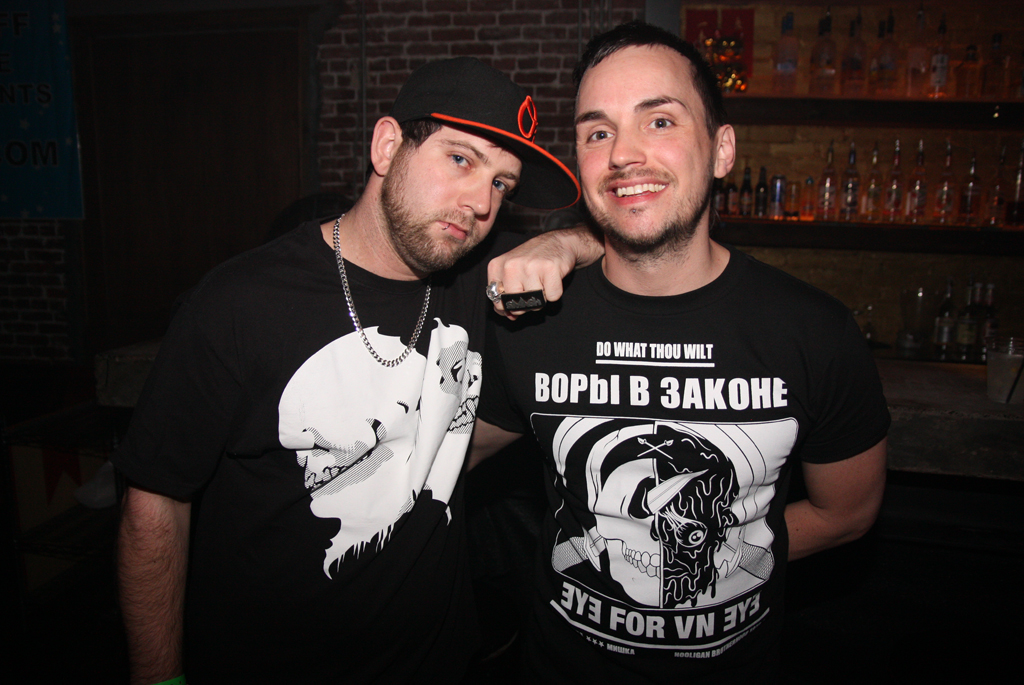 And the rest of the gallery:
Here's the thing. I'm not a huge fan of drum & bass, but I do like dubstep. So Dieselboy's approach of blending the two was interesting to me… high-energy and fast-paced enough to keep the dance floor moving all night, but never quite getting into the deep dubstep groove. The crowd wasn't big, but they got into it, all right.
Being at an electronica event, of course, I got a lot of people asking me if I was going to stop by Asylum Afterhours for their second anniversary afterward, and I figured why not. I haven't been to Asylum since shortly after they opened, but I've got to give Willis Haltom and his crew kudos for running an underground electronica club that's managed to stay relatively low-key for two years, while bringing in world-class talent as their guest DJs. So, happy anniversary, Asylum!
The next thing on my agenda? Catching up on sleep.