Night Lights Weekend Wrapup Aug. 18-21
The weekend started off with me looking at my schedule and being amazed that I was actually going to try and do all that. Does this happen a lot, you may ask? Well, yes. Don't get me wrong, I'm an experienced multitasker, and I'm used to working with a tight schedule, but often it looks a bit daunting until I actually get into the thick of it.
First off, I hit Chinatown's brand-new Fashion Wine Walk, a benefit for Goodwill Industries. Lots of local shops, designers and galleries in the immediate area around Pauahi and Bethel streets got involved, and although the crowd was a bit sparse, I did see quite a few notables, including designer Andy South, the Miss Chinatown court and Malie Moran, who runs Hawaii RED.
I wandered around Chinatown briefly before leaving, dropping in on the DesignU folks, headed up by Cyrina Hadad, who were getting ready for a spectacular fashion show at the Hawaii Institute of Hair Design:
After leaving Chinatown, I dropped in for a few minutes at Anna O'Brien's to say hello to Black Square, fresh off the Warped Tour and playing their first show back on the Island.
Then I headed straight over to the grand opening of Oasis at The Club House, formerly Hard Rock Cafe. I've been calling it Makino's (the current sign over the door and the name on all their menus), until I was told by one of the promoters that due to some complications, the business had to change its name within the week, and will hereafter be known as The Club House. If there was any confusion, I do apologize.
My first impression was that the venue is pleasantly spacious, more so than when it was Hard Rock, with high cathedral ceilings and tiered flooring. At the center of everything is the bar, overlooked by a VIP area with tables on one side. The food off their late-night menu was a pleasant surprise; with over 20 items for $4.99, ranging from sushi (the spicy tuna roll was especially good), tacos, wings and gyoza to pizza and beer-battered pickles. The portions are pretty good-sized, too.
The club was crowded with hundreds of well-dressed people, but not quite at max capacity (probably because of the rain), a fact which seemed to disappoint the promoters a little, but secretly relieved the staff. To their credit, there didn't seem to be any serious hitches in the pace of service, except for some difficulty with running credit cards that resulted in mine getting lost overnight (but I'm sure it's since been fixed).
Check out the crowd, and the new spot:
Saturday, I was up early for dim sum with the Hawaii Chinese Dinner Society… formerly the Hawaii Secret Chinese Dinner Society, before we found out that none of us were any good at keeping secrets. It was my second time eating with the group, and I had a blast eating and laughing at Royal Garden, sharing "Chinee" jokes and stories, and initiating our newest member, Ricky Li.
Here's our group; the lei I'm wearing was thoughtfully provided by our Chairman for my birthday: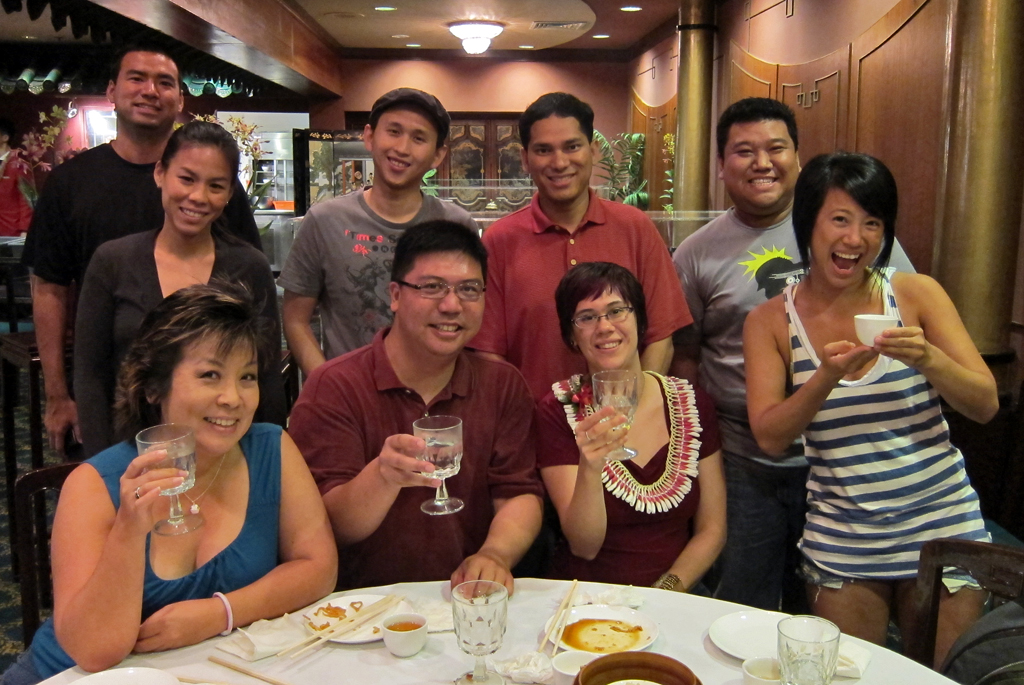 Then it was back home for a couple more hours of sleep… well maybe more like one. When I woke up, it was off to Fresh Cafe for John Prime's new art show. The artist, covered in leis and grinning from ear to ear, greeted me with a big bear hug, and then I got a good look at the art, and… wow.
I met Prime at Honolulu Community College while he and Estria were working on the giant "Water Writes" mural, and ended up having some great conversations about art with him. Prime isn't just his tagger name; if you go to see his art show this month, you'll see why the quiet, thoughtful father of five who also teaches a graffiti art program to the kids at Palama School really does deserve to be called the king of Hawaii's graffiti art scene. I mean, the things the man does with aerosol and cheap brushes are amazing.
One of the interesting things about this show: a lot of the subjects are kids. Not based on anyone he knows, the artist said, but just faces he found online that looked right, and some that he drew himself.
After leaving Fresh Cafe, I headed to Chinatown. I'd originally planned to drop in on Showdown in Chinatown, put on by the Outlaw Agency, but that didn't work out, so I ended up hanging with Jason Cutinella and the staff of Chinatown Newspaper for their monthly Blue & Gold party at Bar 35.
It was a hat party, and my friend Sammy Ali, visiting from Texas, just happened to have a bunch of crazy animal hats in his car.
Here's one pic: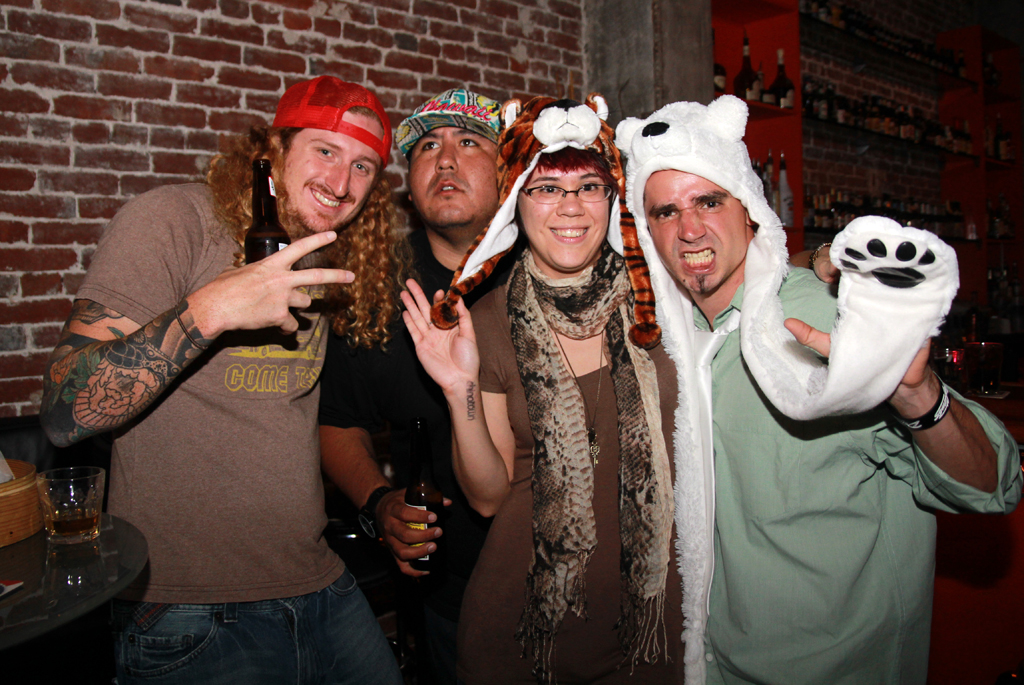 You can find the rest of the photos on my Facebook, here.
Sunday, I took it easy, leaving the house only to see "Rise of the Planet of the Apes," which was surprisingly good. An interesting side note: No animals were used in the making of the film. Yep, all those apes are CGI, motion captured from real actors. Not even a "no animals were harmed in the making of this movie" disclaimer. How's that for a trip?
Here's some stuff coming up next week for you guys: Folk rock band America plays at Blaisdell on Thursday, ARTafterDARK's Whiskey-a-go-go at the Honolulu Academy of Arts, Eat the Street in Kakaako and a live music tribute to Amy Winehouse at NextDoor happens on Friday, and thirtyninehotel launches their new night, Keep it Upp, on Saturday. There's more, but you'll just have to wait til later.
See you around!