Night Lights Weekend Wrapup Aug. 12-14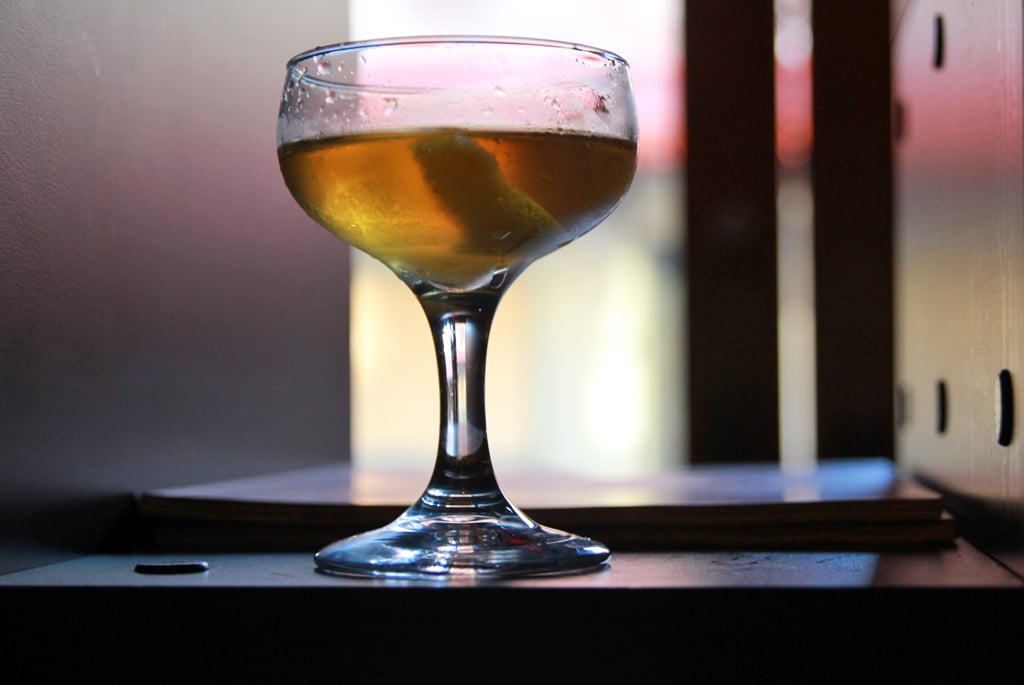 So I've finally figured out how to be in most or all of the places I want to be any given night. The trick is not to stay too long. While the downside of this is that I miss some really cool stuff, I think overall the good outweighs the lamentable. I get to see more of the people I really want to, and scope out more of the really cool stuff so I can tell people where it's at.
It's a constant complaint of mine that I can't clone myself or utilize a space-time travel device like Dr. Who (great show, by the way; I just started watching the entire modern series from 2005 to the present.)
But with the growth of the Nonstop nightlife team to include a couple more talented photographers, including Jonas Maon, special guest photogs like Riana of Rudified Media, regulars like Ed Morita and Jermel-Lynn Quillopo and even some of our foodie crew, like Melissa Chang and Mari Taketa taking photos at events that fall in the nightlife realm, I'm actually feeling a lot less stressed these days.
So until I find my own TARDIS…. thanks, guys. I'd be so overwhelmed without you.
On to the weekend!
I went out much earlier than usual on Friday to catch my friend Omer's Looking Back photography art reception at Manifest. It was an intimate affair, with cocktails and delicious bite-sized hors d'oeuvres catered by Jamal, the cook at thirtyninehotel. I had a seriously excellent Sazerac (cognac, rye whiskey, absinthe and Peychaud's Bitters), a drink that threatens to become my new habit.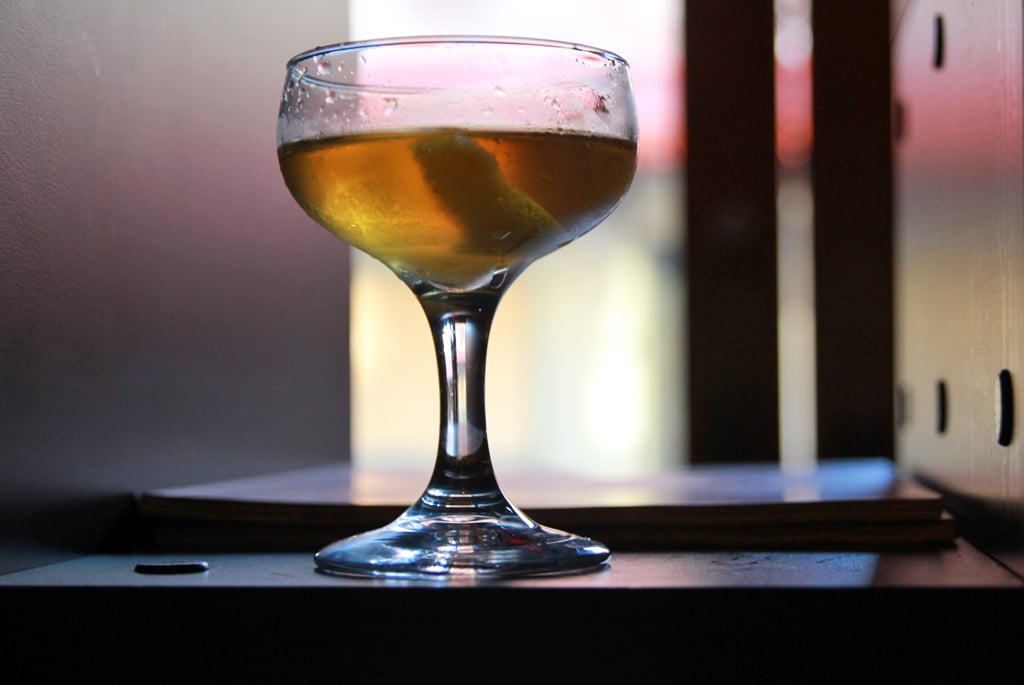 As far as the photos themselves…
Omer is an old-school film photographer, and one of his toys is a vintage panoramic camera, an actual wind-up device that rotates and creates pictures like these.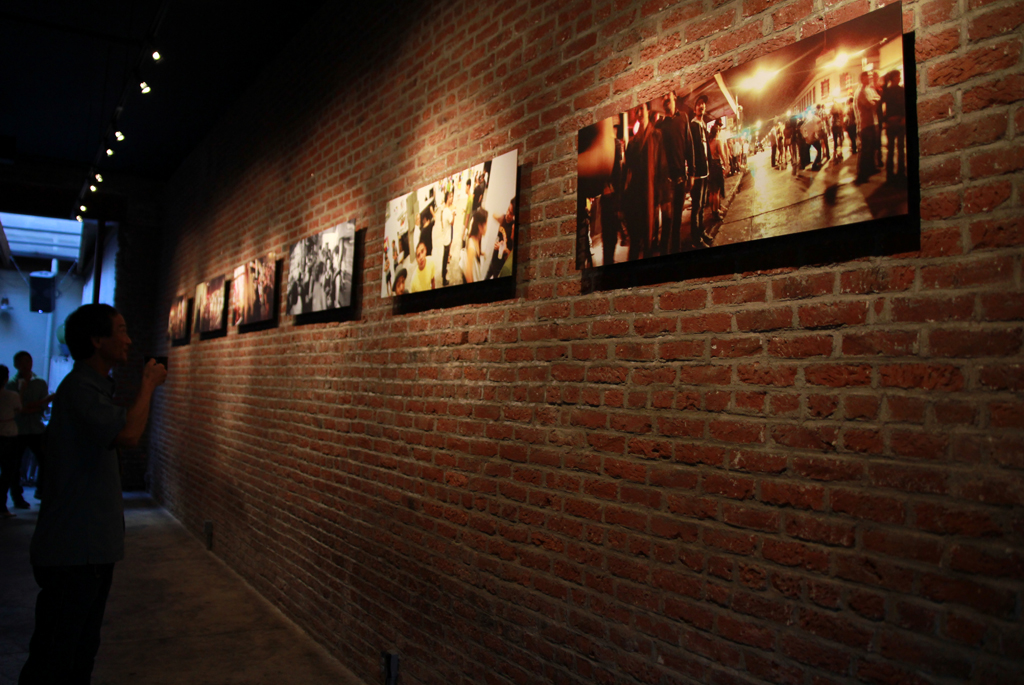 In his photos, people don't pose; in fact, most of the time it looks like they're completely unaware, or just plain fascinated with the device he's using. The beauty of it, as Omer explained, is that "I don't see all that's in the photo until after it is developed," sometimes weeks or months after.
Even the title of the gallery, Looking Back, doesn't reveal all, until you know that the full version of it is "looking back at you, looking back at me."
For more information on the photos, and the upcoming book they're from, visit Omer's blog.
Here's Omer and his wife Dee, looking back at me: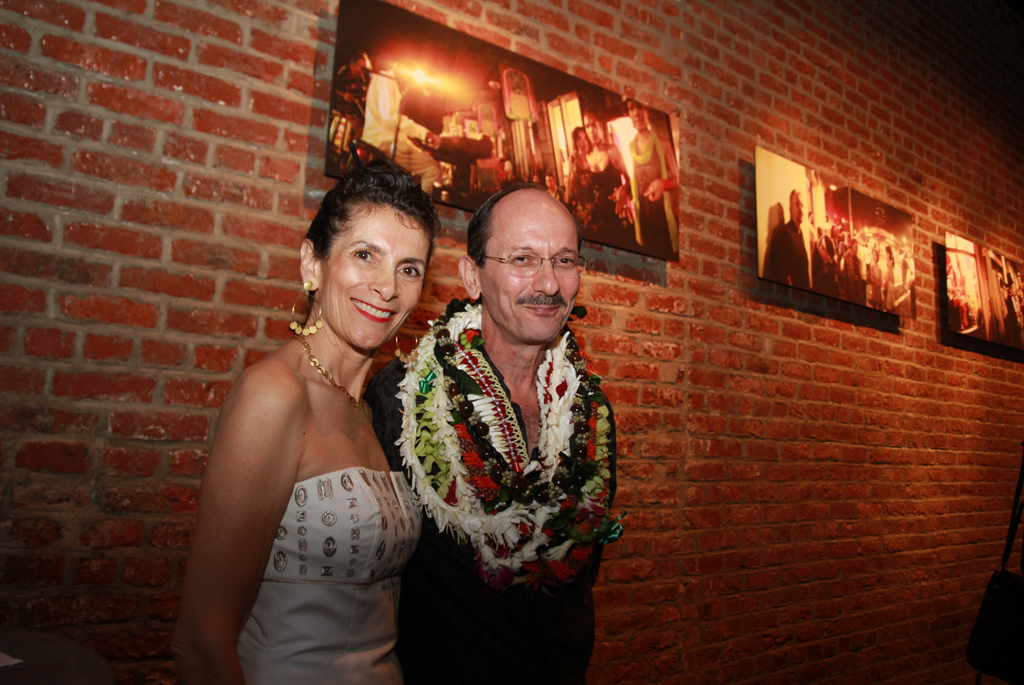 Later on that night, I found myself at Mercury Bar, where the house band, The Johnnys, was doing live karaoke again. It's always a hit. If somehow you haven't heard about it yet, anyone can get up on stage and sing a song of their choice from the list for $3 a pop, with a full live band backing them up.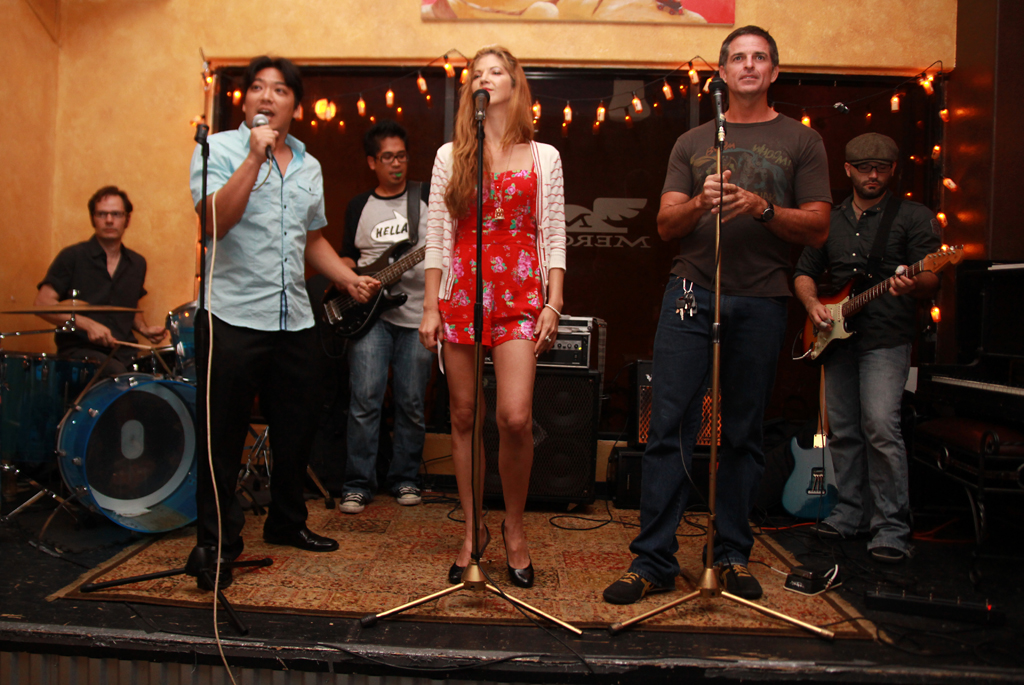 Then I went across the street to Camera Obscura for the Dubstep vs. Industrial night, where DJ Durtie Rice was spinning the event for the first time, and dropping some pretty mean bass on the dance floor.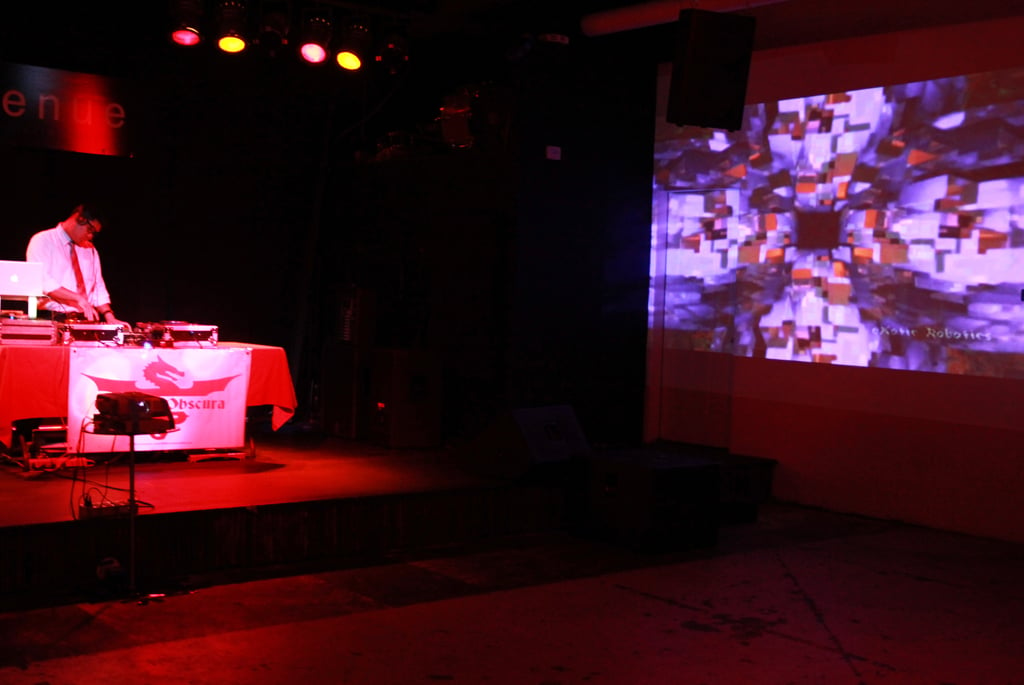 Across Bethel Street again, this time to stay a while at SoHo, for special guest DJs Lisa Lashes and Christian Martin, co-founder of Dirtybird. I didn't meet Christian, but I did get a chance to meet Lisa Lashes, the "queen of hard house," and she was awesome. Her set was more trance, techno and regular house than hard stuff, but the crowd still seemed to love it.
If you haven't seen the results of SoHo's remodel yet, I suggest you stop in. The layout flows sooo much better now, and the boys did an amazing, sleepless, last-minute job of putting a stage and DJ booth together.
P.S. Happy birthday, DJ Miki Mayhem!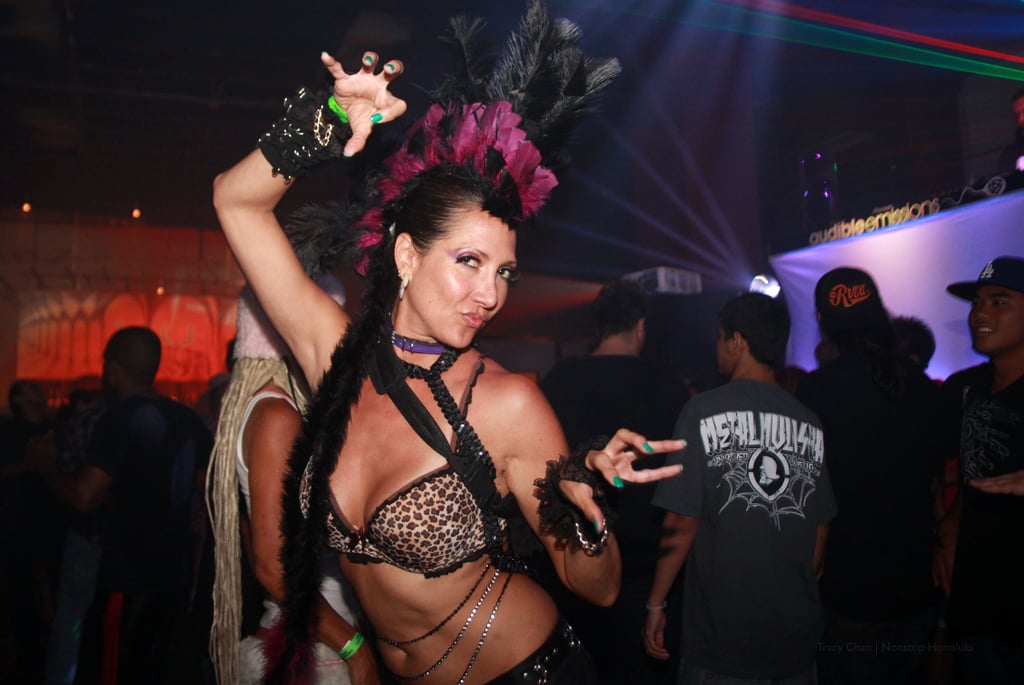 Saturday was no less hectic.
I started out the night by DJing dubstep for the first time at Monkey & Toki's Slow & Low monthly dubstep night at Lotus. Although it was my first time spinning the genre, I can already see the beginnings of a revival, and the power of the bass to move people's feet.
After my set, it was a quick jaunt across Chinatown to Mercury Bar, where the first Mercury Wonder Show was bringing crazy circus antics to the stage. I saw someone stick a screwdriver up his nose; one of the Cherry Blossom Cabaret girls, sporting a Hitler moustache, poledance like a pro; and various other things that made everyone go "Oh my god!"
Then it was off to Apartment3, to wish Maleko a very happy birthday: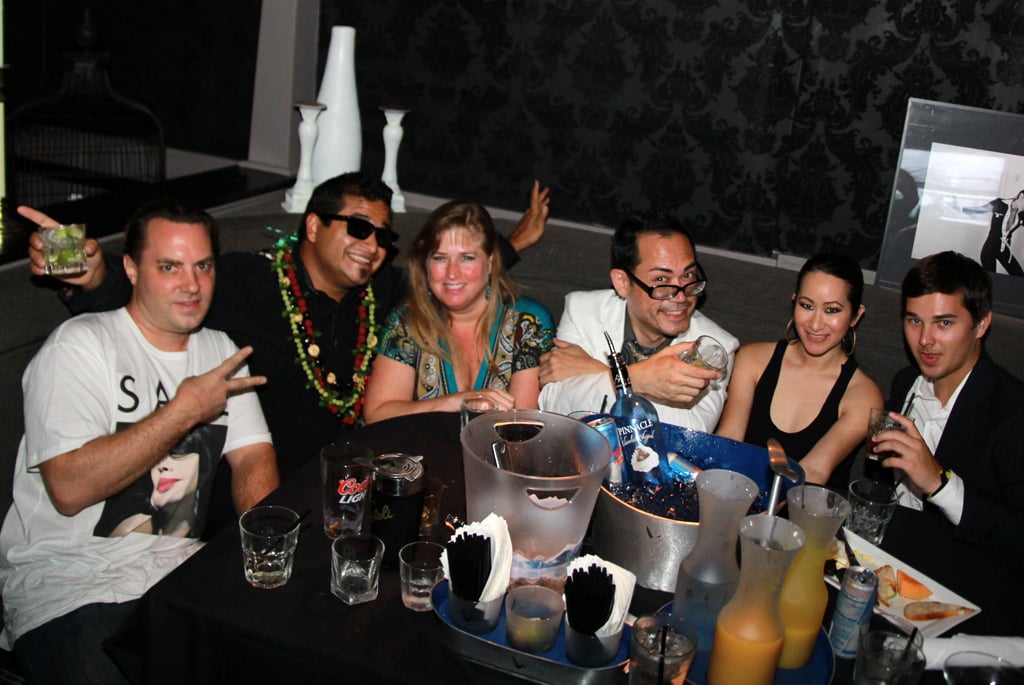 And just for the heck of it, random dude with a dishpan on his head. Actually, he kind of sums up how the night was there.
Sunday, after a photo shoot at the Royal Hawaiian, I headed over to the Volcano Beach Pool Party, the first pool party thrown by Scott Rasak and the kids from Potent Productions. These guys got their start throwing Climax at the Hyatt, so pool parties should be no big thing for them. A number of factors; cloudy weather, a weekend with lots of other parties, an entirely unknown new venue at the Queen Kapiolani Hotel and possibly not enough viral promotions amounted to the turnout being not quite as good as the promoters or I expected. Still, it was fun.
This weekend, we've got lots of stuff coming up, including Korn on Tuesday at Blaisdell, Nicky Fiero at NextDoor (the club's enforced closing, due to complaints and a curfew imposed by the liquor commission, should be lifted by next weekend) and the Fashion Wine Walk in Chinatown on Friday, the Miss Chinatown Hawaii Pageant at Hawaii Theatre and DJ Masterkey at Zanzabar Saturday, and Paramore with Hellogoodbye at The Waterfront the following Wednesday.
See you around!