Night Lights Weekend Wrapup: April 22-24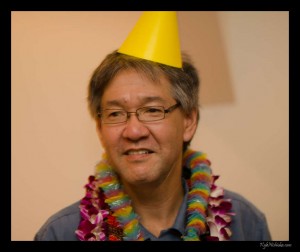 Long weekend.
Thursday evening started with a fashion show and fashion industry mixer at the Waikiki EDITION, with five of the stars of "Project Runway," Casanova, Mondo Guerra, Michael Drummond, Christopher Collins and local boy Andy South, as the guests of honor.
Equally as remarkable as the presence of these guys (Andy was apparently instrumental in convincing them to come to Hawaii) was the presence of just about every professional photographer I see out and about regularly at fashion shows and in the nightlife. I can't recall the last time I've been at a social gathering of such photographers, and it gave me a warm, fuzzy, proud feeling to be part of such a talented community. Just to give you some idea of the photographers-per-square-foot ratio, here's a photo by Travis Okimoto.
Here's the rest of the gallery, including a fashion show by local designers Jane Ann, Lovelessizm, CLOTH and more:
Friday, it took all my motivation to leave the house, but once I got to Chinatown, I ended up at NextDoor, where I had met DJ Dave Paul of the Bomb Hip-Hop label the night before. Dave specializes in a novel concept: A tribute party where he spins an entire set of Prince and Michael Jackson hits, rare songs and remixes. It was a real trip to hear his set, because so many of the songs were so familiar to me. Although the crowd was small, almost everyone was dancing… and how could they not?
Saturday was the Toro Y Moi show. I have to admit that I wasn't very familiar with the band's style before going to the show, so I was pleasantly surprised. Local DJ, musician and promoter Matt McVickar and promoter and singer Ara Laylo deserve a shoutout for their work organizing the show. The two local opening bands, Clones of the Queen (also Matt and Ara's band) and Painted Highways were in top form, with the exception of a couple technical difficulties. And the main act? I was impressed. Elements of funk, shoegaze, new wave, jazz and hip-hop all combined beautifully to create a wall of sound that kept us in thrall, despite the stifling heat of the crowd packed into NextDoor.
Late Sunday night, I started seeing an increasing number of tweets, and a rapidly spreading hashtag in my Twitter feed for Ryan Suenaga (@rsuenaga). It didn't take me long to figure out that this amazing man, who I barely knew in real life but was always a constant, familiar, friendly presence on my social media networks, had passed away after a hiking accident. I'll let those who knew him better give the tributes, like this one from Ryan Ozawa (@hawaii), but the unexpected loss of someone who was so much a part of the virtual community… well, it hit home for me, and obviously I'm not alone in getting a huge lump in my throat and tears in my eyes at the news of his untimely departure.
Already there's talk of a scholarship tribute fund in Ryan's name. For more details, follow the #rsuenaga hashtag on Twitter, or do a search for @rsuenaga. The outpouring of love and remembrance on Twitter really is amazing. There's also a memorial Tweetup at Kissaten being organized between May 7 and 14, colorful board shorts mandatory. And thanks to his friends, Ryan's last few thousand tweets have been immortalized on a memorial site at http://www.rsuenagatweets.com.
Ryan, you will be missed. Safe journey through the afterlife, my friend.