Night Lights: Hotness at the RumFuego Cocktail Contest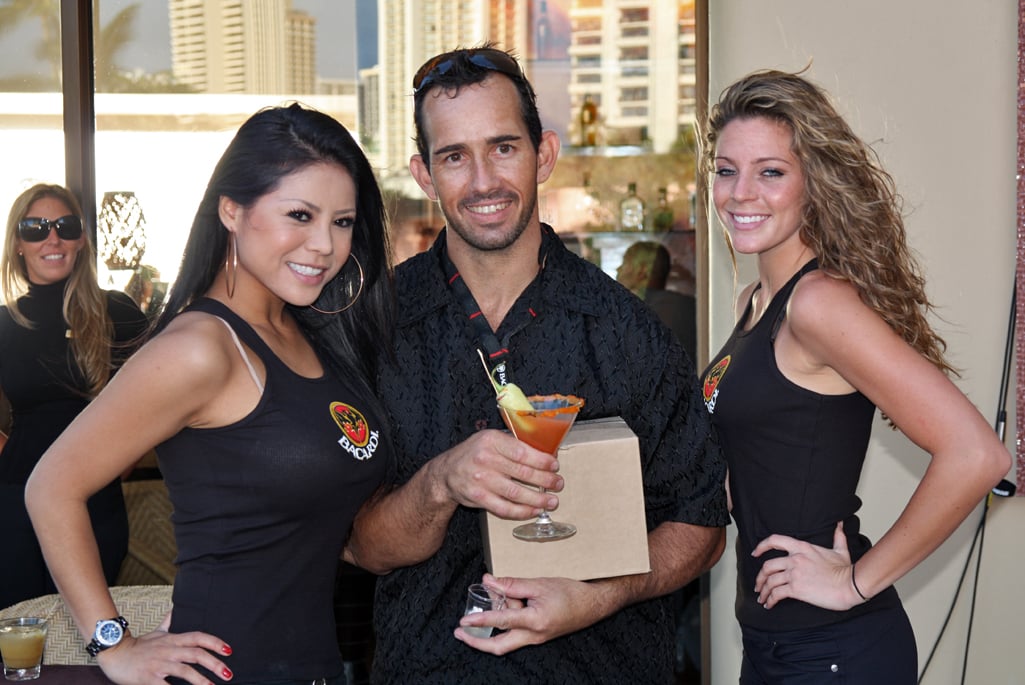 Monday afternoon, a small crowd of bar and club industry folks showed up at RumFire for the RumFuego cocktail contest, a friendly competition sponsored by Better Brands that pitted eight local bartenders against each other to see who could make the best cocktail with RumFuego Hot Sauce and Bacardi.
I showed up for the fun and free tasting (bystanders got samples of all the drinks made for the contest), and because I really like spicy things. RumFuego, made by the same small, local company (Broke Da Face sauces) that made V-Lounge's "Da Ring Stinger" hot sauce, is some really good stuff. Being kind of a connoisseur of hot sauce in general, and a fan of Broke Da Face in particular, I wanted to see what some of the most talented bartenders on the Island would do with it.
Each bartender had seven minutes to battle the elements (the wind was really strong) and create a cocktail with the required ingredients. The three celebrity judges, Andy South from "Project Runway," Amber-Lynn Hyden of KITV and RumFire's Chef Matt Naula, took their jobs very seriously, and tallied up each cocktail based on presentation, taste, etc.
Most of the entries were savory, but a few (including my personal favorite, a tropical number by Jrod of Indigo Restaurant) blended sweetness and spiciness, with delicious results.
Here's the gallery:
RumFuego Cocktail Contest
Congratulations to bartender John Abreu, who took the prize with his very impressive cocktail! In addition to a stay at the Sheraton Waikiki, he also won a box of hot sauce and the privilege of having his photo and recipe on Bacardi bottles sold locally.
All those spicy cocktails inspired me, and now I'm looking for more ideas. According to Super CW (aka Christa Wittmier), a dash of hot sauce and a tequila shot like Peligroso Silver or Dobel are a match made in heaven (or that more fiery place).
What other spicy drinks have you had, and where? Liked 'em?
… Can I have the recipe?
—
Follow Tracy on Twitter at @chant808, on Foursquare (Tracy C.) or email her at tracy@nonstophonolulu.com.