New York: noreetuh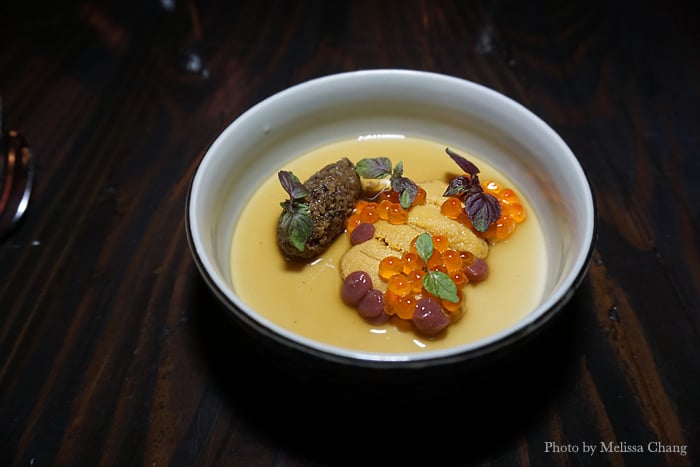 I'd been following New York's noreetuh restaurant and its owner-chef, Chung Chow, on instagram for a while, so when I had a small break in filming for Search Hawaii TV, I jumped at the chance to have dinner there. It wasn't so much that the menu has a Hawaii theme; I've seen and heard about Chow's talent, so I had to try it for myself while supporting a local boy.
Chow, a Roosevelt grad, opened the restaurant in early 2015 with fellow Per Se alums Jin Ahn and Gerald San Jose. With that kind of pedigree, you'd expect to spend a lot on dinner, right? But they wanted to showcase their artful food and wine in a casual environment. "Noreetuh" means "playground" in Korean, and the ambience, the prices, and the playful takes on elegant dishes reflects that.
The menu ranges from $7 to $25, with just one item — the Elysian Fields lamb — at $36. The best deal is the three-course prix fixe menu, which is $42, and you can opt for a wine pairing at just $25.
Ahn has a carefully curated list of craft beers, specialty sakes, and about 200 wines (mostly from France, yum), which can seem overwhelming. They are great about making recommendations, though.
My waiter ended up being Hawaii ex-pat Roger Alcain, who is PR exec Nathan Kam's classmate from Kona! If you are lucky enough to have him as your waiter, he will translate items for you into pidgin terms we can all understand.
For starters, get the silken tofu ($20). Mean! They make their own tofu and top it with Hokkaido uni, ikura and baby shiso. Mine also had a knob of minced mushrooms, so the earthiness pulled all the rich flavors together.
The mochiko chicken wings ($8) get added kick from calamansi and chile. Now, these taste great, but they are a little messy, so keep that in mind if you are on a date. Otherwise, she go!
For something different, try the monkfish liver torchon. It sits on a delicate bed of lilikoi gelee, baby cilantro and finely diced pear bits; you spread it all on toasted King's Hawaiian sweetbread rolls. Monkfish liver is often referred to as "foie gras of the sea," but this offers a different richness and a creative mix of highs and lows in your mouth. Mean!
The spam agnolotti ($24) is not what you might think. The "spam" is housemade, stuffed into little flat pasta pillows (like ravioli) and the smoked ham broth it's in, reflects that pork flavor. I think it's good even without the summer truffles, but … wow. Mean.
The mochi-crusted sea bass ($24) is heartier than you might think. It sits atop a bed of pole beans, Chinese bacon, and fermented black beans for a strong, Chinese flavor. She go!
Noreetuh flies fresh pineapple in from Hawaii to make their popular brûlée dessert ($10). The pineapple is artfully sliced, torched with a sugar crust, then sprinkled with 'alaea salt and lime zest. Mean! And very visual.
I wasn't going to try the chocolate haupia sundae ($9), since it sounded like something I could get at home. But they sent one out anyway, and I'm so glad they did! Coconut ice cream and chocolate haupia is topped with almonds and whipped cream, and it's pretty mean. I was wrong, I can't get this at home. But dammit, I should!
Even if you don't have Hawaii ties, you should visit this restaurant when in New York. They're open every day except Monday for dinner, and on weekends, they also offer brunch. Since they often offer new items, follow them on instagram, here. A hui hou, guys! I hope to see you again!
noreetuh
128 First Ave. between 7th St. and St. Marks
646-892-3050