New Year's Eve at Serendipity 3 in Las Vegas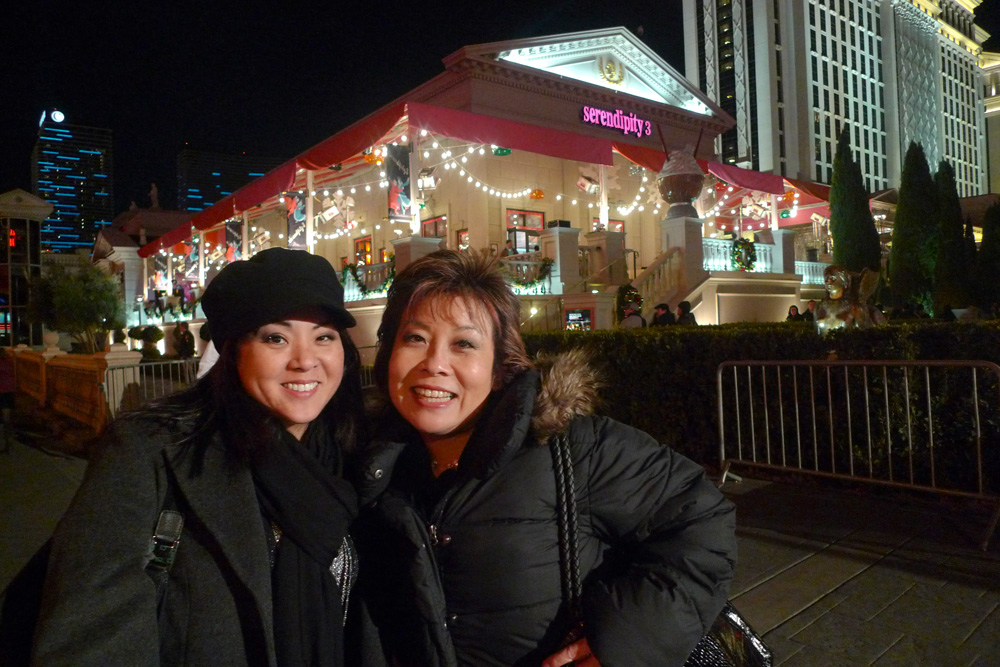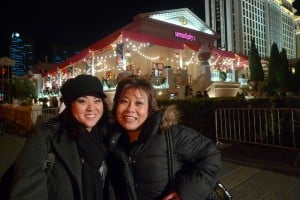 As Ed Morita mentioned in his blog, he was supposed to go to a New Year's Eve party at Serendipity 3 with me and Brooke here in Las Vegas. But due to his New Year's Eve jinx, he sequestered himself in his hotel room to keep safe for the rest of the day and night.
I had always wanted to see the zoo of people on the Strip for New Year's Eve, and would have braved the crowds in the street, but the weather took an extreme turn and temperatures dipped below freezing. Even with my Eskimo coat and layers of clothes, there was no way I'd be able to handle a street party. So we settled on Serendipity 3, where there was an all-night buffet of their favorite pupus and desserts (including their famous frozen hot chocolate). The restaurant also brought in a DJ and entertainment by Fire & Ice, a group of go-go dancers who bring props and work the crowd.
I apologize in advance for not having captions for this gallery, as my connectivity is extremely slow and it's now 5 a.m. I hope you get a feel for the party and the masses on New Year's Eve (although I edited out some photos of the usual unsavory crowd):
Here are some videos of the various Fire & Ice dancers. Dancing on stilts is quite a feat!
We were super surprised to see one of the go-go dancers start doing her routine with poi balls. She was good at it, too!
Finally: the dancers with other props.
Have a happy new year, everyone. What are your hopes for the coming year?
Disclaimer: Air & hotel were provided by
Boyd Vacations Hawaii
for an assignment for InsideOut Hawaii.
========
You can read all of Melissa's blogs at www.nonstophonolulu.com/urbanmixplate. Follow Melissa on Twitter @Melissa808, on Foursquare as Melissa808, or email at Melissa@nonstophonolulu.com.
My recent blog posts:
Vegas: The day of the food coma
Vegas: Visiting the M Resort
Breakfast of champions: The Cracked Egg in Vegas
Vegas: A fun day on the Strip
Welcome to Vegas, baby
Where I'd tell the Obamas to eat
Hawaii: In Real Life ~ Midori-dori
Vegas lucky charms
Hawaii: In Real Life ~ holiday hot chocolate
Vegas, here I come!
Hawaii: In Real Life~building a gingerbread house
Tweets from the road: Marathon 2010
What's up with the knee high socks?
I want a Bit of Sugar!