New year, new beginnings with Aloha Elixir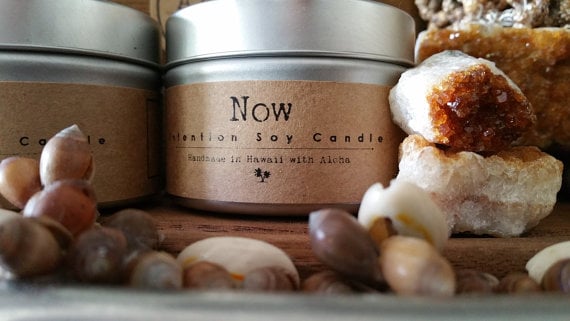 Now that a new year has begun on the Gregorian and lunar calendars, it's time to get your life in gear for the coming months, right? My social media feeds are full of people talking about decluttering, setting goals, and making changes to their lives to help usher in more health, happiness, love and success.
It's a busy time for fortune tellers, astrologers, psychics and mediums as people are curious about what 2016 holds. But what happens if your life needs a little help?
I got really excited when I had a reading from Keoki Tavares recently — not necessarily because he saw a good year for me, but when I saw the candles he makes that you can use at home to encourage positive changes. You can buy them ala carte at six locations on Oahu, or you can get a reading from him for $130, which includes consultation on the best candle for moving forward.
"I created Aloha Elixir in 2012. I've always been interested in growing and working with herbs and especially native Hawaiian plants, as part of my healer's journey," Keoki explained. "I'd always made candles for myself as a hobby. Soon, I started making Road Opener (eucalyptus mint fragrance oil, Road Opener essential oil blend, locally grown white patchouli flower infusion) for friends and family who wanted change and new opportunities."
They got so popular that he started getting inquiries on purchases, and his new business was born. He's since expanded the selection to other fragrances and intentions, such as Millionaire, to make you think like a millionaire (Millionaire essential oil blend, cinnamon leaf essential oil); Harmonious Home, to bring positive energy to your environment (lavender rosemary fragrance oil, frankincense and myrrh oil, Hawaiian sea salt, Palo Santo oil infusion); Abundant Future, for attracting money (rosemary mint fragrance oil, money drawing essential oil blend); and the limited New Beginnings (assorted semi-precious gemstones, helichrysum stoechas flower, crystal energy-charged Bayberry essential oil infusion, red currant fragrance oil), to name a few. I got Cat Toth a Fertility candle in hopes that it might help her in her quest for a baby.
Each of the fire elixirs contain semi-precious stones and crystals to enhance the energy of the candle.
Although I have a great year ahead, Keoki prescribed a series of candles for me to get it going. I've started with Letting Go, to help release any negative energy or blocks to my current goals. When the candle is gone, I'll find some stones at the bottom of the tin, and he said I need to throw them away as a final act of letting go. From there, I need to burn the Road Opener candle to open more business opportunities. Then maybe the third candle, Romantic Rose, will work in attracting love.
We'll see how they work! I bought a few for my cousins on the mainland, who are into metaphysical healing and theories. To be honest, even if they don't work, they all smell great, and I'm enjoying the scent in my apartment as I light Letting Go daily. Keoki assured me that they do work in some way, though, even if it's not quite the way you might expect. Each candle retails for about $23.
Aloha Elixir candles
www.AlohaElixir.com