New things cooking at Best Buy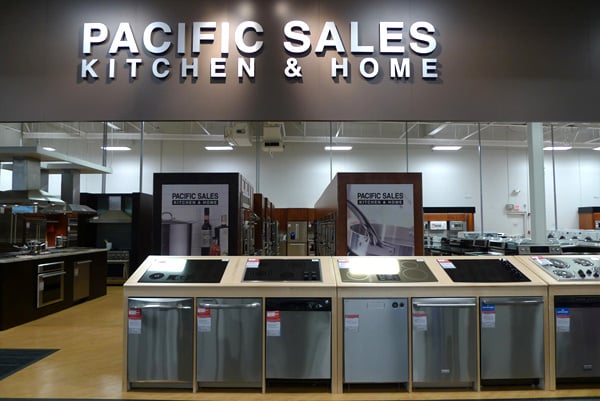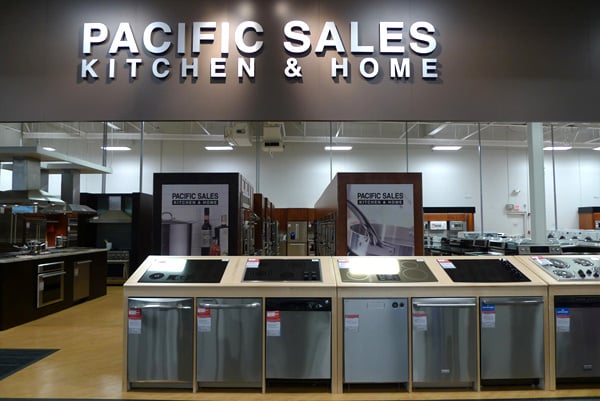 I had heard that Best Buy Iwilei was having a grand re-opening yesterday, so I went to check it out — mostly to see Chef Sam Choy doing a cooking demo using the store's new appliances. I was actually kind of bowled over to see the new changes there.
Best Buy, which is known for its vast selection of electronics and tech accessories, now has a store-within-a-store called the Pacific Sales Kitchen and Home department. The entire makai side of the store is dedicated to home appliances like refrigerators, washing machines, diswashers, ovens and ranges. I didn't really browse the appliances since I'm not in the market, but I recognized some brands from doing my real estate blog — brands that come up a lot in the newly renovated homes, such as Thermidor and Viking.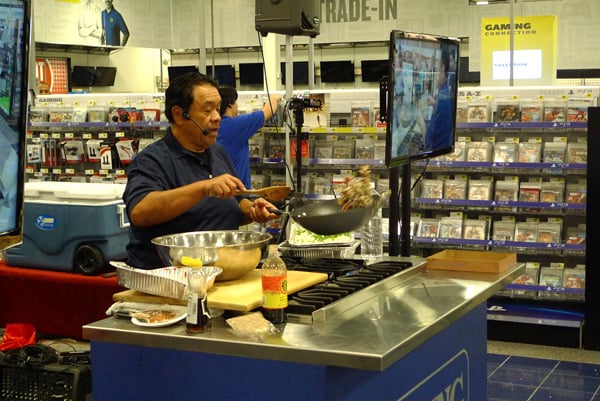 If you're in the market for appliances, Best Buy's store manager Shawn Troup said they are having a 10 percent off sale for the Viking line until October 16, which is big because Viking never goes on sale. And if you know Viking, it's not cheap.
Ah, but back to the cooking demo. Troup said to celebrate their new department, they're working on having renowned chefs come in every week for the next few weeks to do demos and sampling like Choy did. He couldn't tell me what the specific lineup was yet, but says we can check back on the website for the schedule.
Meanwhile, we got to sample the poke that Choy made for us! He made both raw and seared poke, and it was 'ono, as usual. If you want to make it at home, here's the famous recipe:
Ingredients:
7-oz swordfish cut into 1/2 inch cubes
1/3 cup medium diced white onions
1/3 cup sliced green onions
1/2 cup rinsed and chopped ogo seaweed
1-1/2 tablespoons soy sauce
1/2 teaspoon Hawaiian salt
3 drops sesame oil
Sam Choy's Big Aloha Beer or other beer (optional marinade)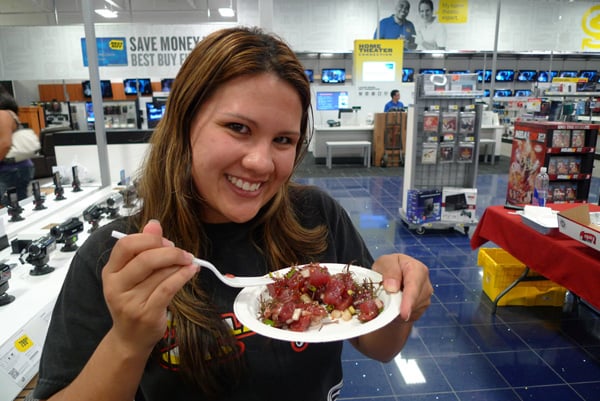 Directions:
1. Heat wok to medium-high.
2. Combine all ingredients, except beer, in a bowl and mix well.
3. Quickly fry poke in wok and set aside.
4. Marinate with beer to taste, if desired.
Makes about two cups.